Fri Mar 15, 2019, 11:03 AM
demmiblue (19,424 posts)
FBI seeing uptick in domestic terror arrests
Source:
CNN
(CNN)There is an uptick in US domestic terror arrests, according to a senior FBI official, who says that with nearly 25 arrests in the first quarter of fiscal year 2019, it's one of the "highest arrest tempo quarters in the last few years" related to domestic terrorism.
The domestic terror arrests include but are not limited to far right/white nationalists, the official said.
The FBI has approximately 900 open domestic terror investigations, the official added. These are separate from international terrorism investigations that, for example, involve plots related to ISIS and al Qaeda, including so-called "lone wolf attacks."
Notably, there are not domestic terror statutes in the US that allow for specific domestic terror charges. Prosecutors use other violations -- such as of weapons possession laws -- to charge people accused of plotting domestic terror attacks. Recently, a Coast Guard officer accused of seeking to kill politicians and journalists was charged with firearms and drug violations. And last year, a man espousing anti-Semitic views opened fire on a synagogue in Pittsburgh.
Read more:
https://www.cnn.com/2019/03/15/politics/fbi-domestic-terror-arrests/index.html?utm_content=2019-03-15T15%3A00%3A06&utm_term=image&utm_medium=social&utm_source=twCNNp
11 replies, 725 views
Replies to this discussion thread
| | | | |
| --- | --- | --- | --- |
| 11 replies | Author | Time | Post |
| FBI seeing uptick in domestic terror arrests (Original post) | demmiblue | Friday | OP |
| | The Velveteen Ocelot | Friday | #1 |
| | FakeNoose | Friday | #2 |
| | bluestarone | Friday | #3 |
| | Hortensis | Friday | #4 |
| | Perrenial Voter | Friday | #6 |
| | Hortensis | Friday | #7 |
| | Miguel Smith | Friday | #5 |
| | defacto7 | Friday | #8 |
| | sinkingfeeling | Friday | #9 |
| | FiveGoodMen | Friday | #11 |
| | IronLionZion | Friday | #10 |
---
Response to demmiblue (Original post)
Fri Mar 15, 2019, 11:05 AM
The Velveteen Ocelot (69,410 posts)
1. I just can't imagine what could be causing that.
---
Response to demmiblue (Original post)
Fri Mar 15, 2019, 11:11 AM
FakeNoose (9,602 posts)
2. Arrest the Terrorist-in-Chief
He can be found at the White House, when he's not on a golf course.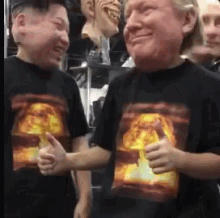 ---
Response to FakeNoose (Reply #2)
Fri Mar 15, 2019, 11:19 AM
bluestarone (5,347 posts)
3. LOVE THIS!!!
---
Response to demmiblue (Original post)
Fri Mar 15, 2019, 11:32 AM
Hortensis (28,886 posts)
4. 94% of domestic terrorism attacks are RIGHT WING, non-Muslim.
2% are left wing, non-Muslim.
4% are Muslim (Me: Left or right not specified.)

These figures for domestic terrorism are a couple years old anyway, so of course would not reflect this latest trend.

Given Trump's and Fox's/right-wing media calls for violence, I think we can assume the percentage of right wing attacks will have risen.

Btw, another difference between left-wing and right-wing terrorism attacks is that right wing terrorists are a lot more likely to intend to kill and maim. Terrorism. When terrorists blow up empty buildings after sending warnings for people to stay away, the FBI doesn't need to wait for a group to claim responsibility to start suspecting it'll be left wing.
---
Response to Hortensis (Reply #4)
Fri Mar 15, 2019, 11:43 AM
Perrenial Voter (70 posts)
6. I wonder how many are Christian terrorists n/t
---
Response to Perrenial Voter (Reply #6)
Fri Mar 15, 2019, 12:06 PM
Hortensis (28,886 posts)
7. Yes. This is all intensively studied, of course.
Pretty sure they're a substantial portion of that "right wing, non-Muslim."

It's actually rather difficult to find discussion of people prone to non-violent radicalism and extremism -- both religious and irreligious -- for all the studies of those very few who do cross that huge line. Nonviolent extremists are actually far more dangerous because they're in such large numbers that they can and do destroy stable, prosperous nations by empowering bad leaders. And we know hard-core Christian right theocrats are currently all over DC.

So far statements about the murders in the Australian mosque will very obviously be "right wing, non-Muslim" in their statistics, but there is no specific indication yet of a dominant religious motivation.

"Under a heading "Why did you carry out the attack?" To avenge those European men and women lost in the constant and never ending wars of European history who died for their lands, died for their people only to have their lands given away to any foreign scum that bother to show up." Probably Brentan Tarrant who admires Dillan Roof for his murders of black Americans but said, "Dear God, not." when saying he admired Trump as a white supremacist leader but not policymaker.
---
---
Response to demmiblue (Original post)
Fri Mar 15, 2019, 12:10 PM
defacto7 (10,766 posts)
8. They really seem to be getting the job done.
---
Response to demmiblue (Original post)
Fri Mar 15, 2019, 12:44 PM
sinkingfeeling (38,498 posts)
9. Remember when the GOP blocked the RW Extremism Report in 2009?
---
Response to sinkingfeeling (Reply #9)
Fri Mar 15, 2019, 03:46 PM
FiveGoodMen (17,984 posts)
11. I sure do!
Been thinking about that all morning.
---
Response to demmiblue (Original post)
Fri Mar 15, 2019, 12:55 PM
IronLionZion (24,597 posts)
10. Kudos to CNN for using the T word on these American terrorists
but it's high time the US updated the laws to better prosecute these assholes for terrorism, not just weapons charges.