Thu Mar 14, 2019, 10:23 PM
appalachiablue (21,620 posts)
Environmental Groups Take France To Court Over Climate Change Inaction
Source:
Reuters
12 hrs. ago. PARIS (Reuters) - Environmental groups including Greenpeace and Oxfam have filed an unprecedented court action against the French government, accusing it of insufficient policy actions to tackle climate change. The groups aim to persuade the Paris Administration court to force the government to apply its own policies, such as the multi-year energy plan, known as the PPE, and international agreements such as the 2015 Paris Climate accord.
"The state is not living up to commitments it has made itself, especially in the context of the Paris agreement of 2015," said Cecile Duflot, a former minister and current Executive Director of Oxfam in France. "The state is a litigant like any other, our goal is for it to be condemned to act," she told France Inter radio.
The court action is backed by an online petition signed by more than 2 million people and is supported by other NGOs including the Nicolas Hulot Foundation, created by a former minister and renowned environmentalist who resigned from President Emmanuel Macron's government last summer over slow progress on climate change goals..
A Greenpeace statement said that France was on the wrong track in terms of curbing its emissions of greenhouse gases, which have been on the rise since 2015. -MORE...
Read more:
https://www.reuters.com/article/us-climatechange-france/environmental-groups-take-france-to-court-over-climate-change-inaction-idUSKCN1QV1YB
---
FRANCE24, "French State Faces Landmark Lawsuit Over Climate Inaction," March 13, 2019
https://www.france24.com/en/20190314-french-state-lawsuit-climate-change-environment
When French President Emmanuel Macron showed up for a town hall meeting last week in the picturesque provenal town of Groux-les-Bains, part of a Great National Debate that has seen him engage with local communities across the country, the star guest from Paris was upstaged by a local schoolboy who, mic in hand, urged him to get serious about saving the planet.
"What do you mean by ecology, since our factories are free to discard their waste at sea, pesticides pollute our soils and thus our food, Europe sends 20,000 tonnes of junked electrical equipment to Nigeria, and plastic rubbish invades our oceans and our planet?" asked the plucky 14-year-old, who went by the name of Charlie.
"When are you going to react? You have the power to," the youngster added. "Or do you think money will buy us a new planet?"
As video footage of the tirade went viral, the young Charlie was soon described as the "French Greta Thunberg", after the Swedish schoolgirl whose weekly "school strike for climate" in front of Stockholm's Parliament House has won a global following, inspiring student protests and strikes in cities across the globe...
Climate change demonstration in Bordeaux, southwest France, Oct. 13, 2018.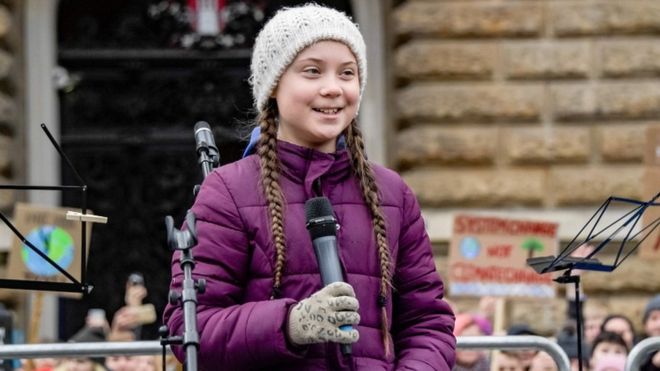 BBC, Greta Thunberg nominated for Nobel Peace Prize for climate activism, March 14, 2019
https://www.bbc.com/news/world-europe-47568227
1 replies, 438 views
Replies to this discussion thread
| | | | |
| --- | --- | --- | --- |
| 1 replies | Author | Time | Post |
| Environmental Groups Take France To Court Over Climate Change Inaction (Original post) | appalachiablue | Mar 2019 | OP |
| | sandensea | Mar 2019 | #1 |
---
Response to appalachiablue (Original post)
Thu Mar 14, 2019, 10:40 PM
sandensea (9,153 posts)
1. To their credit, France cut CO2 emissions by 28% in the 1980s - and they haven't increased since
The bad news, is that they accomplished this by way of nuclear power - which cut their need for oil-fired power plants; but not without its obvious drawbacks.