Mon Mar 4, 2019, 05:20 PM
Judi Lynn (129,895 posts)
House panel seeks Trump documents from 81 individuals and organizations
Source:
Guardian
Trump's sons and Jared Kushner asked to provide papers
Judiciary committee gives recipients two weeks to respond
Tom McCarthy in New York
@TeeMcSee Email
Mon 4 Mar 2019 14.58 EST
A House of Representatives panel led by Democrats sent document requests to 81 individuals and organizations associated with Donald Trump on Monday, in the most aggressive play yet by the newly installed Congress to investigate alleged wrongdoing by the president.
Recipients of requests from the House judiciary committee included the president's sons, Donald Trump Jr and Eric Trump; son-in-law Jared Kushner; Allen Weisselberg, the longtime chief financial officer of the Trump Organization; former attorney general Jeff Sessions; former communications director Hope Hicks; the Trump inaugural committee; and former White House lawyer Don McGahn.
Also in receipt of requests were Cambridge Analytica, the now-defunct firm at the heart of the Facebook data harvesting scandal and Alexander Nix, who was its chief executive. Rob Goldstone, the British PR executive who set up an infamous meeting between Donald Trump Jr and a Russian lawyer at Trump Tower in June 2016, was also listed as a recipient. Requests were sent to Steve Bannon, Trump's former chief strategist, and the WikiLeaks founder Julian Assange, who remains within the Ecuadorian embassy in London.
Recipients were given two weeks to respond, failing which they could be hit by legally binding subpoenas.
Read more:
https://www.theguardian.com/us-news/2019/mar/04/house-judiciary-committee-trump-documents-request
10 replies, 639 views
Replies to this discussion thread
| | | | |
| --- | --- | --- | --- |
| 10 replies | Author | Time | Post |
| House panel seeks Trump documents from 81 individuals and organizations (Original post) | Judi Lynn | Mar 4 | OP |
| | DirtEdonE | Mar 4 | #1 |
| | BigmanPigman | Mar 4 | #2 |
| | ffr | Mar 4 | #3 |
| | BigmanPigman | Mar 4 | #6 |
| | Maxheader | Mar 4 | #4 |
| | Wednesdays | Mar 4 | #7 |
| | BumRushDaShow | Mar 4 | #5 |
| | deurbano | Mar 4 | #8 |
| | RussBLib | Mar 4 | #9 |
| | Scurrilous | Mar 4 | #10 |
---
Response to Judi Lynn (Original post)
Mon Mar 4, 2019, 05:29 PM
DirtEdonE (823 posts)
1. Nadler is framing it correctly
IMO, THIS is the way it's done. FINALLY!

""Over the last several years, President Trump has evaded accountability for his near-daily attacks on our basic legal, ethical and constitutional rules and norms," the House judiciary committee chairman, Jerrold Nadler, said. "We will act quickly to gather this information, assess the evidence, and follow the facts where they lead with full transparency with the American people."

While Nadler said "impeachment is a long way down the road", the main allegations under investigation – public corruption, obstruction of justice and abuse of power – could be the foundation for an impeachment case against Trump.

"We do not now have the evidence all sorted out and everything to do an impeachment," Nadler said in an interview on Sunday on ABC. "Before you impeach somebody, you have to persuade the American public that it ought to happen.""



---
Response to Judi Lynn (Original post)
Mon Mar 4, 2019, 05:32 PM
BigmanPigman (24,874 posts)
2. This is huge!
This is what happens when we GOTV and Dems win! Even Fux Ruse being in cahoots with the W House is going to be challenged.
---
Response to BigmanPigman (Reply #2)
Mon Mar 4, 2019, 07:56 PM
ffr (13,612 posts)
3. Indeed it is. I'm looking directly at #69, whose chairman was none other than Mike Pence.
The V.P. elect was the chairman. Now his part in why he selected Mike Flynn and covered for him and his actions have two weeks before coming to light of Mr. Nadler and his committee.
69. Trump Transition.
Link to tweet
---
Response to ffr (Reply #3)
Mon Mar 4, 2019, 08:53 PM
BigmanPigman (24,874 posts)
6. A couple names are missing from that list.
I think you found how they can nail Pence through the transition team...he is screwed now!
---
Response to Judi Lynn (Original post)
Mon Mar 4, 2019, 07:59 PM
Maxheader (1,672 posts)
4. So what teeth does this all have...?

What if stumpys kid and kid in law round file the request?
---
Response to Maxheader (Reply #4)
Mon Mar 4, 2019, 09:31 PM
Wednesdays (11,045 posts)
7. Next step would be a subpoena
It'd take some huge cajones to ignore that!
---
Response to Judi Lynn (Original post)
Mon Mar 4, 2019, 08:03 PM
BumRushDaShow (39,954 posts)
5. Here is the image of the list but there seems to be someone conspicuously missing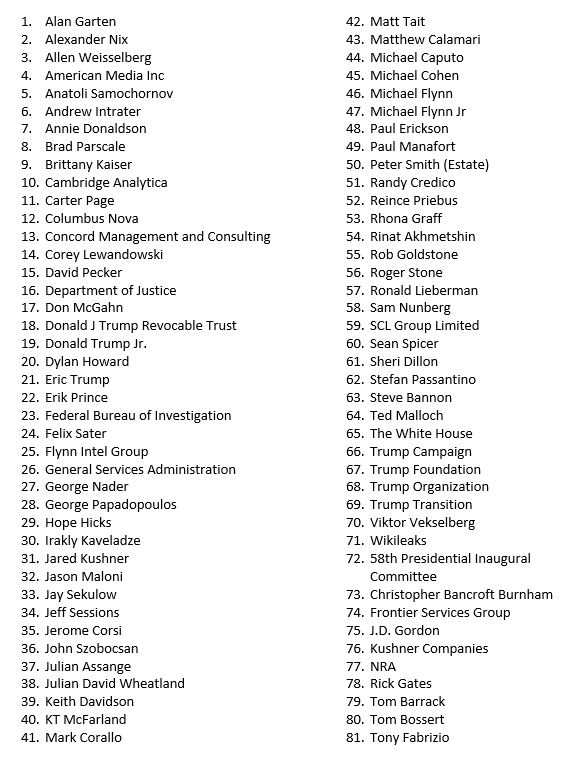 Kellyanne Conway!
She was the one who replaced Manafort and ultimately brought the bacon home/
---
Response to Judi Lynn (Original post)
Mon Mar 4, 2019, 10:09 PM
deurbano (1,943 posts)
8. Talking Points Memo has provided a comprehensive guide:
---
Response to Judi Lynn (Original post)
Mon Mar 4, 2019, 10:12 PM
RussBLib (3,152 posts)
9. it won't surprise me if they say...
"We don't have any documents"

Why should Trumpets keep docs? Too much of a paper trail.

What would the Dems do if they receive no docs, because there simply aren't any?
---
Response to Judi Lynn (Original post)
Mon Mar 4, 2019, 10:36 PM
Scurrilous (34,901 posts)
10. K&R