Wed Feb 6, 2019, 09:27 PM
Sunlei (22,304 posts)
Justice Department opens probe into Jeffery Epstein plea deal
Source:
Miami Herald
The Department of Justice has opened an investigation into Secretary of Labor Alex Acosta's role in negotiating a controversial plea deal with a wealthy New York investor accused of molesting more than 100 underage girls in Palm Beach.
The probe is in response to a request by Sen. Ben Sasse, a Nebraska Republican and member of the Senate Judiciary Committee, who was critical of the case following a series of stories in the Miami Herald. The Herald articles detailed how Acosta, then the U.S. attorney for Southern Florida, and other DOJ attorneys worked hand-in-hand with defense lawyers to cut a lenient plea deal with multimillionaire Jeffrey Epstein in 2008.
Read more:
https://amp.miamiherald.com/news/nation-world/article225624945.html
8 replies, 1405 views
Replies to this discussion thread
| | | | |
| --- | --- | --- | --- |
| 8 replies | Author | Time | Post |
| Justice Department opens probe into Jeffery Epstein plea deal (Original post) | Sunlei | Feb 6 | OP |
| | oldsoftie | Feb 6 | #1 |
| | Judi Lynn | Feb 6 | #2 |
| | dalton99a | Feb 6 | #3 |
| | Vadem | Feb 6 | #4 |
| | SunSeeker | Feb 6 | #5 |
| | Haggis for Breakfast | Feb 6 | #6 |
| | videohead5 | Feb 7 | #7 |
| | Scruffy1 | Feb 7 | #8 |
---
Response to Sunlei (Original post)
Wed Feb 6, 2019, 09:36 PM
oldsoftie (376 posts)
1. GOOD.
---
Response to Sunlei (Original post)
Wed Feb 6, 2019, 10:22 PM
Judi Lynn (128,784 posts)
2. Why the rush? The information has only been around for ages.
Is Trump's Justice Department trying to look as if it's trying to do its job, for some reason? Little late for that.
Why the rush by the
Miami Herald?
It's probably trying to clean up its image after serving as the private property of the hard right Latin American oligarchs who move there, in many cases to their second homes, when their governments turn left, the same ones who have commanded the death squads, controlled the newspapers in their own countries, and helped corporations to exploit the hell out of the natural resources and cheap labor.
For a little insight, one should learn what the Miami Cuban "exiles" did to the earlier publisher of the Miami Herald, David Lawrence, after sending death threats to bomb his and his wife's cars, to the point they paid people to inspect their cars every day before starting them up for a long time, because of the threat from Jorge Mas Canosa, self-appointed godfather of Miami, power broker, and major tyrant.

https://www.nytimes.com/1992/03/19/us/miami-journal-when-a-city-newspaper-is-the-enemy.html
. . .

Although The Herald has been a consistent critic of Fidel Castro's Communist regime, the foundation questions the newspaper's devotion to the cause and treats any skepticism of its own policies and activities as a slur against all Cuban-Americans. Not surprisingly, that attitude awakens deep passions in a city whose political and economic life is now dominated by Cuban-Americans, and in which the distinction between events in Havana and purely local issues has long been blurred.

Over and over again, leaders of the foundation have accused the newspaper of waging a campaign of "unjust harassment" and "distortion and disinformation" against the largest ethnic group in the Miami area. One attack against the paper came in a 4,000-word article published on the op-ed page of The Herald itself.

The Herald has retorted that such accusations, which have coincided with acts of vandalism and threats against its employees, are part of an effort to turn Miami into "a totalitarian society," just like the one from which many Cuban exiles here fled.

The fight began in mid-January, when The Herald published an editorial opposing a bill in Congress that would tighten the American economic embargo of Cuba. On the same day, the newspaper's Spanish-language edition, El Nuevo Herald, carried a column criticizing exile leaders who advocate military action against Cuba but who are unwilling themselves to stir from the comfort and safety of Miami.

. . .

Shortly after Mr. Mas Canosa's first wave of denunciations of The Herald, the paper's publisher, David Lawrence Jr., and both of the Cuban-American executives received an unsigned death threat written in Spanish. In a letter to the Miami police chief, Mr. Lawrence said the newspaper had also received a telephoned bomb threat.

In addition, dozens of the Herald's vending boxes have been vandalized, their coin slots often jammed with gel or glue. Some have been smeared with feces or painted over with Spanish-language graffiti like "comunistas!"
https://www.nytimes.com/1992/03/19/us/miami-journal-when-a-city-newspaper-is-the-enemy.html
Of course, Lawrence is gone, and the
Herald
has been the lapdog of the original radical "exile" will ever since.
They probably have to ask for permission before attempting any big story.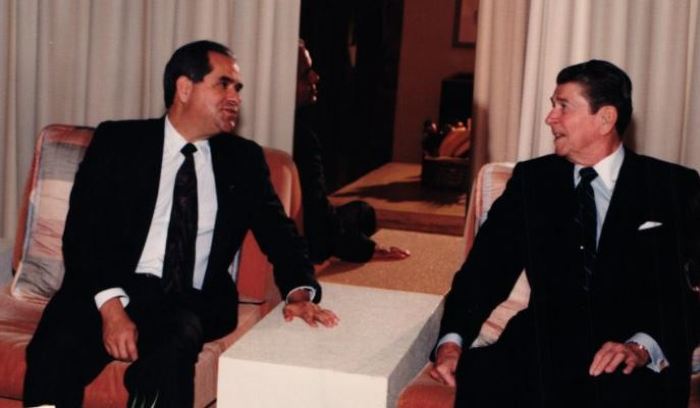 Jorge Mas Canosa and Ronald Reagan
This photo shows President George H. W. Bush handing a souvenir pen to Havana-born anti-Castro zealot Ileana Ros-Lehtinen. She has been in the U. S. Congress from Miami since 1989 when Jeb Bush was her Campaign Manager. The next souvenir pen, in honor of signing a very punitive anti-Cuban bill, went to Jorge Mas Canosa, who is in the black suit. Bush Sr. sealed the Bush Dynasty-Miami Cuban alliance.
Donald Trump with Jorge Mas Santos, son
of the deceased Jorge Mas Canosa.
---
Response to Judi Lynn (Reply #2)
Wed Feb 6, 2019, 10:23 PM
dalton99a (33,784 posts)
3. +1
---
Response to Sunlei (Original post)
Wed Feb 6, 2019, 10:39 PM
Vadem (2,485 posts)
4. About time for those girls to get the justice denied them and
hopefully Alan Dershowitz will get the justice coming to him, too!!!
---
Response to Sunlei (Original post)
Wed Feb 6, 2019, 11:24 PM
SunSeeker (33,513 posts)
5. Good. Hope they nab Dershowitz too. nt
---
Response to Sunlei (Original post)
Wed Feb 6, 2019, 11:54 PM
Haggis for Breakfast (3,100 posts)
6. The three-part story in the Miami Herald
was IMPOSSIBLE to read without becoming enraged over how the entire case was handled. But it is worth the read. I hope they team that did the research and wrote the story gets a Pulitzer for their efforts. They deserve it.

The girls who were molested, abused, kidnapped and raped by this man NEVER got their day(s) in court and THAT is an OUTRAGE. I hope everything about this scumbag friend of trmp comes out in public. These young ladies were traumatized and they deserved better than what transpired.

Acosta should be covered in Tupelo honey and staked out naked over a fire ant mound. How any man could perpetuate this kind of soul-shattering inhumanity is one for the psychiatrists to create a new category of deranged.
---
Response to Sunlei (Original post)
Thu Feb 7, 2019, 03:27 AM
videohead5 (1,135 posts)
7. Don't forget about Trump at Epstein's party's
And the claim one woman made that Trump raped her at one of Epstein's party's when she was only 13. She dropped the lawsuit because she was getting death threats.
---
Response to Sunlei (Original post)
Thu Feb 7, 2019, 07:42 AM
Scruffy1 (2,641 posts)
8. it will be a whitewash.
Being handles by Professional Responsibiltywho at the worst coul;d recommend firing him from a job he already left.