Thu Aug 30, 2012, 08:10 PM
kpete (56,997 posts)
10 replies, 4494 views
Replies to this discussion thread
| | | | |
| --- | --- | --- | --- |
| 10 replies | Author | Time | Post |
| Paul Ryan Sent Out 2008 Press Release On Decision To Close GM Plant (Original post) | kpete | Aug 2012 | OP |
| | Historic NY | Aug 2012 | #1 |
| | BenzoDia | Aug 2012 | #6 |
| | Kingofalldems | Aug 2012 | #2 |
| | Bernardo de La Paz | Aug 2012 | #3 |
| | Historic NY | Aug 2012 | #5 |
| | wordpix | Aug 2012 | #4 |
| | midnight | Aug 2012 | #7 |
| | trailmonkee | Aug 2012 | #8 |
| | Quantess | Aug 2012 | #9 |
| | lynne | Aug 2012 | #10 |
---
Response to kpete (Original post)
Thu Aug 30, 2012, 08:16 PM
Historic NY (29,348 posts)
1. Well here is the last vehicle off the line.....
---
Response to Historic NY (Reply #1)
Thu Aug 30, 2012, 09:03 PM
BenzoDia (1,010 posts)
6. That's amazing...thanks for posting. I'll be sure to pass that around. nt
---
Response to kpete (Original post)
Thu Aug 30, 2012, 08:24 PM
Kingofalldems (25,357 posts)
2. Looks like he can and will lie about everything
---
Response to kpete (Original post)
Thu Aug 30, 2012, 08:25 PM
Bernardo de La Paz (20,027 posts)
3. Ryan's SIGNATURE (pic, pdf via house.gov): knew in June 2008
Here's the letter with Ryan's June 2008 signature acknowledging the closing (pdf via house.gov)
Signed, June 3, 2008
http://paulryan.house.gov/uploadedfiles/ltr_gm_060308.pdf
Technically, the Ryan line is that the President failed to "keep it open".
Technically, the plant had a hundred workers paid after the main line closed Dec 23, 2008, to keep a small line open to fill out a truck order until April 2009.
However, the
basic fact
that the weasel would have you not know is that the plant closing was accelerated by the Republican President who applauded GM for being "adaptable" in closing that and other plants.
The plant was slated to close in 2010
(see letter below) but was accelerated and
closed in 2008
except for an essentially inconsequential amount of work for a few months.
[font size = "+1"]Fact: [/font]
It was all decided and finalized by time Obama took office.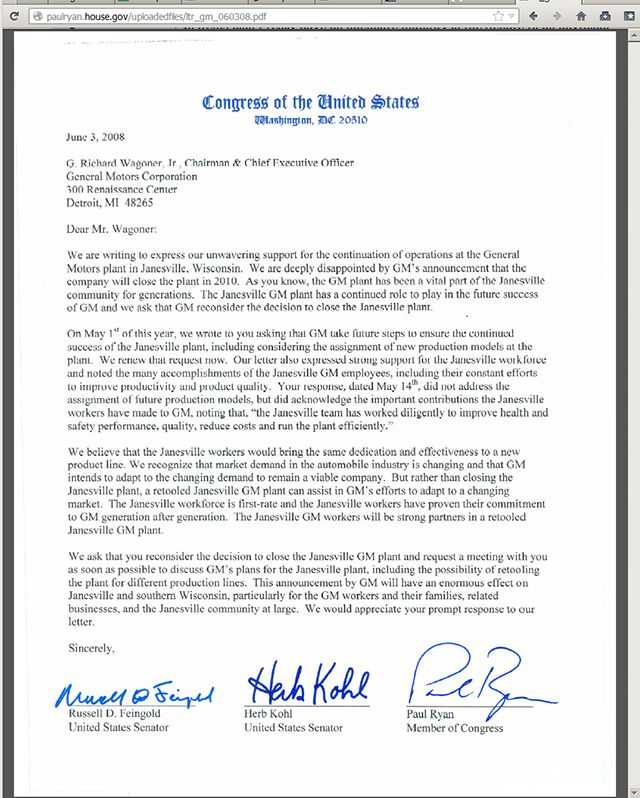 ---
Response to Bernardo de La Paz (Reply #3)
Thu Aug 30, 2012, 08:45 PM
Historic NY (29,348 posts)
5. Isuzu severed it relationship with GM thats why the plant closed .....
ďAs Politifact notes, the Isuzu project was done on a skeleton crew of several dozen employees. The bulk of the staff, about 1,200 workers, were laid off in December, 2008.
http://www.politifact.com/wisconsin/statements/2012/aug/29/paul-ryan/did-barack-obama-break-promise-keep-gm-plant-open/
While the company will still sell its commercial trucks in the U.S., Isuzu will no longer be selling its i-series pickup truck or Ascender SUV as of January 1, 2009. Isuzu will continue to offer parts and service in the U.S. for its vehicles.Isuzu says the decision to leave the U.S. market was made because of a lack of future products. Both of Isuzuís models are based on General Motors vehicles ó the i-series pickup
In other words Isuzu ended its relationship with GM. That would mean there was nothing to build. Did they expect the President to order production to continue.
---
Response to kpete (Original post)
Thu Aug 30, 2012, 08:40 PM
wordpix (18,652 posts)
4. well well well just another LYING repuke, so surprised
---
Response to kpete (Original post)
Fri Aug 31, 2012, 01:33 AM
midnight (26,624 posts)
7. I find Paul Ryan's statement, to do all he can to help those hit hardest,
difficult to comprehend because of all his austerity demands aimed at those hit hardest in this economic chaos...
---
Response to kpete (Original post)
Fri Aug 31, 2012, 01:45 AM
trailmonkee (2,656 posts)
8. surprise!! their Prince is a Dunce!!
---
Response to kpete (Original post)
Fri Aug 31, 2012, 06:38 AM
Quantess (27,630 posts)
9. Help me out here...
The take home message of this is, that Paul Ryan was well aware of who was president when the GM plant was slated to close. So he was totally lying at the RNC.

Is that the point?
---
Response to kpete (Original post)
Fri Aug 31, 2012, 09:08 AM
lynne (3,118 posts)
10. He acknowledged the plant was about to close in his speech -
- his statement was about recovery, not about the fact that the plant closed. And he never said that Obama was responsible for it closing. He was speaking about recovery.
From his speech:
"President Barack Obama came to office during an economic crisis, as he has reminded us a time or two. Those were very tough days, and any fair measure of his record has to take that into account. My home state voted for President Obama. When he talked about change, many people liked the sound of it,
especially in Janesville, [Wis.], where we were about to lose a major factory.
"A lot of guys I went to high school with worked at that GM plant. Right there at that plant, candidate Obama said: 'I believe that if our government is there to support you ... this plant will be here for another hundred years.' That's what he said in 2008.
"Well, as it turned out, that plant didn't last another year. It is locked up and empty to this day. And that's how it is in so many towns today,
where the recovery that was promised is nowhere in sight."
NPR has pointed this out, see link to their article below. There's plenty to bash this guy for and plenty of other non-truths in his speech but he certainly didn't say that the plant closed under Obama or that Obama was responsible for it. He acknowledged that the plant was already slated to be closed.
http://www.npr.org/blogs/itsallpolitics/2012/08/30/160320776/janesville-debate-dissecting-ryans-claim-obamas-promise-the-facts
This reminds me of how the right has misconstrued and contorted Obama's statement regarding "You didn't build that". Looks like we're doing the same thing here.