Thu Jul 12, 2018, 12:26 AM
Judi Lynn (125,924 posts)
Democrats frustrated Nunes left mid-hearing after questions about Russia probe
Source:
CNN
Ashley Killough
By Ashley Killough, CNN
Updated 8:42 PM ET, Wed July 11, 2018
Washington (CNN)When California Republican Rep. Devin Nunes sat before a committee Wednesday to testify on a bill, Democrats tried to use the opportunity to question the House Intelligence Committee chairman on his investigation of Russian meddling and the 2016 presidential race.
But the Republican chairman of the House Rules Committee -- Rep. Pete Sessions of Texas -- allowed Nunes to leave the hearing before Democrats could fire off their questions, prompting criticism from Democrats.
Caroline Boothe, a spokeswoman for the Rules Committee, said the plan beforehand was that Nunes would give his opening statement on the related legislation before the committee -- the Intelligence Authorization Act -- then leave to attend other business, while Rep. Frank LoBiondo, a New Jersey Republican, would step in to take questions from the committee about the bill.
This plan was shared with Democrats, and Democrats knew ahead of time that Nunes would not be taking questions, Boothe said.
Read more:
https://www.cnn.com/2018/07/11/politics/devin-nunes-leaves-rules-committee/index.html
7 replies, 2706 views
Replies to this discussion thread
| | | | |
| --- | --- | --- | --- |
| 7 replies | Author | Time | Post |
| Democrats frustrated Nunes left mid-hearing after questions about Russia probe (Original post) | Judi Lynn | Jul 2018 | OP |
| | blue-wave | Jul 2018 | #1 |
| | C Moon | Jul 2018 | #2 |
| | DFW | Jul 2018 | #3 |
| | NBachers | Jul 2018 | #4 |
| | Achilleaze | Jul 2018 | #5 |
| | riversedge | Jul 2018 | #6 |
| | Mc Mike | Jul 2018 | #7 |
---
Response to Judi Lynn (Original post)
Thu Jul 12, 2018, 12:45 AM
blue-wave (1,214 posts)
1. Somebody somewhere in our
intelligence community must have the dirt on this guy. Arrest him and indict him. Just do it already!!!
---
Response to Judi Lynn (Original post)
Thu Jul 12, 2018, 12:56 AM
C Moon (6,633 posts)
2. The GOP congress and senate are an outfit of criminals.
---
Response to Judi Lynn (Original post)
Thu Jul 12, 2018, 02:23 AM
DFW (30,910 posts)
3. Pete Sessions has been our piece of shit congressman for too long now
Tom DeLay's gerrymandering cheated us out of our very capable Martin Frost. Colin Allred is looking to put Sessions out to pasture, and though it's a long shot, I'm hoping that for once, we can win one for the good guys.
---
Response to Judi Lynn (Original post)
Thu Jul 12, 2018, 02:59 AM
NBachers (10,263 posts)
4. Think they're out of control now? Just wait 'till they've got the Supreme Court sewn up.
---
Response to Judi Lynn (Original post)
Thu Jul 12, 2018, 04:56 AM
Achilleaze (11,779 posts)
5. cowardly KGOP republican traitor weasels steal away
to continue their darkside evil against America and for Comrade Dirty Donny, the ignoble republican Draft-Dodger-in-Chief. Sad.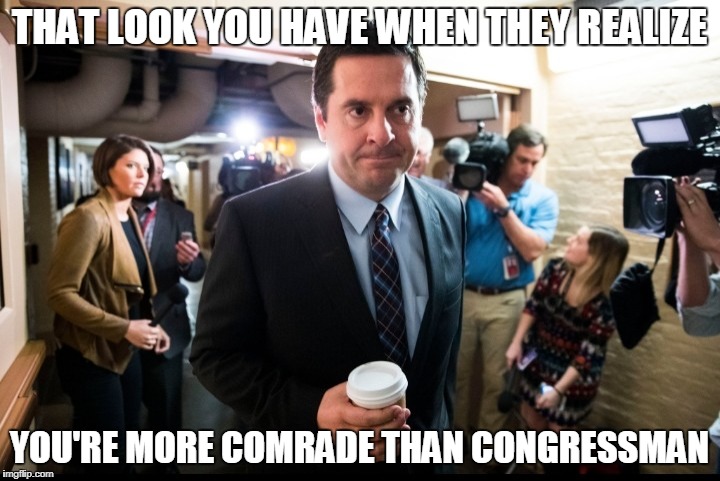 ---
Response to Judi Lynn (Original post)
Thu Jul 12, 2018, 07:58 AM
riversedge (46,770 posts)
6. Pete Sessions is as much as fault. damn.



However, Sessions went ahead and opened it up for questions while Nunes was still in the witness seat, and Democrats used the opportunity to start to ask about Russia.

RELATED: Nunes is demanding new information on Trump campaign and FBI informants
Rep. Norma Torres, a California Democrat, started asking a question about Trump's son-in-law, Jared Kushner, and a statement he previously made to the House Intelligence Committee.


Sessions interrupted her and abruptly broke up the committee for a five-minute recess to discuss the questioning with the top Democrat on the committee, Rep. Jim McGovern.

They resumed the hearing 18 minutes later, and Sessions dismissed Nunes from the witness table before Democrats could ask him more questions.
Democrats took issue with Sessions' dismissal of the House intelligence chairman.
"In all my years on the Rules Committee, I don't ever recall an instance where any member was prevented from asking questions of a witness," McGovern said in a statement. "What is Chairman Nunes trying to hide?"
Rep. Alcee Hastings, a Florida Democrat, said he had questions for Nunes about the bill and used some colorful language to knock Nunes for leaving the hearing early to go attend another hearing.............................
---
Response to Judi Lynn (Original post)
Thu Jul 12, 2018, 12:26 PM
Mc Mike (5,989 posts)
7. Sneak off, slink away, comrade Nunes.
So proud of your Intel investigative work, aren't ya?