Thu Jun 14, 2018, 12:35 PM
Judi Lynn (127,505 posts)
Argentine Congress OKs elective abortion; now goes to Senate
Source:
Associated Press
Almudena Calatrava, Associated Press
Updated 11:12 am, Thursday, June 14, 2018
BUENOS AIRES, Argentina (AP) — The lower house of Argentina's congress on Thursday approved a bill that would legalize elective abortion in the first 14 weeks of pregnancy, sending the measure to the Senate. President Mauricio Macri has said he will sign the bill if it's approved.
The measure has roused fierce passions in the homeland of Pope Francis, and the vote was tight: 129 to 125.
Argentina now allows abortion only in cases of rape or risks to a woman's health.
Crowds of supporters and opponents of the measure — kept separate by officials — watched the debate on large screens set up outside Congress.
Read more:
https://www.chron.com/news/world/article/Argentine-Congress-OKs-elective-abortion-now-12993735.php
3 replies, 434 views
Replies to this discussion thread
| | | | |
| --- | --- | --- | --- |
| 3 replies | Author | Time | Post |
| Argentine Congress OKs elective abortion; now goes to Senate (Original post) | Judi Lynn | Jun 2018 | OP |
| | sandensea | Jun 2018 | #1 |
| | Judi Lynn | Jun 2018 | #2 |
| | sandensea | Jun 2018 | #3 |
---
Response to Judi Lynn (Original post)
Thu Jun 14, 2018, 01:07 PM
sandensea (6,848 posts)
1. Eighth time's the charm?
This is the eighth time a bill decriminalizing abortion has come up in the Argentine Congress since 1983 - and the first time it's actually passed one of the two houses.
You'll be intrigued to know that while most of President Macri's hard-right PRO voted against it, Macri himself has found religion on abortion rights very recently, and has come out
in favor
of it (he had vetoed a much meeker version as mayor in 2012).
The PRO caucus leader, Nicolás Massot, went as far as to direct his remarks to the three current congresspersons that were born in captivity and
sold as infants
during the dictatorship (all three support the bill), telling them: "we didn't dare do this
even during the dictatorship
;
where would you be if we had?
"
Typical antics from that guy - a kind of Argentine Steve King (but with better hair).
Now, of course, it heads to the Senate, where the bill has
19
declared supporters (including former President Cristina Kirchner) but
30
declared opponents - plus Vice President Gabriela Michetti, a very conservative Catholic. It'll be close.
Pope Francis, naturally, is against it; but he's mostly stayed out of this - quite a signal in itself.
It's worth adding that in Argentina, up to 400,000 illegal abortions are performed annually (some estimate 150,000, given the data from neighboring Uruguay - which as you know legalized abortion under Pepe Mujica in 2012).
Either way, the fact that it's still
only
legal in cases of rape, incest, or to save the mother's life (since 1921), is a scandal in itself. In Latin America, as you know, only Cuba and Uruguay guarantee abortion rights.
Thank you, Judi, for keeping up with this. It'll truly be historic if the Senate passes the bill - and if the "Argentine Trump" actually signs it!


Former President Cristina Kirchner (behind coffee cup) and her Front for Victory caucus in the Senate.

Kirchner, who has said she's personally opposed to abortion, nevertheless backs the bill and has pledged to fight any right-wing attempts to delay it in the Senate - a very real possibility, sadly.
---
Response to sandensea (Reply #1)
Thu Jun 14, 2018, 04:42 PM
Judi Lynn (127,505 posts)
2. Tremendous arrival of important facts, sandensea. Had no idea they've tried 7 times before now.
Can't believe PRO leader Nicolás Massot could be, or anyone else could be stupid enough to say this to a former child stolen from a political prisoner who had been tortured by the military dictatorship, and would be murdered after her baby was delivered, "we didn't dare do this even during the dictatorship; where would you be if we had?"
How profoundly stupid. Now he wants to torture and murder women trying to obtain abortions after a lot of long, hard, desperate thought and anguish.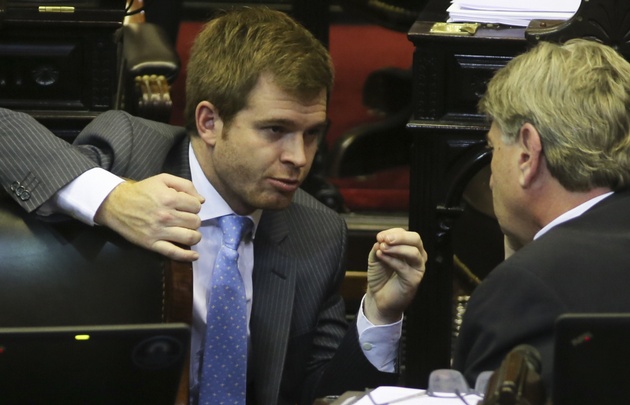 Nicolás Massot, young and stupid.
There's no way he will become wiser with age.
He's an idiot right-winger and misogynist.
He definitely does sound as stupid and hateful as Steve King. Poor Argentina.
It's time the right-wing loses steam and stops trying to bring back another dictatorship. Hope this attempt is going to fall flat, in time. So sad knowing there are connections from the past between Macri and Trump.
Good for Cristina, who, objecting personally, supports the common interests of women who know they desperately need choice available to them, if needed.
Thanks for helping to inform us. As many thoughtful Democatic people know, what is available about Latin America, is in
truthful
information, has always been very scarce, almost non-existent, while corporate
perception molding
for the masses has always been available.
---
Response to Judi Lynn (Reply #2)
Thu Jun 14, 2018, 05:13 PM
sandensea (6,848 posts)
3. You're welcome as always, Judi. Even if it's cynical posturing by Macri, it'll be a welcome change.
And it may indeed be just posturing, given that most of Macri's PRO lawmakers voted against it.

This suggests to me that Macri has privately told them that, whatever he says publicly, he'd rather not have to be faced with signing this bill - or just doesn't care either way (indeed, he's said to have slept through the floor debates).

Macri has a near-airtight control over his PROs - and they wouldn't dare go against his word if it really mattered to him.

On a different note, thank you for your well-researched - and deeply perceptive - comments on my article on Dujovne's "vacant lot."

While around 20 Kirchner-era officials are in "preventive" (i.e. just in case) jail - most of them without charges, and almost all with no evidence of actual wrongdoing - Macri officials openly engage in millions in insider trading, tax evasion, and obstruction of justice with almost total impunity.

Macri is also said to be blackmailing many of these judges (and some in the media) by using the Pegasus phone-hacking technology given to him by Bibi last year.

One such political prisoner, Congressman Julio de Vido, sent a letter to his colleagues in which he stated that having to miss today's vote (he's very much pro-choice) has been the "saddest day so far since being incarcerated."

No evidence has ever been provided for the one charge remaining against him (the rest were dismissed due to being based on demonstrably false statements). The same, of course, goes for Milagro Sala.