Wed May 16, 2018, 01:49 AM
EricMaundry (1,504 posts)
White House National Security Council cutting cyber coordinator role
Source:
CNN
The White House National Security Council is ending the role of cyber coordinator, according to an internal announcement obtained by CNN on Tuesday. The internal announcement said the elimination of the cyber role, just weeks into the tenure of national security adviser John Bolton, was part of an effort to "streamline authority for National Security Council Senior Directors."
Mississippi Rep. Bennie G. Thompson, the top Democrat on the House Homeland Security Committee, issued a statement responding to the news and accusing Bolton of "wreaking havoc" on the NSC.
"With cyber threats ever-changing and growing more sophisticated by the day, there is no logical reason to eliminate this senior position and reduce the already degraded level of cyber expertise at the White House," the statement read.
Democratic Rep. Jim Langevin, of Rhode Island, said Tuesday he feels the decision was the "first major step backward" on cybersecurity by the Trump administration. He added the Trump administration had mostly followed in the footsteps of the Obama administration before this move. "Bad move, big mistake, and just shows how out of touch and uninformed John Bolton is," Langevin said.
Read more:
https://www.cnn.com/2018/05/15/politics/white-house-national-security-council-cyber-coordinator/index.html
---
7 replies, 1300 views
Replies to this discussion thread
| | | | |
| --- | --- | --- | --- |
| 7 replies | Author | Time | Post |
| White House National Security Council cutting cyber coordinator role (Original post) | EricMaundry | May 2018 | OP |
| | Dopers_Greed | May 2018 | #1 |
| | BigmanPigman | May 2018 | #2 |
| | Renew Deal | May 2018 | #3 |
| | Hortensis | May 2018 | #4 |
| | FailureToCommunicate | May 2018 | #5 |
| | Nitram | May 2018 | #6 |
| | forgotmylogin | May 2018 | #7 |
---
Response to EricMaundry (Original post)
Wed May 16, 2018, 01:55 AM
Dopers_Greed (1,754 posts)
1. Trump is trying to destroy the US
---
Response to EricMaundry (Original post)
Wed May 16, 2018, 03:57 AM
BigmanPigman (24,077 posts)
2. Malcolm Nance had a tweet posted on DU about this...
---
Response to EricMaundry (Original post)
Wed May 16, 2018, 06:34 AM
Renew Deal (74,261 posts)
3. Why do they keep doing things that benefit Russia?
---
Response to EricMaundry (Original post)
Wed May 16, 2018, 06:40 AM
Hortensis (28,338 posts)
4. Democratic member "accusing Bolton of "wreaking havoc" on the NSC."
Good Wired article on this:
A LITTLE OVER a month ago, the White House forced out Tom Bossert, its cybersecurity czar. A week later, cybersecurity coordinator Rob Joyce said he would depart as well. And now, rather than replace either, the Trump administration will do without anyone at the helm of its cybersecurity policy. It couldn't have picked a worse time. ... "You're at a point where you're seeing new sorts of cyberthreats materialize."
While US intelligence agencies are responsible for responding to those threats specifically, the cyberczar role has been in charge of organizing the political responses to those incidents, such as the March sanctions imposed against Russia for its destructive NotPetya ransomware and other online malfeasance. The position has also spearheaded cybersecurity policy, hardening both federal networks and infrastructure against attacks. It's a lot of hats—and easier for one person to keep track of them all.
"There's a reason why you wanted to have a focal point for cybersecurity policy in one position. ...
"It's frankly mindboggling that the Trump Administration has eliminated the top White House official responsible for a whole-of-government cyber strategy, at a time when the cyber threat to our nation is greater than ever," says senator Mark Warner (D - Virginia), the ranking member of the Senate Intelligence Committee, in a statement. "Our adversaries are investing heavily in 21st century cyber warfare capabilities, and if we only view national security through a conventional 20th century lens, we're going to find ourselves unable to respond to increasingly asymmetric cyber threats down the road." ...
https://www.wired.com/story/white-house-cybersecurity-coordinator/
The article does not range into possibly treasonous and/or possible destabilizing motives for this, but the action speaks.
---
Response to EricMaundry (Original post)
Wed May 16, 2018, 06:46 AM
FailureToCommunicate (9,660 posts)
5. Good idea. We certainly don't want ANYTHING that might hinder Putin's take over of
our country. He wants his oil money flowing again, so step aside America and get rid of all the watchdogs.
Trump the Enabler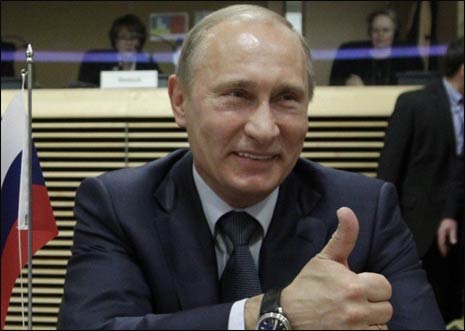 ---
Response to EricMaundry (Original post)
Wed May 16, 2018, 07:09 AM
Nitram (12,303 posts)
6. It boggles my mind that Trump keeps taking steps that further endaner national security. His
presidential oath promised to defend the country. When will the Republicans in Congress stand up and honor their own oaths of office?
---
Response to EricMaundry (Original post)
Wed May 16, 2018, 08:22 AM
forgotmylogin (5,139 posts)
7. Yeah, this internet thing is a fad that will go nowhwere.