Mon Jun 19, 2017, 10:52 AM
riversedge (42,232 posts)
US Supreme Court to hear major Wisconsin case on electoral maps
Source:
Reuters
19 Jun 2017 at 10:21 ET
The U.S. Supreme Court on Monday agreed decide whether electoral maps drawn deliberately to favor a particular political party are acceptable under the Constitution in a case that could have huge consequences for American elections in the future.
The justices will take up Wisconsinís appeal of a lower court ruling last November that state Republican lawmakers violated the Constitution when they created state legislative districts with the partisan aim of hobbling Democrats in legislative races.
.............................................
A panel of three federal judges in Madison ruled 2-1 that the way the Republicans redrew the districts violated the U.S. Constitutionís guarantees of equal protection under the law and free speech by undercutting the ability of Democratic voters to turn their votes into seats in Wisconsinís legislature.
..........................................
Under the Wisconsin redistricting plan, Republicans were able to amplify their voting power, gaining more seats than their percentage of the statewide vote would suggest. For example, in 2012, the Republican Party received about 49 percent of the vote but won 60 of the 99 seats in the state Assembly. In 2014, the party garnered 52 percent of the vote and 63 state Assembly seats...........................
Read more:
http://www.rawstory.com/2017/06/us-supreme-court-to-hear-major-wisconsin-case-on-electoral-maps/#.WUfiAPuPCko.twitter
---
Maybe Lady Justice will serve Wisconsin well. Maybe.
Justices of the US Supreme Court sit for their official group photo in Washington, DC, on June 1, 2017. Seated (L-R): Associate Justices Ruth Bader Ginsburg and Anthony M. Kennedy, Chief Justice of the US John G. Roberts, Associate Justices Clarence Thomas and Stephen Breyer. Standing (L-R): Associate Justices Elena Kagan, Samuel Alito Jr., Sonia Sotomayor and Neil Gorsuch. / AFP PHOTO / SAUL LOEBSAUL LOEB/AFP/
And this article:

John Nichols: Resolved for 2017: End gerrymandering of Wisconsin
http://host.madison.com/ct/opinion/column/john_nichols/john-nichols-resolved-for-end-gerrymandering-of-wisconsin/article_84e1bd45-7292-5a08-b33b-3664401e6530.html
JOHN NICHOLS | Cap Times associate editor Jan 3, 2017
...................................
The eight-member delegation is made up of five Republicans ó House Speaker Paul Ryan and Congressmen James Sensenbrenner, Glenn Grothman, Sean Duffy and Congressman-elect Mike Gallagheró and three Democrats ó Congressmen Mark Pocan and Ron Kind and Congresswoman Gwen Moore.
Yet Wisconsin did not vote on Nov. 8 at a 5-to-3 ratio in favor of Republicans.

In fact, Democratic contenders earned 1,379,996 votes to just 1,270,279 won by Republican contenders.
Wisconsinís 2016 congressional races were not, for the most part, aggressively contested. The Democrats gave little real support to challengers in various districts, while the Republicans could not get their acts together to mount challenges in some districts. So it is fine to quibble about what might have been. For instance, if national Democrats had gotten serious about rural policy and embraced the candidacy of National Farmers Union member and rural activist Sarah Lloyd in Wisconsinís 6th District, the partyís numbers in central Wisconsin and its statewide numbers would undoubtedly have been higher. Similarly, if Republicans had put some energy into challenging Democrat Ron Kind in the traditionally competitive 3rd District, they would have had better numbers in that district's southwestern areas of the state.
But the bottom line does not change: Wisconsinís congressional district lines have been so gerrymandered to favor Republicans that even when the Grand Old Party loses the popular vote, it wins a clear majority of seats in the House.
Gerrymandering diminishes democracy,.....................................
In 2012, Democrats won 59,645,531 votes for congressional seats across the country while Republicans won 58,228,253 votes. In a system where votes were distributed proportionally, Democrats would have won 49 percent of the seats to 47.5 percent for the Republicans, with the remainder going to third-party contenders. But in the gerrymandered system that now exists, Republicans gained almost 54 percent of the seats in the 113th Congress, with a 234-201 advantage and complete control of the chamber............................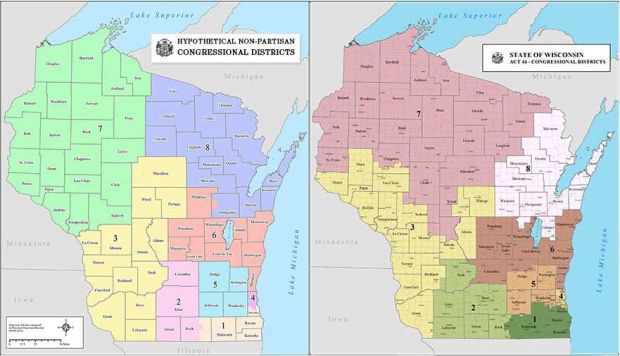 6 replies, 2936 views
Replies to this discussion thread
| | | | |
| --- | --- | --- | --- |
| 6 replies | Author | Time | Post |
| US Supreme Court to hear major Wisconsin case on electoral maps (Original post) | riversedge | Jun 2017 | OP |
| | Greybnk48 | Jun 2017 | #1 |
| | a kennedy | Jun 2017 | #2 |
| | rdking647 | Jun 2017 | #3 |
| | MrPurple | Jun 2017 | #4 |
| | bucolic_frolic | Jun 2017 | #5 |
| | orangecrush | Jun 2017 | #6 |
---
Response to riversedge (Original post)
Mon Jun 19, 2017, 11:09 AM
Greybnk48 (7,193 posts)
1. If our gerrymander is overturned, we can save our State from the Kochs
and their man-puppets, Walker and his slimy crew. We can also easily get rid of Paul Ryan.

If they side with the crooks, then we're probably done here. Call us WisKansas.
---
Response to riversedge (Original post)
Mon Jun 19, 2017, 11:18 AM
a kennedy (14,994 posts)
2. When's a possible time frame for the decision?? eom
---
Response to riversedge (Original post)
Mon Jun 19, 2017, 11:42 AM
rdking647 (4,285 posts)
3. argue in the fall decision next summer?
---
Response to riversedge (Original post)
Mon Jun 19, 2017, 01:00 PM
MrPurple (985 posts)
4. Too bad that not granting Merrick Garland a hearing/vote for a year wasn't unconstitutional
Hopefully, Kennedy or Roberts will rule with reason on this key issue. There will surely be some literalist arguments on the other side.
---
Response to riversedge (Original post)
Mon Jun 19, 2017, 01:39 PM
bucolic_frolic (9,191 posts)
5. I wouldn't be too hopeful on this one
The Roberts Court delivered Citizens United. Money is free speech. If you want equal protection
pay for it.

How could they square reversing that one?
---
Response to riversedge (Original post)
Mon Jun 19, 2017, 01:49 PM
orangecrush (5,239 posts)
6. Just the fact
That the Supreme agreed to hear the case is good, from what I read.