Fri May 19, 2017, 08:02 PM
Judi Lynn (121,382 posts)
'I blew him away': Retiree charged in Amtrak shooting
Source:
Associated Press
Updated 5:10 pm, Friday, May 19, 2017
WHEATON, Ill. (AP) — A retired federal law enforcement officer from Wisconsin told investigators he shot and seriously injured an Amtrak train conductor because he wasn't allowed to de-board early at a suburban Chicago stop, prosecutors said Friday.
Edward Klein, 79, of West Allis, Wisconsin, appeared in a DuPage County bond court hearing Friday on attempted murder and aggravated battery charges, the DuPage County state's attorney's office said in a statement. He was ordered held in lieu of $1.5 million bail.  
Klein worked for the Federal Protective Services, a branch of Homeland Security responsible for protecting federal buildings. He resides in a suburban Milwaukee independent-living facility, prosecutors told the court.
Klein had gotten off a westbound train in Kansas City, Missouri, Tuesday after he aborted plans to visit a friend in Las Vegas, state's attorney spokesman Paul Darrah said, citing prosecutors at the hearing. He then boarded the Chicago-bound train.
Read more:
http://www.chron.com/news/crime/article/Wisconsin-retiree-charged-in-shooting-of-Amtrak-11159367.php
8 replies, 4091 views
Replies to this discussion thread
| | | | |
| --- | --- | --- | --- |
| 8 replies | Author | Time | Post |
| 'I blew him away': Retiree charged in Amtrak shooting (Original post) | Judi Lynn | May 2017 | OP |
| | dbackjon | May 2017 | #1 |
| | Tanuki | May 2017 | #6 |
| | geek tragedy | May 2017 | #2 |
| | dhol82 | May 2017 | #3 |
| | xxqqqzme | May 2017 | #4 |
| | rurallib | May 2017 | #5 |
| | lunasun | May 2017 | #7 |
| | Lurks Often | May 2017 | #8 |
---
Response to Judi Lynn (Original post)
Fri May 19, 2017, 08:08 PM
dbackjon (6,390 posts)
1. Yes, let's carry guns everywhere!
So useful.




Wonder the race of the man shot.
---
Response to dbackjon (Reply #1)
Fri May 19, 2017, 09:25 PM
Tanuki (7,949 posts)
6. His photo here :
---
---
Response to Judi Lynn (Original post)
Fri May 19, 2017, 08:51 PM
dhol82 (4,278 posts)
3. Sounds like some dementia creeping in.
---
Response to Judi Lynn (Original post)
Fri May 19, 2017, 09:03 PM
xxqqqzme (14,096 posts)
4. Last time I was in Naperville, on Amtrak,
police met the train to take custody of a middle aged mentally challenged person whose family put him on the train in Kansas City, He only had a ticket to Chicago. No money, no current ID. He was so hungry he was roaming the dining car taking food off plates and the tables. Amtrak called ahead and police put him in a squad car to take him to Chicago.

I travel by train frequently. Makes me wonder how many people have been on board with a gu
n.
---
Response to Judi Lynn (Original post)
Fri May 19, 2017, 09:16 PM
rurallib (47,739 posts)
5. And the victim's life is likely totally hosed now
Will he be forever in pain? Will he need constant medical help until he dies?
How will he bring in money to live, to pay for medical devices, or help.

Will he end up with only Social Security - I have so many questions about the victims of gun violence.
Seldom do we hear about the victim and the effect on their lives.

Much like a can, every gun should at a minimum have at least $1million liability and another $1million victim's compensation insurance.
But you'll never shoot anyone? What if your gun is stolen? You should have insurance to cover that instance.

I hope the victim has a full recovery and can somehow forget what happened to him. And I hope his family survives. After all when one person is shot it affects their whole family from parents and grandparents down to children and grandchildren. It also affects friends and neighbors.
---
Response to rurallib (Reply #5)
Fri May 19, 2017, 10:16 PM
lunasun (13,575 posts)
7. They had his wife on the phone on a local station here in Chicago . She was very distraught
Said he is a fighter . His oldest daughter is at his bed side wearing his Cubs jacket but not good .
Jackass to you Naperville may look like an Amtrak stop but you are going in to a big busy suburban Metra stop . They may have been in holding until another train passes or makes a scheduled stop before the train could continue on it's ride into Chicago
Yes some Amtrak trains stop there but not all Amtrak passing Naperville make stops there.
They can't just open the door at an unscheduled stop and let you out into what an oncoming commuter train ? Why because you changed you mind? You are from Wisconsin , why did you want to get off in Naperville . To start trouble with your gun?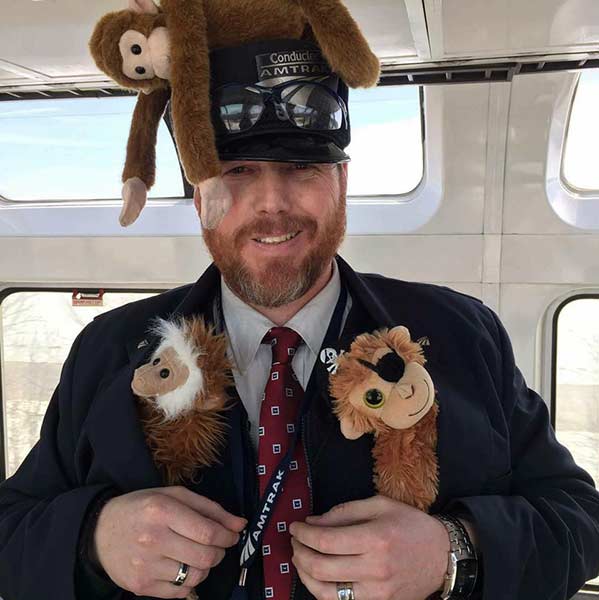 ---