Tue May 2, 2017, 09:11 AM
bananas (27,509 posts)
Japan's 'peace constitution' under pressure at 70
Source:
Agence France-Press
Japan's American-written "peace constitution" has survived unchanged for 70 years, but nationalists seeking an overhaul are gearing up for a major new push as concerns grow over North Korean belligerence.
Conservatives have long called for the document they see as a national humiliation to be amended, but current political alignments and growing security concerns suggest they now have their best chance of success.
"The time is ripe," Prime Minister Shinzo Abe said Monday in a speech to supporters of change. "We will take a historic step towards the major goal of revising the constitution in this milestone year."
The constitution, which took effect 70 years ago on Wednesday, renounced Japan's sovereign right to wage war. It has been championed by progressives as a pacifist symbol born out of the country's World War II defeat.
<snip>
Read more:
https://www.yahoo.com/news/japans-peace-constitution-under-pressure-70-073958617.html
7 replies, 5906 views
Replies to this discussion thread
| | | | |
| --- | --- | --- | --- |
| 7 replies | Author | Time | Post |
| Japan's 'peace constitution' under pressure at 70 (Original post) | bananas | May 2017 | OP |
| | DK504 | May 2017 | #1 |
| | Sunlei | May 2017 | #2 |
| | FairWinds | May 2017 | #3 |
| | hack89 | May 2017 | #4 |
| | LexVegas | May 2017 | #5 |
| | Coventina | May 2017 | #6 |
| | melm00se | May 2017 | #7 |
---
Response to bananas (Original post)
Tue May 2, 2017, 09:22 AM
DK504 (3,847 posts)
1. I have no problem with a real Armed Forces contingency.
I trust them a damn sight more than China or North Korea have a navy in the area. Maybe it's just me.
---
Response to bananas (Original post)
Tue May 2, 2017, 09:32 AM
Sunlei (22,651 posts)
2. Trans-Pacific Partnership (TPP) has been a part of the current Japanese government's growth strategy
China wants/wanted to take USAs TPP trade billions and wants to cut off Japan from Asian-pacific trade agreements. IMO China is using NK to put pressure on Japan and dragging USA billions into the issue to cover the military costs.

America is squander(R)ing billions on the 'military threat'. IMO we shouldn't be spending a dime on countries China controls. Except for humanitarian help to the people of NK and the people of Tibet and all the other countries China oppresses.
---
Response to bananas (Original post)
Tue May 2, 2017, 12:34 PM
FairWinds (1,717 posts)
3. Veterans For Peace has a similar goal . .
of renouncing war for the United States.

Here is the beautiful language of Art. 9 of the Japanese Constitution

(But note that Japan is already in partial violation)

ARTICLE 9.
(1) Aspiring sincerely to an international peace based on justice and order, the Japanese people forever renounce war as a sovereign right of the nation and the threat or use of force as means of settling international disputes.

(2) In order to accomplish the aim of the preceding paragraph, land, sea, and air forces, as well as other war potential, will never be maintained. The right of belligerency of the state will not be recognized.
---
Response to FairWinds (Reply #3)
Tue May 2, 2017, 12:39 PM
hack89 (38,872 posts)
4. Japan has had a strong and modern military for fifty years
Last edited Tue May 2, 2017, 01:36 PM - Edit history (1)
they rearmed with US encouragement and help as soon as the Cold War got started. You would never think they had renounced war if you saw their military capabilities.
---
Response to bananas (Original post)
Tue May 2, 2017, 01:34 PM
LexVegas (5,192 posts)
5. Hope this doesn't happen. Don't trust 'em. nt
---
Response to bananas (Original post)
Tue May 2, 2017, 01:42 PM
Coventina (23,026 posts)
6. Japan is between a rock (North Korea) and a hard place (US)
With North Korea able to launch nuclear warheads on Japan, and Trump making noises about stopping the defense of other nations due to the expense, what's Japan supposed to do?
---
Response to bananas (Original post)
Wed May 3, 2017, 07:58 AM
melm00se (4,354 posts)
7. Just as a point of fact
Many people do not realize how close Japan and the Koreas are: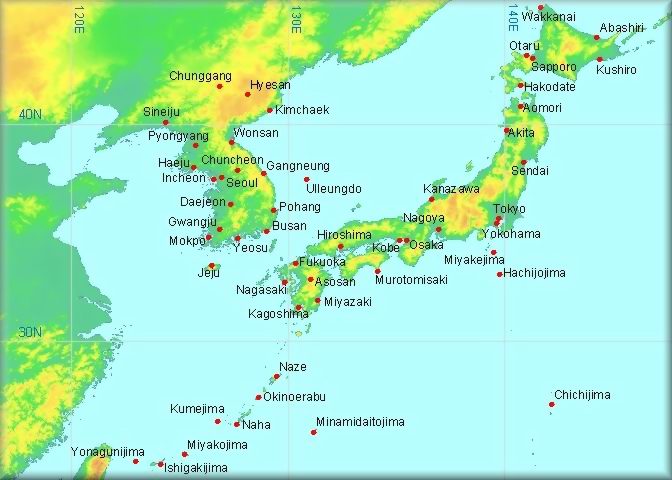 Japan to South Korea <150 miles at it's closest point
Japan to North Korea <400 miles at it's closest point