Tue Jul 10, 2012, 04:13 PM
pampango (24,417 posts)
Russia suspends new arms shipments to Syria
Source:
CNN International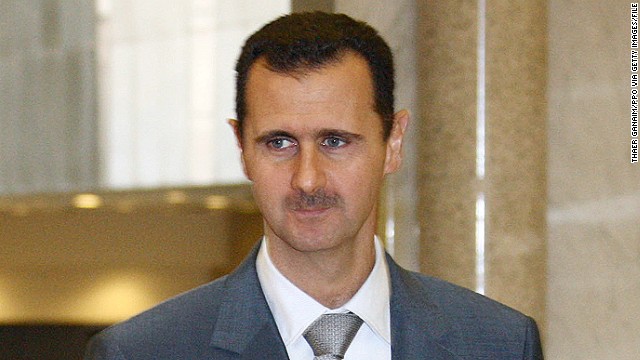 "Russia, as well as other countries, is concerned by the situation in Syria," said Vyacheslav Dzirkaln, deputy head of the Federal Service for Military-Technical Cooperation, RIA Novosti reported. "We are not talking about new arms supplies to that country." "Until the situation stabilizes we will not deliver any new weapons (to Syria)," said Dzirkaln.
The move could be a major blow to Syrian President Bashar al-Assad, who is fighting to stay in control after more than a year of popular protests and a brutal government crackdown.
Russia has been the long-time principal supplier of arms to Syria since the days when it was the Soviet Union. The weapons sales have more than doubled in recent years. According to Congressional Research Service, Russia sold Syria $4.7 billion in arms from 2007 to 2010, compared with $2.1 billion from 2003 to 2006.
News of the suspended shipments comes the same day the joint U.N.-Arab League envoy to Syria said al-Assad has agreed on "an approach" to ending the bloodshed in Syria.
Read more:
http://edition.cnn.com/2012/07/09/world/meast/syria-unrest/
---
For Assad's sake there better be some wiggle room in Russia's decision to stop arms shipments. Dictators don't last long without tanks and artillery.
6 replies, 2208 views
Replies to this discussion thread
| | | | |
| --- | --- | --- | --- |
| 6 replies | Author | Time | Post |
| Russia suspends new arms shipments to Syria (Original post) | pampango | Jul 2012 | OP |
| | lib2DaBone | Jul 2012 | #1 |
| | may3rd | Jul 2012 | #6 |
| | Arctic Dave | Jul 2012 | #2 |
| | kickysnana | Jul 2012 | #3 |
| | David__77 | Jul 2012 | #4 |
| | may3rd | Jul 2012 | #5 |
---
---
Response to lib2DaBone (Reply #1)
Tue Jul 10, 2012, 10:30 PM
may3rd (593 posts)
6. Russia won't stop
....Russian diplomats say the Syrian president has not asked for asylum. They say that Russia's relations with Syria are not tied to the Assad family remaining in power. On Monday, another Syrian opposition group, the Democratic Forum, met with Foreign Minister Lavrov.
Afterwards, one member of the group, Hazem Nahar, warned the Kremlin to stop sitting on the fence.
"The more you wait, the greater the risk Islamists will come to power in Syria," he said.
Looking to a post-Assad future, he warned: "If Russia does not change its position, Syria will stop being its ally."
But, with Russian Navy ships from three Russian fleets now steaming toward Syria's coast, the Kremlin seems to be sending a clear signal that it will stand by Assad.
http://www.yalibnan.com/2012/07/10/russia-sends-warships-to-to-its-base-in-syria/
---
Response to pampango (Original post)
Tue Jul 10, 2012, 04:41 PM
Arctic Dave (13,812 posts)
2. But they will still ship them parts.
I'm sure they have no shortage of hardware already.

It makes a fun headline though.
---
Response to pampango (Original post)
Tue Jul 10, 2012, 06:22 PM
kickysnana (3,908 posts)
3. The only way they would do this is if we gave them a much better offer. Question: How many tax $$?
---
Response to pampango (Original post)
Tue Jul 10, 2012, 07:42 PM
David__77 (17,869 posts)
4. No "new" weapons. Just old ones.
So they won't openly negotiate new weapons contracts? There are plenty of existing contracts, and nobody is talking about dishonoring those contracts in Russia. Syria has plenty of weapons of all types and multiple supply lines for replenishment.

Haven't people recognized Russia's diplomatic one step this way, one step that way game? No? Then it's working.
---
Response to pampango (Original post)
Tue Jul 10, 2012, 09:28 PM
may3rd (593 posts)
5. Instead of weapon shipments, Russia now sends warships to Syria
Russia Sending Warships on Maneuvers Near Syria
MOSCOW — Russia said on Tuesday that it had dispatched a flotilla of 11 warships to the eastern Mediterranean, some of which would dock in Syria. It would be the largest display of Russian military power in the region since the Syrian conflict began almost 17 months ago. Nearly half the ships were capable of carrying hundreds of marines.


.......
A statement by the Defense Ministry said ships had embarked from ports of three fleets: those of the Northern, the Baltic Sea and the Black Sea, and would meet for training exercises in the Mediterranean and Black Seas. Taking part, the statement said, would be two Black Sea Fleet landing craft that can carry marines: the Nikolai Filchenkov and the Tsezar Kunikov.

Russia's Interfax news agency cited an unnamed military official as saying that an escort ship, the Smetlivy, would stop in Tartus for resupplying in three days — though it had presumably recently left its home port of Sevastopol, in the Black Sea.

Another contingent, from the Arctic Ocean base of Severomorsk, in the Murmansk Fjord, will take longer to arrive. That convoy includes three landing craft with marines escorted by an antisubmarine ship, the Admiral Chabanenko.

The voyage to the Mediterranean was unrelated to the Syrian conflict, the official said, but the boats laden with marines would stop in Tartus to "stock up on fuel, water and food."

....
http://www.nytimes.com/2012/07/11/world/middleeast/russia-sends-warships-on-maneuvers-near-syria.html?_r=1