Sun Jun 12, 2016, 02:57 PM
AntiBank (1,339 posts)
UEFA threatens to BAR England from Euro 2016 if violence continues after two days of carnage
Source:
The Daily Mail UK
UEFA have threatened to ban England and Russia from Euro 2016 if there is further violence following ugly scenes in the Stade Vélodrome last night. It comes as thousands of English and Russian supporters travel to Lille, in northern France, for their second games of the tournament.
Last night several hundred English and Russian fans squared off in Marseille, hurling beer bottles and chairs and drawing volleys of tear gas from riot police who struggled to contain the fighting in the narrow streets of the Old Port district.
Inside Marseille's Stade Vélodrome the Balaclava-clad Russian thugs - wearing gum shields and mixed martial arts gloves and wielding telescopic truncheons - then charged at their English counterparts at the final whistle - as well as firing a flare gun into the England fans.
The French government on Sunday announced a ban on alcohol near Euro 2016 venues and fan zones, after three days of drunken violence among fans in the southern city of Marseille. 'I have asked for all necessary measures to be taken to prohibit the sale, consumption and transport of alcoholic drinks in sensitive areas on match days and the day before, and on days when fan zones are open,' Interior Minister Bernard Cazeneuve said.
England fans hurled themselves over railings and concerned parents were seen carrying their children away from the fighting, with stewards - rather than police - left to intervene between scuffles. Russian fans then paraded the English flags they had stolen as trophies in a square in Marseille.In a statement UEFA said: 'Such unacceptable behaviour by so-called supporters of the national teams of England and Russia has no place in football, a sport we must protect and defend.
Read more:
http://www.dailymail.co.uk/news/article-3637663/UEFA-threatens-ban-England-Euro-2016-violence-continues.html
---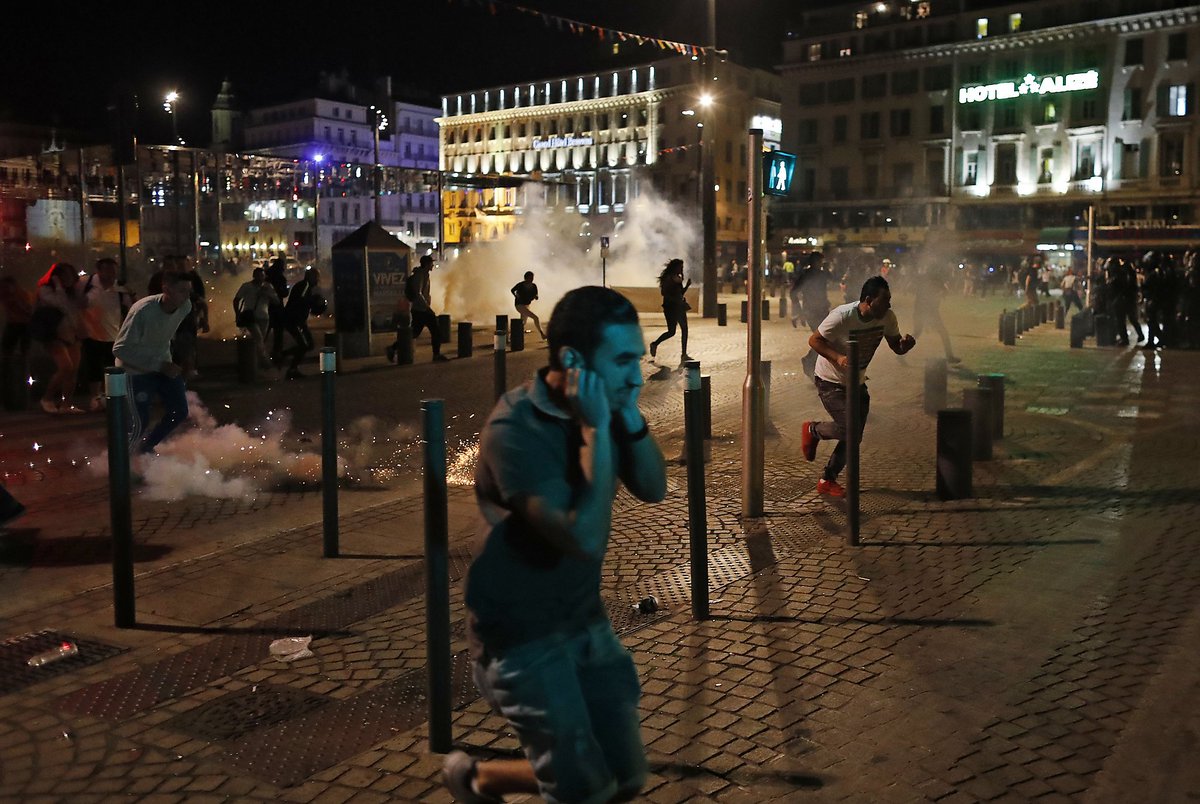 10 replies, 2959 views
Replies to this discussion thread
| | | | |
| --- | --- | --- | --- |
| 10 replies | Author | Time | Post |
| UEFA threatens to BAR England from Euro 2016 if violence continues after two days of carnage (Original post) | AntiBank | Jun 2016 | OP |
| | JustABozoOnThisBus | Jun 2016 | #1 |
| | brentspeak | Jun 2016 | #2 |
| | newthinking | Jun 2016 | #3 |
| | brooklynite | Jun 2016 | #9 |
| | 840high | Jun 2016 | #4 |
| | brentspeak | Jun 2016 | #5 |
| | 840high | Jun 2016 | #6 |
| | ananda | Jun 2016 | #7 |
| | MowCowWhoHow III | Jun 2016 | #8 |
| | Sunlei | Jun 2016 | #10 |
---
Response to AntiBank (Original post)
Sun Jun 12, 2016, 03:13 PM
JustABozoOnThisBus (22,777 posts)
1. UEFA is missing the whole point of football ...
... which is to SELL BEER!!!11!

If someone brings a flare gun to the stadium, I'd think security might be a bit lax.

If England and Russia are not allowed to play, will the English and Russian hooligan-fans stay away?
---
Response to AntiBank (Original post)
Sun Jun 12, 2016, 03:19 PM
brentspeak (18,290 posts)
2. In this case, the culprits are overwhelmingly the Russian neo-nazis
For once, the English are not the instigators.

The level of violence the Russian "fans" are committing is too frightening. For the safety of everyone, the whole thing might need to be called off (or at least games played with no fans present in the stands).



---
Response to brentspeak (Reply #2)
Sun Jun 12, 2016, 07:27 PM
newthinking (3,982 posts)
3. Have you ever attended a soccer game in Europe?
Every team has it's "hooligans". They have allowed this to be an outlet for aggressive groups for too long. Add all the propaganda heightening people's fears on both sides and it is not surprising at all this happened.

Where are you getting that the Russian fans were particularly culpable? From our mass media? Would you expect to hear anything different?

Oh, and since this was in Europe most of the fans on both sides are European. It has always been difficult for Russian nationals to get short term visas and I doubt it is easy at all in the current climate.

On edit: I just looked at some coverage and it does indeed look like some Russian soccer fans crossed over first. One of the first guys to do so was terribly bloodied in a shot later and got what he seemed to have coming to him.

---
Response to newthinking (Reply #3)
Mon Jun 13, 2016, 08:11 AM
brooklynite (85,494 posts)
9. I would expect our mass media to not care at all about a European sports competition...
---
---
Response to 840high (Reply #4)
Sun Jun 12, 2016, 08:22 PM
brentspeak (18,290 posts)
5. Are you responding to my post or someone elses'?
I didn't call the Russians here "hooligans"; I called them "neo-nazis", which is, in fact,
exactly what they are
. They wear Nazi-type outfits and have nazi-type tattoos. They're not simply drunk soccer fans who get into shoving matches with opposing drunk fans, like normal soccer hooligans. They've actually tried to kill English fans, and may have succeeded in killing at least one. They're not even soccer fans, are not even supporting the Russian team. Their attacks have been planned, coordinated. A pregnant woman was attacked. Children came close to being attacked.
---
---
Response to AntiBank (Original post)
Sun Jun 12, 2016, 08:48 PM
ananda (27,511 posts)
7. Roid rage?
---
Response to AntiBank (Original post)
Mon Jun 13, 2016, 06:04 AM
MowCowWhoHow III (2,103 posts)
8. 150 Russians 'behind' Euro 2016 violence
150 Russians 'behind' Euro 2016 violence
Some 150 Russians were behind much of the violence in Marseille ahead of the Euro 2016 match between England and Russia, French prosecutors have said.
Ten people, including six Britons, three French and an Austrian, face an immediate trial, Marseille prosecutor Brice Robin said.
But he said just two Russians had been arrested, both for a pitch invasion.
About 35 people have been injured, including four whose conditions were said to be serious, after the violence.
http://www.bbc.co.uk/news/uk-36515213
---
Response to AntiBank (Original post)
Mon Jun 13, 2016, 08:24 AM
Sunlei (22,651 posts)
10. games should be streamed, 'pay to view' from some closed to public location.