Thu Aug 13, 2015, 03:06 PM
herding cats (15,911 posts)
China explosions: death toll rises to 50 as troops dispatched to assist cleanup
Source:
The Guardian
Elite military units trained to deal with chemical, nuclear and biological disasters have been dispatched to the site of a deadly explosion in northern China, where fires still smouldered in a landscape of destruction more than a day after the original devastating blasts.
At least 50 deaths have been confirmed and 701 people admitted to hospital with injuries – 71 of those said to be "severe" – after a fire at warehouse containing "dangerous chemicals" sparked a series of blasts on Wednesday night.
Beijing vowed to deploy "every resource available" to help survivors, as environment groups warned that some of the substances handled near the site of the blast were both toxic and explosive, and said the government needed to keep people informed about risks of pollution.
Four vehicles carrying more than 200 soldiers trained to deal with nuclear, biological and chemical catastrophes were dispatched to Tianjin, which is around 100 miles from Beijing.
Read more:
http://www.theguardian.com/world/2015/aug/13/tianjin-explosions-china-sends-troops-cleanup
---
Tianjin: Latest Chinese chemical plant explosion risks massive environmental impacts
The series of explosions in the port city of Tianjin – which killed at least 50 and injured hundreds – could leave the region facing huge environmental impacts, according to an analysis of information from the local environmental monitoring station.
The explosion is the latest – and by far the most dramatic – in a series of seven chemical plant blasts so far this year including explosions in the provinces of Jiangsu, Fujian and Shandong according to media reports. There are also reports this evening of a further – smaller – explosion at a boiler factory in northern China.
The Tianjin Tanggu Environmental Monitoring Station data suggests hazardous chemicals stored by the company include sodium cyanide (NaCN), toluene diisocyanate (TDI) and calcium carbide (CaC2), all of which are extremely hazardous to health.
Sodium cyanide is highly toxic whilst toluene diisocyanate and calcium carbide react violently with water – a further potential hazard with rain forecast for the region over the next 24 hours.
http://energydesk.greenpeace.org/2015/08/13/tianjin-latest-chinese-chemical-plant-explosion-risks-massive-health-impacts/
6 replies, 1387 views
Replies to this discussion thread
| | | | |
| --- | --- | --- | --- |
| 6 replies | Author | Time | Post |
| China explosions: death toll rises to 50 as troops dispatched to assist cleanup (Original post) | herding cats | Aug 2015 | OP |
| | C Moon | Aug 2015 | #1 |
| | leftynyc | Aug 2015 | #2 |
| | cindyperry | Aug 2015 | #3 |
| | hunter | Aug 2015 | #4 |
| | Egnever | Aug 2015 | #6 |
| | Bunkalup | Aug 2015 | #5 |
---
Response to herding cats (Original post)
Thu Aug 13, 2015, 03:23 PM
C Moon (8,201 posts)
1. That explosion looked horrible. I saw a couple clips of it from a distance...
(maybe posted on DU, don't remember), and the shock wave knocked people over who were filming it from their apartments.
---
Response to herding cats (Original post)
Thu Aug 13, 2015, 04:16 PM
leftynyc (26,060 posts)
2. With all the toxicity of the chemicals
they can't even get close to the blast site. That number of dead is going to rise. A lot.
---
Response to herding cats (Original post)
Thu Aug 13, 2015, 06:46 PM
cindyperry (151 posts)
3. i saw it this morning
how terrible for those poor people that was awful
---
Response to herding cats (Original post)
Thu Aug 13, 2015, 08:10 PM
hunter (31,622 posts)
4. Environmental catastrophe. They were storing and shipping all sorts of very toxic chemicals.
Shipping containers: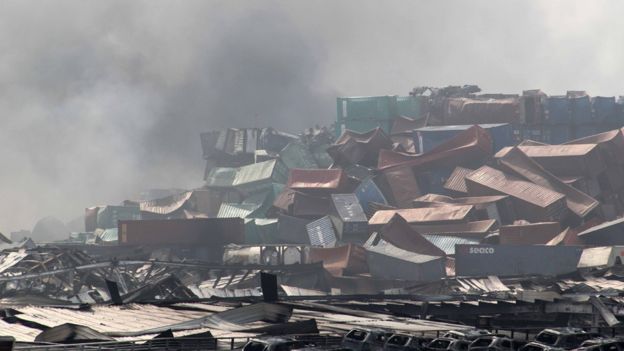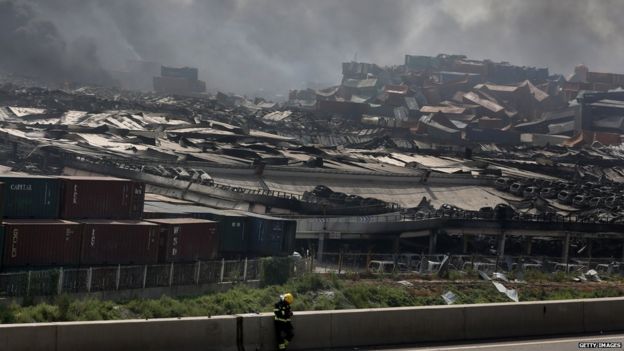 Cooked automobiles: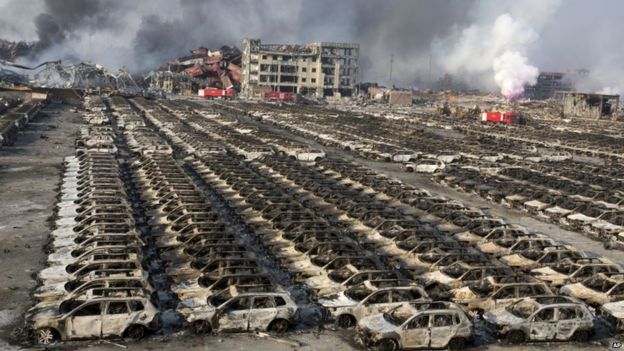 http://www.bbc.com/news/world-asia-china-33844086
Being on the cleanup crew at the Fukushima accident would be much preferable work from a health standpoint. People are going to be digging around in this wreckage and the toxins are not the sort that announce "Here I am!" to detection devices.
Many first responders were killed in this accident which apparently started as a container fire. The cleanup crews are going to face similar risks.
I've seen container fires and the steel containers usually contain them pretty well. This place was handling some bad stuff, and that which didn't explode or burn is still in the mess
---
Response to hunter (Reply #4)
Fri Aug 14, 2015, 01:07 AM
Egnever (21,506 posts)
6. Holy cow that middle photo
looks like earthquake damage almost.

Saw a report of buildings destroyed over a mile away. I am in awe of the destructive power of this blast. Thankfully it happened late at night. The death toll is going to be bad on this one, I cant even imagine how much worse it would have been if it was the middle of a business day.
---
Response to herding cats (Original post)
Thu Aug 13, 2015, 08:28 PM
Bunkalup (23 posts)
5. if you have watched the video, you will know the death toll is going to be...
very high. Also, there will be post accident increases in the death rate from exposure.