Welcome to DU!
The truly grassroots left-of-center political community where regular people, not algorithms, drive the discussions and set the standards.
Join the community:
Create a free account
Support DU (and get rid of ads!):
Become a Star Member
(964 posts)
Fri Aug 18, 2017, 09:46 AM
Aug 2017
Jefferson Davis Monument Tarred and Feathered in Arizona
http://talkingpointsmemo.com/livewire/jefferson-davis-monument-tarred-feathered
A monument commemorating the only president of the Confederacy was vandalized with tar and feathers this week, a local Gold Canyon, Arizona TV station reported Thursday.
The Jefferson Davis Memorial Highway monument sits along U.S. 60 and local authorities are investigating the incident, KSAZ reported. This is the second time a Confederate monument in Arizona was defaced this week and the most recent in a string of vandalism of Confederate memorials across the country.
--------------------------------------------------------------------------------------------------
As a Liberal that goes by the credo "Why can't we all just get along?", I'd like to propose that we get together and chip in to have it cleaned up.
With Confederate currency.
4 replies
= new reply since forum marked as read
Highlight:
None

Don't highlight anything
5 newest

Highlight 5 most recent replies
Recommended

Highlight replies with 5 or more recommendations
Jefferson Davis Monument Tarred and Feathered in Arizona (Original Post)
Nac Mac Feegle
Aug 2017
OP
1. Something kharmic about that...
Fri Aug 18, 2017, 09:52 AM
Aug 2017
Rather clever in fact.

Especially for Arizona! <snark>
2. Arizona? Yesterday there was a story about one in San Diego
Fri Aug 18, 2017, 09:56 AM
Aug 2017
The Daughters of the Confederacy (or whatever) were busy little bees weren't they?
3. Here's what it looked like before...
Fri Aug 18, 2017, 10:01 AM
Aug 2017
... including a mosaic like representation of the Confederate Battle Flag. Ugh!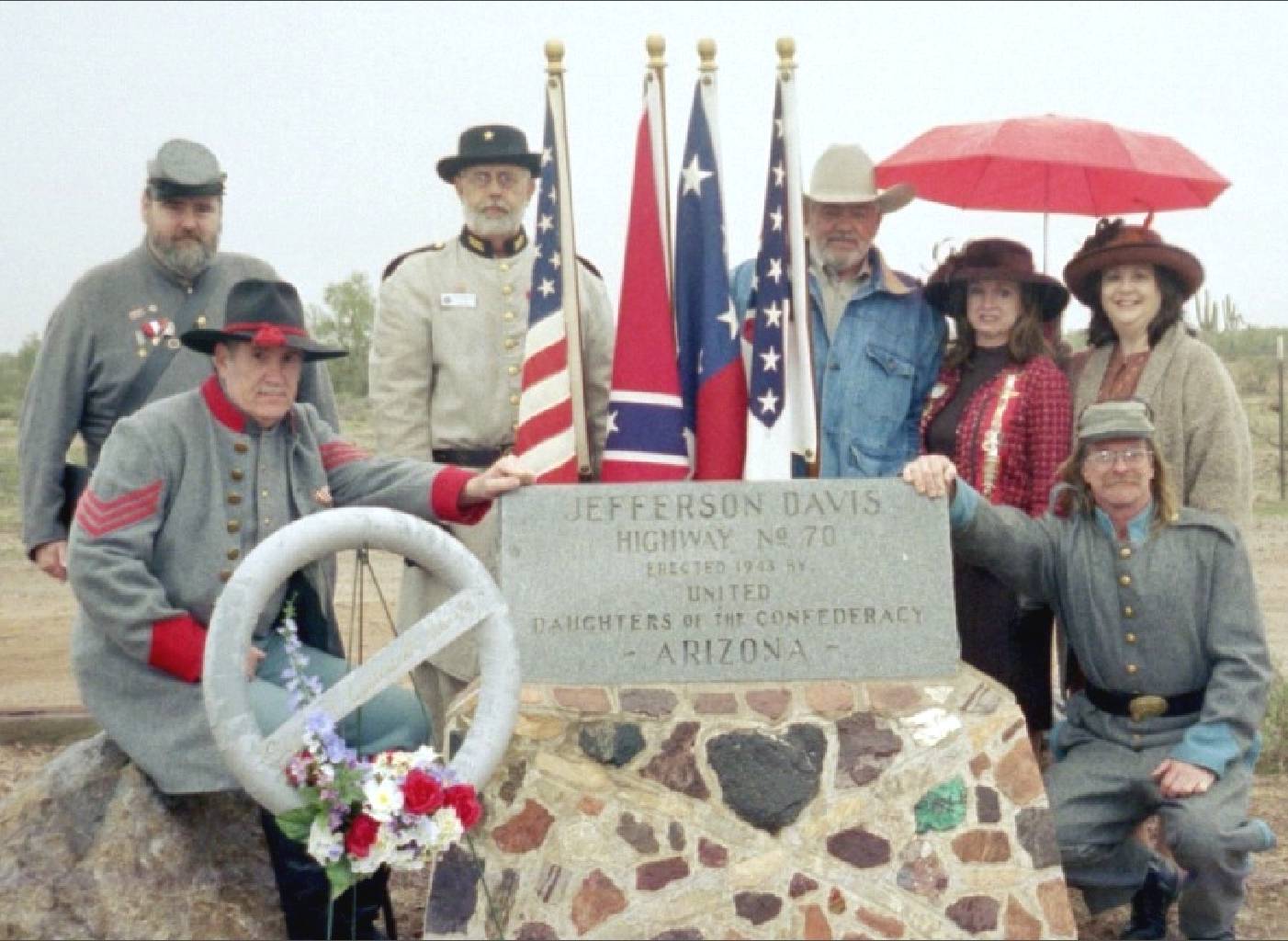 Fri Aug 18, 2017, 11:05 AM
Aug 2017
Local business owners, the Mayor and Police Chief of Phoenix are aware of the challenges and loss of revenue for yet another Presidential rally for hate.