Wed Mar 22, 2017, 01:00 PM
Initech (87,750 posts)
Top 10 Conservative Idiots #2-17: The Worst Day Since Yesterday Edition
Last edited Wed Mar 22, 2017, 02:05 PM - Edit history (1)
Top 10 Conservative Idiots #2-17: The Worst Day Since Yesterday Edition
Welcome back to the Top 10 Conservative Idiots! For more information, consult your doctor and please see our ad in Golf Digest Magazine! We are back everybody! You know… you know… do we really need "perfect bracket" contests anymore? And what's the point? There's people out there who calculate your odds of actually getting all 64 teams correctly at "next to impossible" and "infinity times a billion". Yes, we're bringing kindergarten logic to the March Madness tournament. Even the odds makers in fucking Vegas know your odds of getting a perfect bracket are next to nothing. Shit, even President Obama (see what I did there?) has ZERO chance of getting a perfect bracket! And perhaps my favorite thing about the March Madness tournament is that ESPN always manages to find that one person in all of America that has that magic perfect bracket up until the moment it busts. Yes, they do this every year. You always see that story – "tracking the last perfect bracket in America!". And I'm sure even his has gone bust by now. I mean come on! Who's bracket had last year's champion Villanova to go all the way? Or maybe you had Duke picked to win the whole tournament? Well the answer to that is "nope" and "nope". Or maybe your team is still in it like Kentucky or UCLA. That will be a crazy game, am I right? So let me check out my bracket… fuck it, I'm already out! Damn you Middle Tennessee! 2nd year in a row!!!!! And what happens if you actually get a perfect bracket? What happens if you get a Triple Crown? Well we already found out one. You just get a nice trophy and a pat on the back. The horse gets laid by all the best horses in the world, and the owners get a nice fat paycheck. Do the same rules apply if you get a perfect bracket? I want to know! All right, that's enough of the intro. But first John Oliver is back, and he destroys Trump's insane budget plan!
So where do we begin this week? Donald Trump is going to take up the first 3 slots this week. In the first slot we're going to talk about how he's been threatening nuclear war with North Korea. Did we say nuclear? We meant clear war! Yeah that's it! Taking the second slot, we're going to be delving into some failed adventures in diplomacy starring of course, our 45th president, Donald J. Trump (2). In the third slot, we're going to talk about what the FBI hearings and what easily has to be Donald Trump's worst day since yesterday. In the fourth slot, is Ann Coulter (4). So did you know that the Russian hockey team in the 1980 "Miracle On Ice" was all murdered? Neither did we! At number 5, is part time White Goodman stand in Paul Ryan. Easily the most punchable face of the US Congress has a very dark and disturbing past we feel you should be made aware of. And it gets even more disturbing than that! In the number 6 slot, is Sean Hannity (6). He is really proving himself to be the king of the deplorables, and he has come out strong and bringing the batshit crazy extra hard this week. Taking the seventh slot, we're going to talk about Donald Trump supporters (7) who got screwed and conned into voting for the man and it turns out that he's a big fat liar. At number 8, we've got another edition of "How Is This Still A Thing?" for you . This time we're going to ask "The Flat Earth Society – how is this still a thing?" At number 9 (NEIN!!!!), we're going to bring back the Trump effect. Specifically there was a story out of JFK (that's in New York, don't you know?) where a man got indicted for harassing and assaulting a Muslim Delta employee, while a man in New York got busted for attacking two trans women. Finally this week we're hitting the final matchup of round 1 of our Stupidest State Contest. But don't be sad! There is plenty of tournament to go around! This time it's going to be a fun one as we're delving into Chris Christie's New Jersey against Sam Brownback's Kansas. Plus this time we have some live music for you, this time from Germany's Milky Chance. They have a great new album out called "Blossoms" and they're going to be stopping by to play something from it! Enjoy! And as always don't forget the
key
!
[font size="8"]Donald Trump [/font]
So we start this week with President Donald Trump. Something that will never sound right no matter which way you look at it. Like "turn left on the red light", or Ryan Adams singing a cover of Rick Ross' "New Bugatti". I'll just let you contemplate that image for a minute. It's what we do! But anyways, Mr. Trump this week may have threatened North Korea with the possibility of a nuclear war. Let's roll the tape first and then let's discuss.
Now let's not forget what he said at this time last year when asked about the assassination of North Korean leader and guy who looks like a rejected Harry Potter character, Kim Jong Un:
So what would a Trump war with North Korea look like? Well let's look at this story and contemplate for a minute that this guy is our president. This guy has the power to declare war.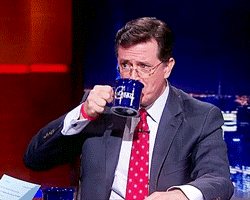 Holy shit! He literally described the behavior of third world dictator Kim Jong Un's behavior the same way two valley girls described their drunken prom experience! "Sally drank too much of the Pinot Grigio and passed out in the limo after the dance, that was behaving very, very badly!". This is presidents behaving very very badly! And you don't want presidents behaving very very badly, because these people have the power to declare war. And if war is declared on North Korea, we all lose. I mean seriously Trump's vocabulary is so limited that he talks like a valley girl! And here's how badly Trump's diplomacy is going if this possible war scenario is to be believed:
Holy fuck!!!! Now where have I heard those words "all options are on the table" before?
Yeah that sounds about right! It must be standard operating procedure for all world leaders to say "all options are on the table" at this point if any serious diplomatic endeavor fails. And this one well, may have actually failed. Which literally means all options are on the table! And if you live on the west coast like I do, or know anyone who lives on the west coast, this should scare the living shit out of you!
[font size="8"]Donald Trump[/font]
You know there's only 10 slots in these things, and we have to limit it to 10 each week. That's why it's called the Top 10 Conservative Idiots, not the top 12 or top 13. So we have to limit these to 10. Because I'd love to talk about the disaster that is the Trump budget, and I would also like to talk about his failed adventures in diplomacy. I'd also love to talk about his misadventures and secret golfing at Mar-A-Lago over the weekend. And I'd love to talk about Rachel Maddow's tax flub. But we have to adhere to a strict 10 entries per week, and these things have a shelf life, damn it! We live in a world where facts don't matter and batshit crazy stuff happens on an almost minute by minute basis. It's impossible to keep up! But we have to talk about his cast of characters. And we've met a lot of the strange sketch comedy characters that make up the Trump administration. Like Melissa McCarthy impersonator Sean Spicer. White House Barbie doll Kellyanne Conway. Or part time Hannibal Lecter stand in Stephen Miller, who occasionally reminds Trump that he forgot to put the lotion in the basket. Or guy that would sell out his own grandma to make a few extra bucks, Stephen Mnuchin. But there's one we haven't introduced you to yet, and that's Mick Mulvaney.
And another Trump campaign promise……………… gone!!!! Outta here!!!! And speaking of things failing, did you know that Trump dropped a whopping 220 spots on Forbes' annual list of people who have more money than you?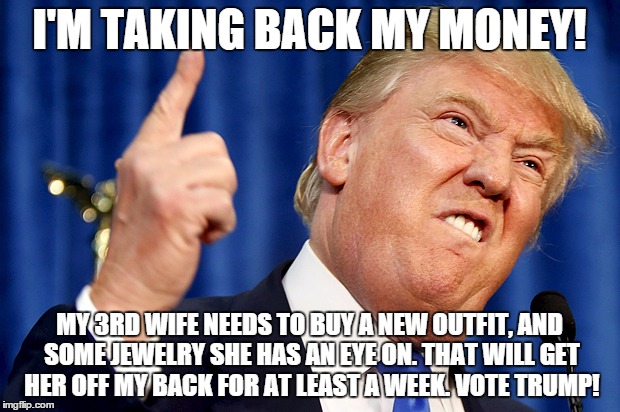 Ooh I like that one! But one of the things we have to talk about is Trump's strange and bizarre meeting with the German Chancellor Angela Merkel. Which, by the way he previously said this about her just a mere two years ago (which seems like 20 years in internet times, am I right?) :
Ooooooooooooooooh, Donald do you take cold showers in the morning? Because that is about as cold and mean spirited as it gets. And this isn't the first time he attacked Merkel either. Just remember - this guy is the president. This guy is dictating diplomatic poilcy. This guy gets to decide who the allies are to the United States. Which right now, is pretty much Russia and Trump International Brands. And by the way lets' show that image of their meeting, shall we?
Those two just look like they want to be in the same room, don't they? But oh no! After the meeting Trump took to his usual punching bag the "FAKE NEWS" media.
Can we throw those tweets up there?
Link to tweet
Link to tweet
"It's fake news, OK?". Sheesh, could the guy be any more predictable? But even people who are supposedly on his side are turning against him because of his buffoonery… and that includes people like Morning Joe:
And once again Trump fails to understand things that make the world work. You know, like diplomacy, and not pissing off your allies. I mean he's just enacting Hitler's wet dream here – the demise of NATO, and even he's wrong on that: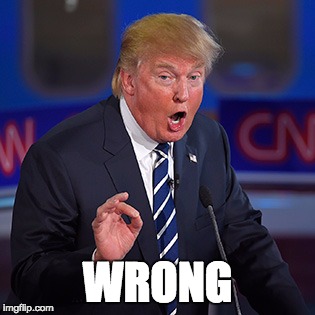 [font size="8"]Donald Trump[/font]
We need some appropriate music for this entry. Can we get that please?
Yeah I love me some Flogging Molly. I saw them on St. Patrick's Day, that is how you celebrate that holiday!
We'll have to get them on the show after their new album comes out in June. But seriously, the reason I bring that song up is that we have to talk about what was easily Donald Trump's worst day since yesterday. And that's saying a lot because in the Trump administration, every day it seems is the worst day since yesterday. In fact according to one scholar, some "treason may be in the air". Um… define the word "some" here!
So let's walk through what happened, shall we? This is like peeling an onion – the more layers you peel off of this act of treason, the smellier it gets, and the more you are likely to cry as a result:
Swing and a miss strike one! So Trump is up to bat again, he's taking time to scratch his armpit and belches, but here's the pitch… And…
Swing and a miss! Strike two! What else could Trump be hiding? This might be ball one, we're not sure:
Yup! Ball one! And then there's another pitch – ball two. So with a 3 and 2 count here's the payoff pitch:
STRIKE 3!!!!!!!!!!!!!!!!!! YOU'RE OUTTA HERE!!!!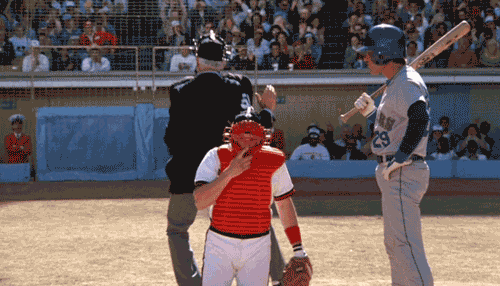 And the reviews are in on the hearing. The critics agree – it's easily Donald Trump's Worst Day Since Yesterday!
[font size="8"]Ann Coulter[/font]
That was the hockey game that will forever live in infamy during the 1980 winter Olympics between the US team and the Russian team. It's been portrayed in countless movies, documentaries, sports shows and comedies. One of the more popular flicks was the Disney 2004 reimagining of the epic game starring Kurt Russell called "Miracle". So you may be asking yourself "What happened to the players after this game?". Well I answer you good sir / madam, with Ann Coulter's batshit crazy and flat out absurd retelling of what happened exactly to that team: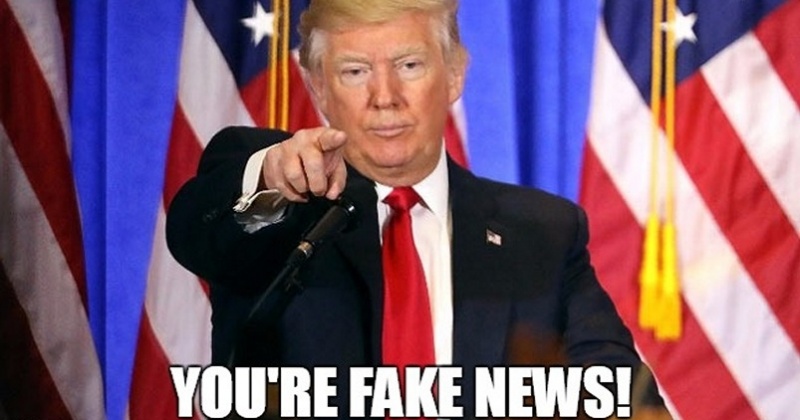 Yeah BOOOOOOOOOOOOOOOOOOOOOOO!!!!!!! You know what Ann? I think you need a refresher course in modern history. It wasn't the "liberals" who were cool with this stuff. It was conservative American businessmen who helped install Hitler in office and helped funnel the rise of the Nazi party, and contributed heavily to advance Hitler's agenda. I mean really, Ann? You think we're OK with mass murder and Hitler? You think we're cool with gulags and forced starvations? Hell no! Where on earth would anybody think that is OK? Um, nobody ever in the history of mankind! I have two words for you: fuck you! Wait, that felt good. Let me say that again: fuck you! And by the way in case you're wondering what actually happened to the "Miracle On Ice" team, I give you this:
Hmm…. Let's think about this here for a minute – how could you possibly have a 35th reunion of both teams at the same stadium if one of those entire teams were murdered at the hands of the Soviet empire? Let's think about this one for a minute, here, Ann!
[font size="8"]Paul Ryan[/font]
You know why is it whenever I see Paul Ryan, I can't help but think of the opening to one of my favorite comedies of all time, Dodgeball: A True Underdog Story:
&t=1s
At Globo Gym we're better than you! So what was the Speaker Of The House and part time White Goodman impersonator up to this week? Why a whole steaming shit load of things. And it has to be a steaming shit load, am I right? Well let's start with this disturbing revelation from Mr. Ryan's college years. I mean seriously this is fucking disturbing on multiple levels!
No seriously. If you masturbate while you're reading Atlas Shrugged, these are the kinds of fantasies you get. And if we extrapolate this, this means that Paul Ryan graduated from drinking out of kegs (did he drink straight from the tap?) to drinking the tears of poor people in high ball glasses! I mean come on if you're going to drink the tears of poor people anyways, you got to class it up a bit! Just as a way to say fuck you. Add a little salt in the wound. I mean come on, if you're a rich guy, and you're going to say fuck you to poor people, go all the way, damn it! Shit, when I'm getting shitfaced, the last thing I think about is what I'm going to be doing 30 years from now! But I can guarantee that I am not thinking about fucking over poor people! But what else has Mr. Ryan done this week? He's playing the "move along, nothing to see here" card in regards to Trump's insane health care proposal:
And you know there ain't no party like a Paul Ryan party because a Paul Ryan party stops at 11:00PM, with no after party! You non-tax paying leeches know where to stick it! No after parties for you! And yes there is tape of this!
But here's probably the most interesting thing about Paul Ryan that was out this week – his closed-meeting denial of everything having to do with Donald Trump that was taking place behind closed doors during the Trump campaign.
[font size="8"]Sean Hannity[/font]
So King Deplorable, Sean Hannity has been in the news an awful lot this week. And he really is the king of the deplorables and he doesn't even need a Jethro Tull song for that! "I walk through the valley to get to the castle, where I lay sitting at the feet of the king of the deplorables! For I am not worthy to stare at his throne! He's the king of the deplorables!" Thank you! That is my Jethro Tull impression. I need some more pan flutes and guitars for that one. Well, so what was the King Of The Deplorables up to this week?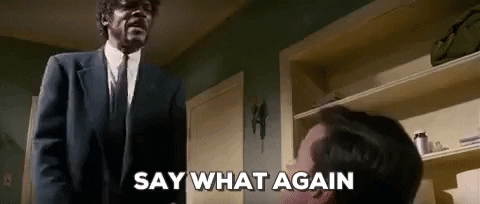 Dude, did he just go full Jules Winnfield on Juan Williams? You know what's a guy doing in journalism who hates journalists? What are people doing in government who hate government? That would be like me showing up at a Justin Beiber concert. And I hate Justin Beiber! Oh and like the good Trump supporter is, Hannity rejected the story as "fake news". Gee, what a shocker!
Ooh, I like that one! Well as if Hannity couldn't be more despicable, he is actually suggesting that the Hawaiian judge who lifted Trump's travel ban did "a little blow"
http://www.fairfaxunderground.com/forum/file.php?2,file=247048,filename=3qwyep.jpg
[font size="8"]Donald Trump Supporters[/font]
So by now you know what a danger the GOP's proposed "Trumpcare" bill is. And stories like this definitely aren't helping. I mean Trump is a guy who lies on an almost hourly basis. So you see a story like this about how Trump lied and manipulated people over the big lie that ACA isn't Obamacare. It is! It is literally the exact same thing! Republicans made up the term "Obamacare" as a way to discredit Obama and the ACA – which is yet another thing the GOP created! Yet you still see stories of people being manipulated by Trump over this shit!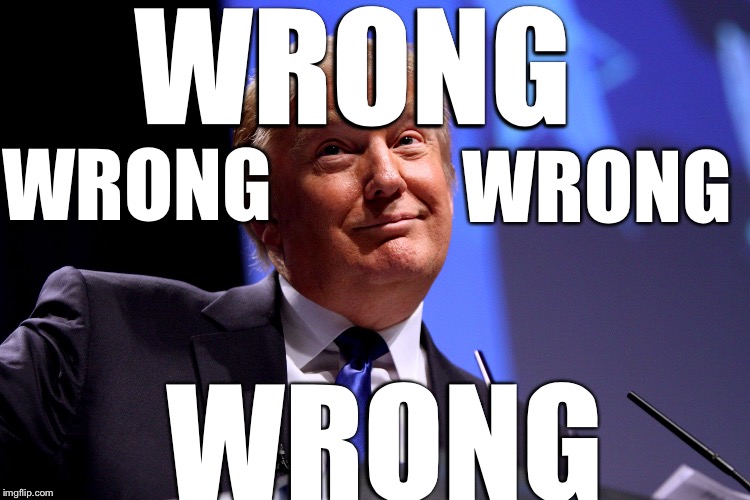 But this wasn't the only story like this this week. There were lots and lots of them. So much that we cannot contain them all in this one segment. In fact, what about one of Donald Trump's biggest supporters – the gun industry? I mean after the NRA aired attack ads against Hillary Clinton left and right, would you be surprised to learn that Trump has also thrown *THEM* under the bus?
But they wont care. All that matters is that the Trump administration has the Magic R next to their name, and they could get away with murder and robbing them stupid, but never mind! They'll continue to vote for them because the evil liberals want to take their guns away!!! You know – it's kind of like playing Six Degrees of Kevin Bacon, except there's just one degree, and the liberals are coming to take your guns away. My this coffee is good! Oh my god it's a false flag to make liberals take your guns away! Hey Suzie that's a nice dress you're wearing. Oh wait, it's evil and the liberals want to take your guns away! This is fun! I mean we live in a country now where this happens:
Link to tweet
You know if I walk into a store and I see two guys posing with giant assault rifles, guess what? I'm immediately walking out of that store!
I'm getting off topic here. What else were Trump supporters up to last week? You know who Trump's biggest supporters really are? Why it's the billionaires, of course! And some very reclusive and secretive ones.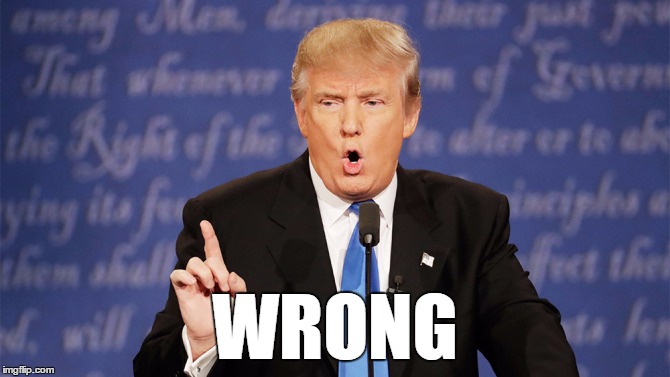 But you know – we're going to end this entry on the lighter side here. Seriously, what strand of marijuana is Rick Wiles smoking? I mean really I should listen to conspiracy theory radio more often. These guys are fucking insane!
[font size="8"]The Flat Earth Society [/font]
Time once again to ask:
This week – "The Flat Earth Society" – how is this still a thing? And how is this even more of a thing among NBA players? So this week Shaq, along with a bunch of current and former NBA players came out saying the earth is flat. Making the rest of us wonder – "what the fuck are you smoking?". In fact, Mr. O'Neal's claim for the earth being flat is about as absurd as you might imagine. And Shaq has a PH.d in education. That's the really bizarre thing about this! Let's roll the tape first and then discuss:
So what strain of marijuana must you smoke in order to believe the earth is flat after acquiring a PH.d in education? It must be a pretty potent one! I'm guessing OG Kush? Maybe some Mamawana? Or maybe it's Headband or White Rhino? Or maybe some Girl Scout Cookies? Yes that's an actual strain of marijuana. Or maybe too much edible chocolate or pot candy? Well, Dude, we just don't know! But Shaq's claim is even far more absurd than he leads on. In fact, if you read the actual transcript, he comes off looking like an Infowars fan who's smoked way too much of the strongest brand of weed available while listening to Alex Jones:
"It's true. The Earth is flat. The Earth is flat. Yes, it is. Listen, there are three ways to manipulate the mind — what you read, what you see and what you hear. In school, first thing they teach us is, 'Oh, Columbus discovered America,' but when he got there, there were some fair-skinned people with the long hair smoking on the peace pipes. So, what does that tell you? Columbus didn't discover America. So, listen, I drive from coast to coast, and this s--- is flat to me. I'm just saying. I drive from Florida to California all the time, and it's flat to me. I do not go up and down at a 360-degree angle, and all that stuff about gravity, have you looked outside Atlanta lately and seen all these buildings? You mean to tell me that China is under us? China is under us? It's not. The world is flat."
Thank you Master Yoda! That is indeed why you fail. Let's attempt to extrapolate Mr. O'Neal's logic, or lack there of for a minute. First off, fuck that. Let's explain math to him first. You don't go up and down at a 360 degree angle. You would go "around" in what's called a "circle". And that's something that they teach you in, let's say second grade. And have you ever looked at the moon or the sun? you are aware that they are both round, am I right? And have you ever seen satellite images? Or know anything about human history? The mere thought of this would be enough to make your head explode. Well, for any sane person anyway. But Shaq isn't the only NBA player who has bought into this nonsense. He's commenting on something that the Cleveland Caviliers' Kyle Irving said last week:
So Flat Earth conspiracy theorists are really no different from any other conspiracy theories. Like the people who believe that a pizza parlor in Washington DC ran a child sex ring under its' basement when it didn't even have a basement. Or the people who believe the Sandy Hook massacre was a false flag operation and the kids murdered were paid child actors. So you can explain it to them, and you can show them pictures like this:
Actual NASA satellite image by the way. But nope. They won't have any of it!
Now you may be asking yourself at this point "Well it's all well and good, but what does Neil DeGrasse Tyson think about all of this?". Why that's a very oddly specific question! And we do have an answer for you!
So even Dr. Tyson says that the people who believe that the earth is flat should be shot into space so that they can see for themselves that the earth is round. That's enough to make you ask: The Flat Earth Society:
[font size="8"]The Trump Effect [/font]
Sigh, Trump fans keep doing what you're doing. Of course I say that in the upmost sarcasm because the Trump effect once again reared its' ugly head this week. If you don't know what the Trump Effect is by now, you absolutely should. Essentially, to the deplorables, they think that just because Donald Trump is an asshole and he's the president, that gives them a free pass to be assholes. Uh, it doesn't. Not by a long shot. I mean we can talk about all the shit going down as a wave of hate crimes sweep across the US. Like this:
Yes holy shit indeed. There's a wave of this going on, and not a word from our favorite president Donald Trump. Instead, he's too busy attacking Snoop Dogg:
Link to tweet
And never mind when an incident like this happens. Gee, I wonder what this guy's political affiliation might be?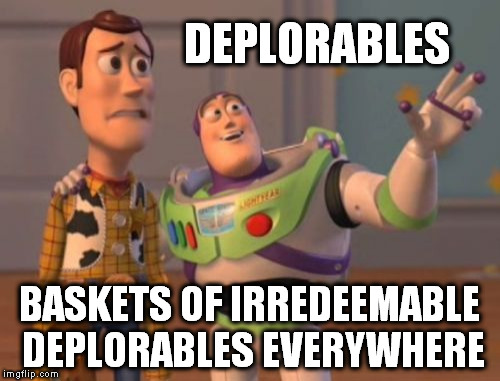 But then there's this out of New York City. I won't say whether or not this guy voted for Trump, but you can draw your own conclusions. There's nothing funny about this and so I will refrain from doing so:
Shit is getting ugly out there folks. So ugly in fact a guy whose two sons died of heroin overdoses in Ohio received an ugly and hateful letter from what we can obviously assume is a Trump supporter:
Fuck these people!
[font size="8"]Stupidest State Round 8: #7 Kansas Vs. #8 New Jersey [/font]
16 states will enter, and only one state will be crowned the new Top 10 Conservative Idiots Stupidest State! If you need a reminder of the conferences, there's the Batshit Conference, the Fiscal Irresponsibility Conference, the Gun Nut Conference, and the Family Values Conference. Last week, the heavily armed police in Missouri brought their big guns out against the Confederacy in South Carolina, and easily won that contest. This week it's the final matchup in round 1 and it's going to be a good one. We're going back to the Fiscal Irresponsibility Conference where Sam Brownback's Kansas is taking on one of the Layover League's best in #8, Donald Trump stage prop Chris Christie's New Jersey. This is the last team needed to enter the Hateful 8, but don't worry – there's going to be plenty of tournament left. We still have the conference finals, the final four, and the NFFSA (National For Fuck's Sake Association) championship. So let's get out our brackets, shall we?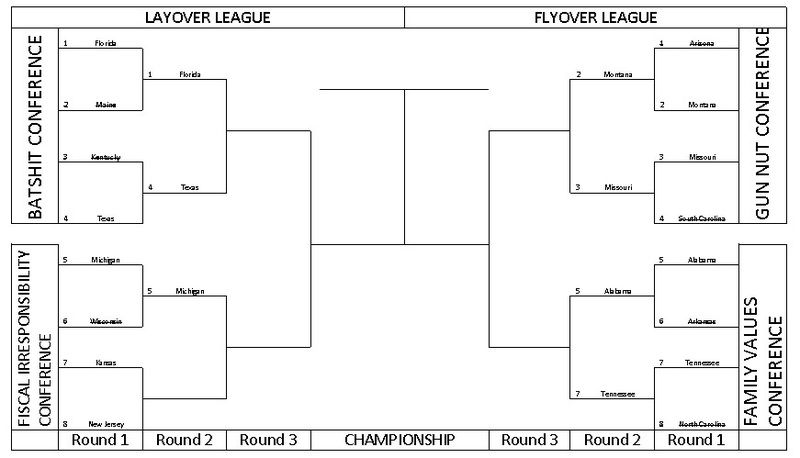 [font size="6"]Round 8: Fiscal Irresponsibility Conference: Round 2: #7 Kansas Vs #8 New Jersey[/font]
[font size="4"]New Jersey [/font]
Next up in our Stupidest State contest is none other than Donald Trump stage prop Chris Christie's New Jersey! The Garden State is none other than the setting for the very popular movie "Garden State". It's also the home of famed movie director and guy who got kicked off Southwest for being too fat to fly, Kevin Smith. Yes, that really happened. It's the home of the NHL's New Jersey Devils, Rutgers University, and the Meadowlands – the home of the NFL's New York Giants, and their much less successful brother, the New York Jets. And most everybody here has probably passed through Newark Airport on their way to or from some place at some point. The Garden State is also the home of Atlantic City – the basis for the popular HBO show "Boardwalk Empire", and the center of bootlegging in the 1920s. And it also the business home of one Donald J. Trump, the current president of the United States. Which brings me to why they're here. What else is New Jersey the home of? It's the home of the Bridgegate Scandal, which places them high in the running for Fiscal Irresponsibility superiority. Let's delve into this quite a bit more, shall we?
Just two allies were convicted? That's it? And it didn't bring down one of the most powerful republicans in the country? There's got to be more to this, am I right?
So what does this have to do with New Jersey's unparalleled corporate greed you might ask? Well to go beneath the headlines, as we often do on this show, and encourage you to do as well, let's take a look at the Chris Christie – Jerry Jones connection. You know Infowars fans, this is what a real conspiracy looks like! Just so you're aware!
Allow me to channel my inner football commentator for a minute - Oh come on, if there's one group of people you don't want to piss off, it's football fans. These are the most passionate fans in sports, just ask Patriots fans. And your own state has two football teams! Did you forget that? Or are you in too much of a bromance with Jerry Jones? I mean you know how the conservatives are always railing about how celebrities should stay out of politics? That's especially ironic when you think about the fact that they want to run Arnold Schwarzenegger, Kid Rock, and Ted Nugent. And their favorite presidents are, ironically, celebrities! The party that thinks celebrities should stay the fuck out of politics, sure has a lot of celebrities representing them, don't they? Well, I could counter that with this: maybe conservative politicians should stay out of sports, how about that?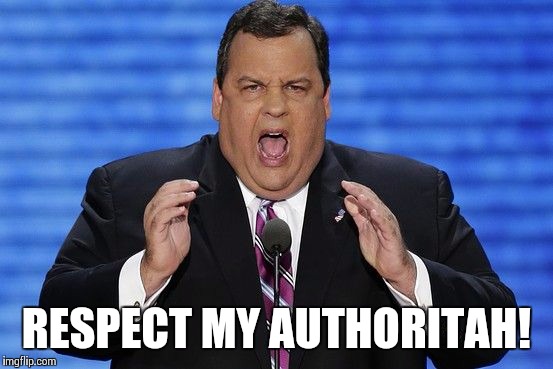 I like that one! And in case you're wondering how Chris Christie got to be the Donald Trump stage prop that he is, look no further than what happened to the Trump organization when Chris Christie first took over as governor of New Jersey. As they say in "The Hangover", "Quid Pro Quo, douchebags!"
[font size="4"]Kansas [/font]
Finally, we come to the last state, but certainly not least, in our Stupidest State contest that we have yet to cover – Kansas. The Sunflower State is home to some of college basketball's best teams. This includes the Witchita State Warriors and the Kansas University Jayhawks. It's also the home of America's largest water park – called Schlitterbahn. Kansas is also the road trip capital of America and the home to such weirdly interesting tourist attractions such as the Barbed Wire Museum and the Underground Salt Museum. Interstate 70 stretches across Kansas and is home to some of the weirdest and most unique roadside attractions that make Route 66 one of the best road trips in the world. And what else is Kansas the home of? It's the home of Tea Party darling Sam Brownback! In fact he's so insane that the Kansas house is declaring war against him.
Yes I'm in the "WTF" category on this one. So let's go back and retrace our steps and I think we'll need a flow chart for this one. So Sam Brownback proposes a budget. It passes the house and the senate and lands on his desk where all he has to do is sign it. Then he vetoes his own legislation. Then the house overrides his own veto. Then he overrides the house and vetoes his own legislation. Yeah that sounds about right. So what else happened in the world of Brownbackistan?
Why do GOP spending programs remind me of that clip on the Simpsons? And now here's the easiest part of any governor's job – the cuts. Social security, you're cut. National Endowment For The Arts? You're cut. Medicare? You're cut. Military? You stay. Higher education? You're cut. State department? You're cut. Look, there's so many cuts here I'm just going to post your names on this board here. Energy department? You're cut. And so on. But getting back to Sam Brownback… what else has he been involved in? He's also been cutting $54 million to the state's public school system!
And in case you're wondering about the kind of caliber a person like Sam Brownback really is, I give you this:
And in case you're wondering about the Tea Party's class, or complete lack thereof, look no further than last year when Sam Brownback just killed a report that said that the Tea Party's policies effectively destroyed Kansas. Which, well, which it did!
[font size="4"]And The Winner Is… [/font]
This was an extremely good and very close matchup, but sadly, only one team can advance to face Michigan in the next round. This game went into double overtime. But... we do have a winner! Kansas has propelled past New Jersey to the top of Fiscal Irresponsibility superiority! They will move on to face Michigan in the conference finals. Final score 101 - 97. Both teams were very evenly matched, but there's no mistake that Sam Brownback is the reigning king of Fiscal Irresponsibility! This may be the end of round 1, but don't worry – there's plenty of tournament left! We still have four matches in round 2 and 2 matches in round 3, plus the championship round. Next week – it's the first round of the conference finals! And to kick things off in our quest to find the final four we're going to start in the Batshit Conference – Florida. Texas. This is for all the marbles to win the coveted Batshit Crown!
[font size="8"]And now this:[/font]
[font size="8"]Milky Chance[/font]
Ladies and gentlemen, playing their song "Cocoons" from their new album "Blossom", please welcome Milky Chance!
.
Yeah how about that?
See you next week!
6 replies, 5812 views
Replies to this discussion thread
| | | | |
| --- | --- | --- | --- |
| 6 replies | Author | Time | Post |
| Top 10 Conservative Idiots #2-17: The Worst Day Since Yesterday Edition (Original post) | Initech | Mar 2017 | OP |
| | DoBotherMe | Mar 2017 | #1 |
| | dembotoz | Mar 2017 | #2 |
| | Initech | Mar 2017 | #3 |
| | underpants | Mar 2017 | #4 |
| | Initech | Mar 2017 | #5 |
| | underpants | Mar 2017 | #6 |
---
Response to Initech (Original post)
Wed Mar 22, 2017, 01:19 PM
DoBotherMe (2,226 posts)
1. KNR
---
Response to Initech (Original post)
Wed Mar 22, 2017, 01:54 PM
dembotoz (15,073 posts)
2. love it as usual but i still think kansas
brownback is really that special
---
Response to dembotoz (Reply #2)
Wed Mar 22, 2017, 02:03 PM
Initech (87,750 posts)
3. That was a toss up. I changed it.
Honestly that's why I saved the best match for last - Chris Christie is the Donald Trump stage prop we all know, and Sam Brownback has utterly destroyed Kansas.

---
Response to Initech (Original post)
Wed Mar 22, 2017, 02:21 PM
underpants (162,628 posts)
4. Cut...cut...Groenig I already cut you...Tull cut...Duke cut...Namath you stay...cut...cut...
---
Response to underpants (Reply #4)
Wed Mar 22, 2017, 02:26 PM
Initech (87,750 posts)
5. Oh there's so many cuts here!
---
Response to Initech (Reply #5)
Wed Mar 22, 2017, 02:35 PM
underpants (162,628 posts)
6. Shooshy lady..you're cut
I'm not sure if the clip goes all the way to that point but Homer cuts the women at the end who says "shoosh!".