Mon Feb 27, 2017, 03:40 PM
DemocratSinceBirth (90,044 posts)
Hate in the age of Drumpf. All across America the Klan and NAZIS are flourishing and joining forces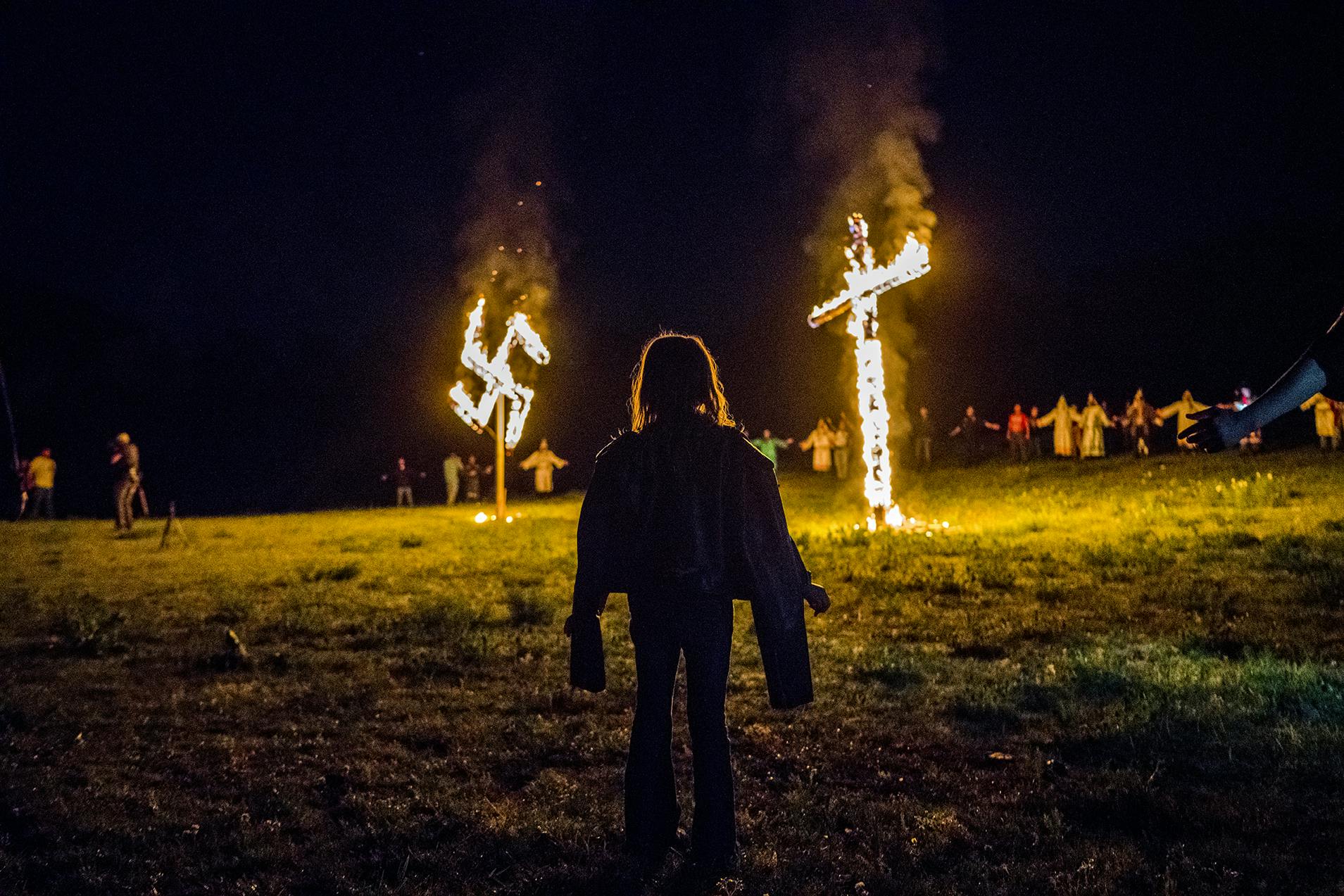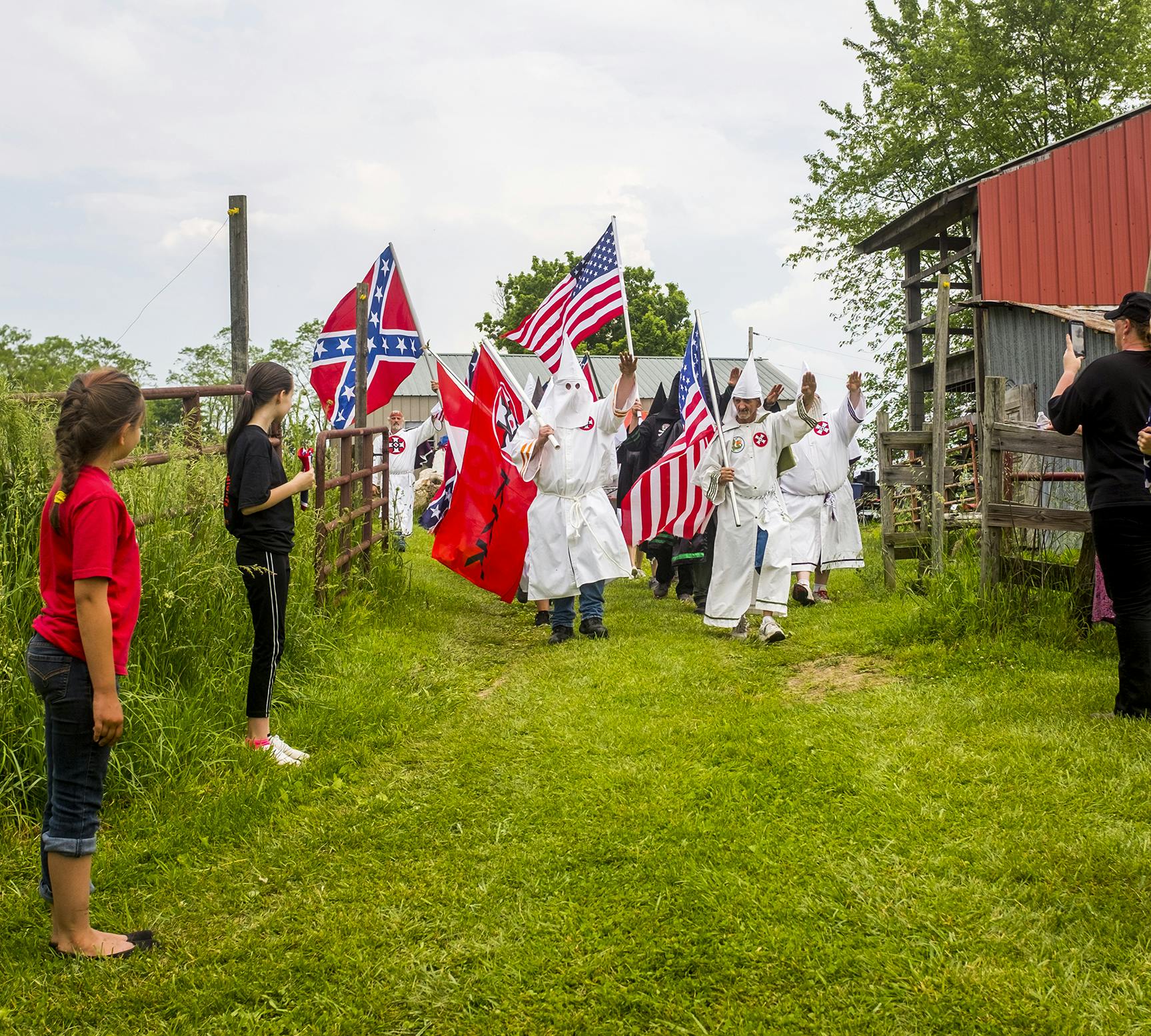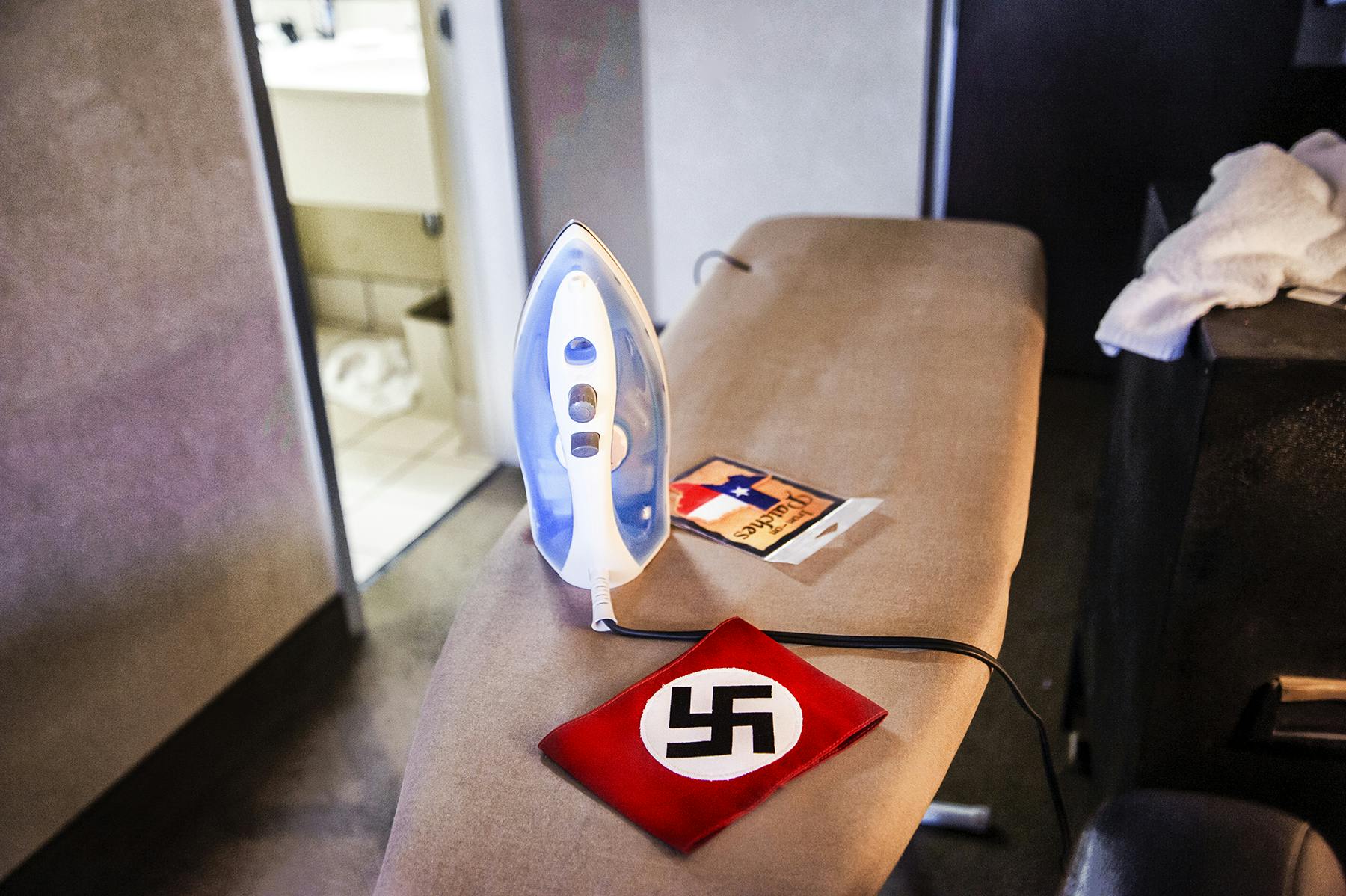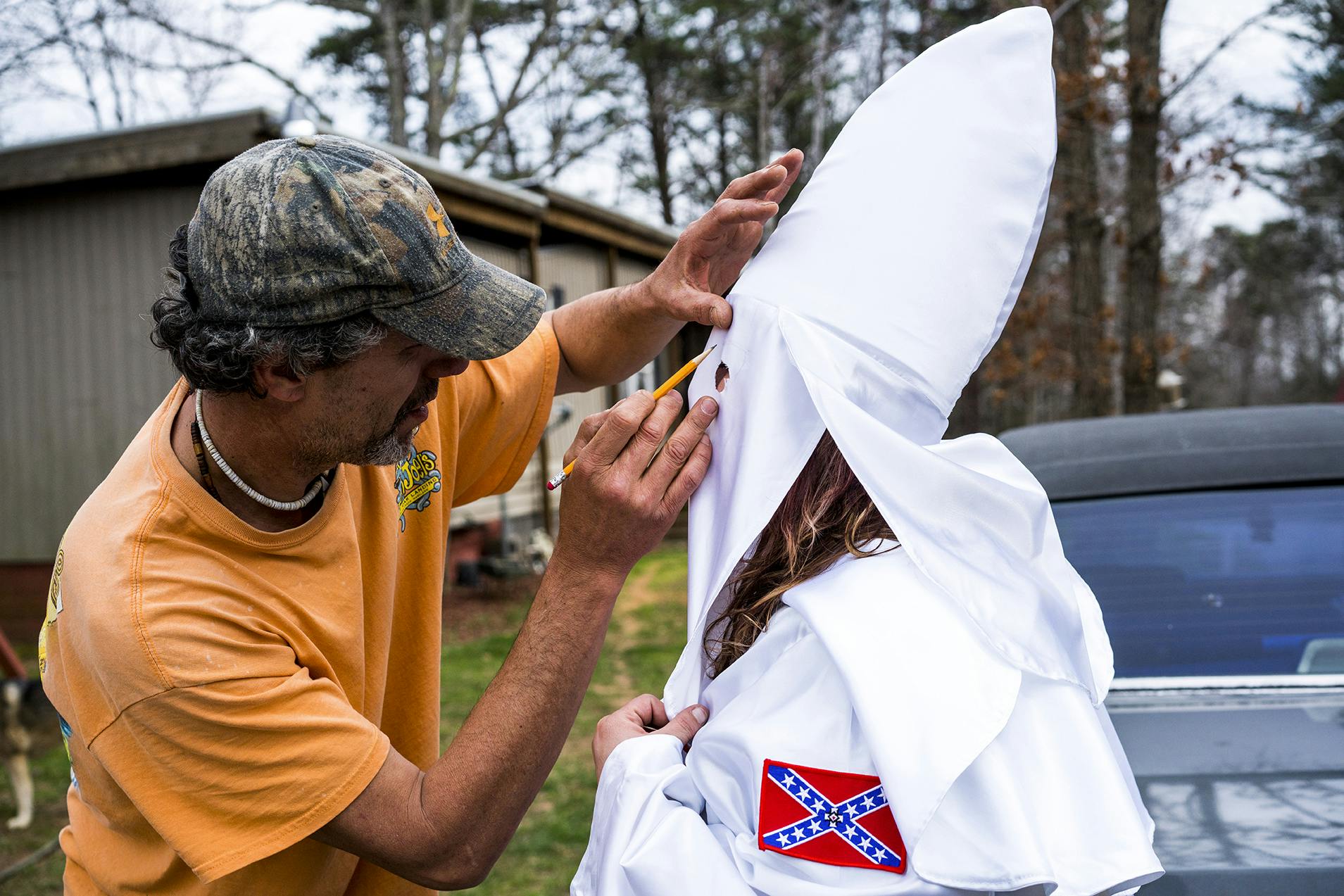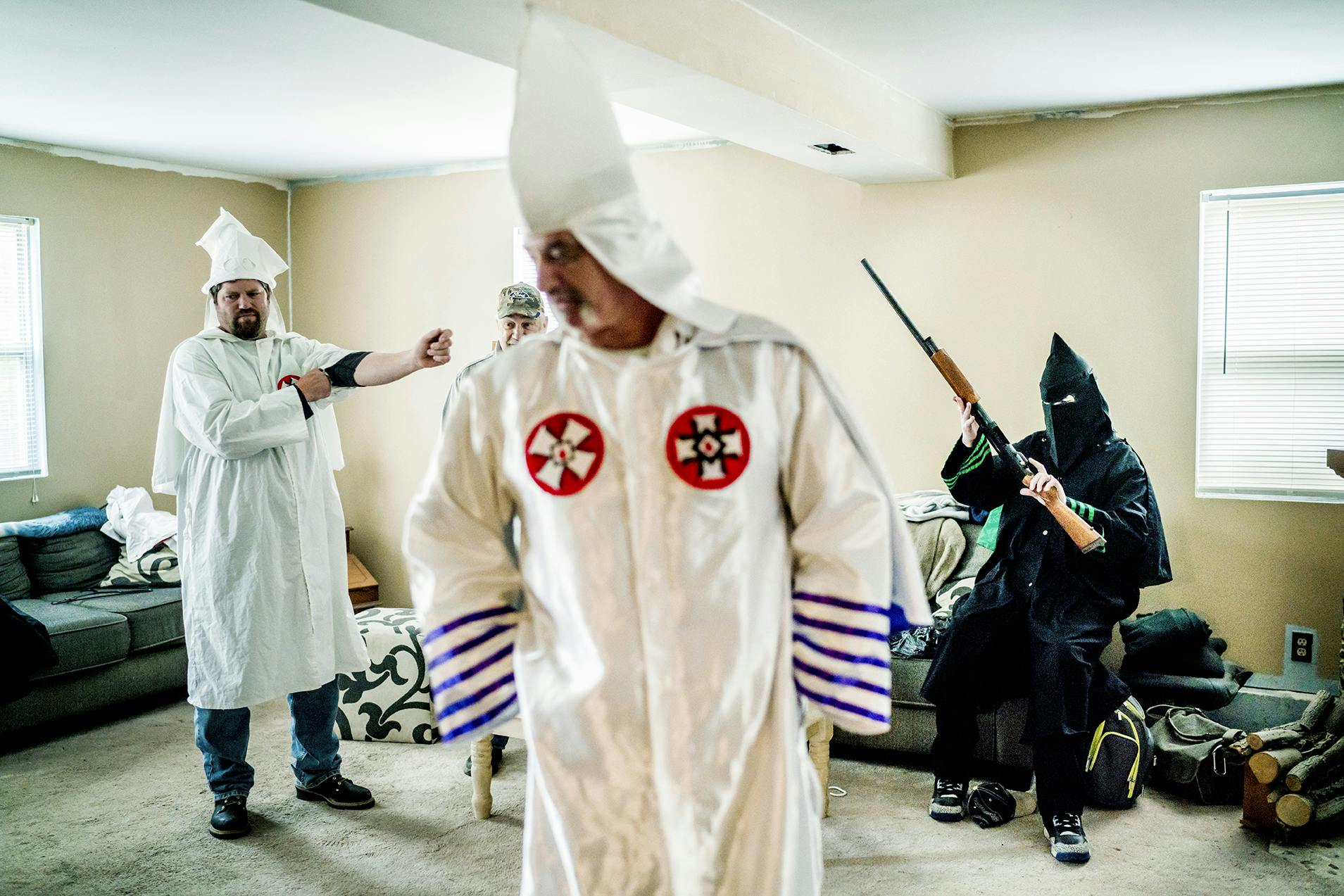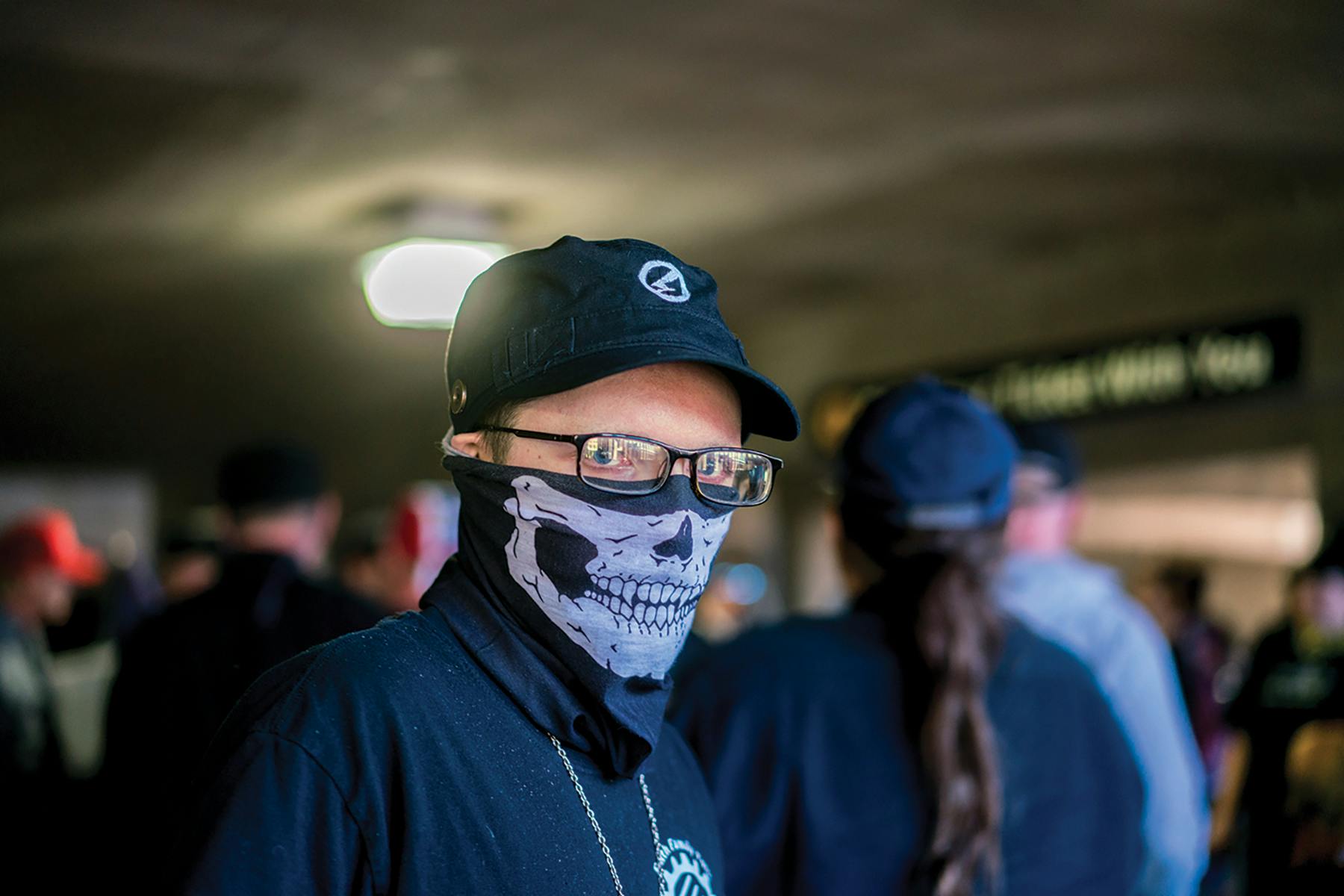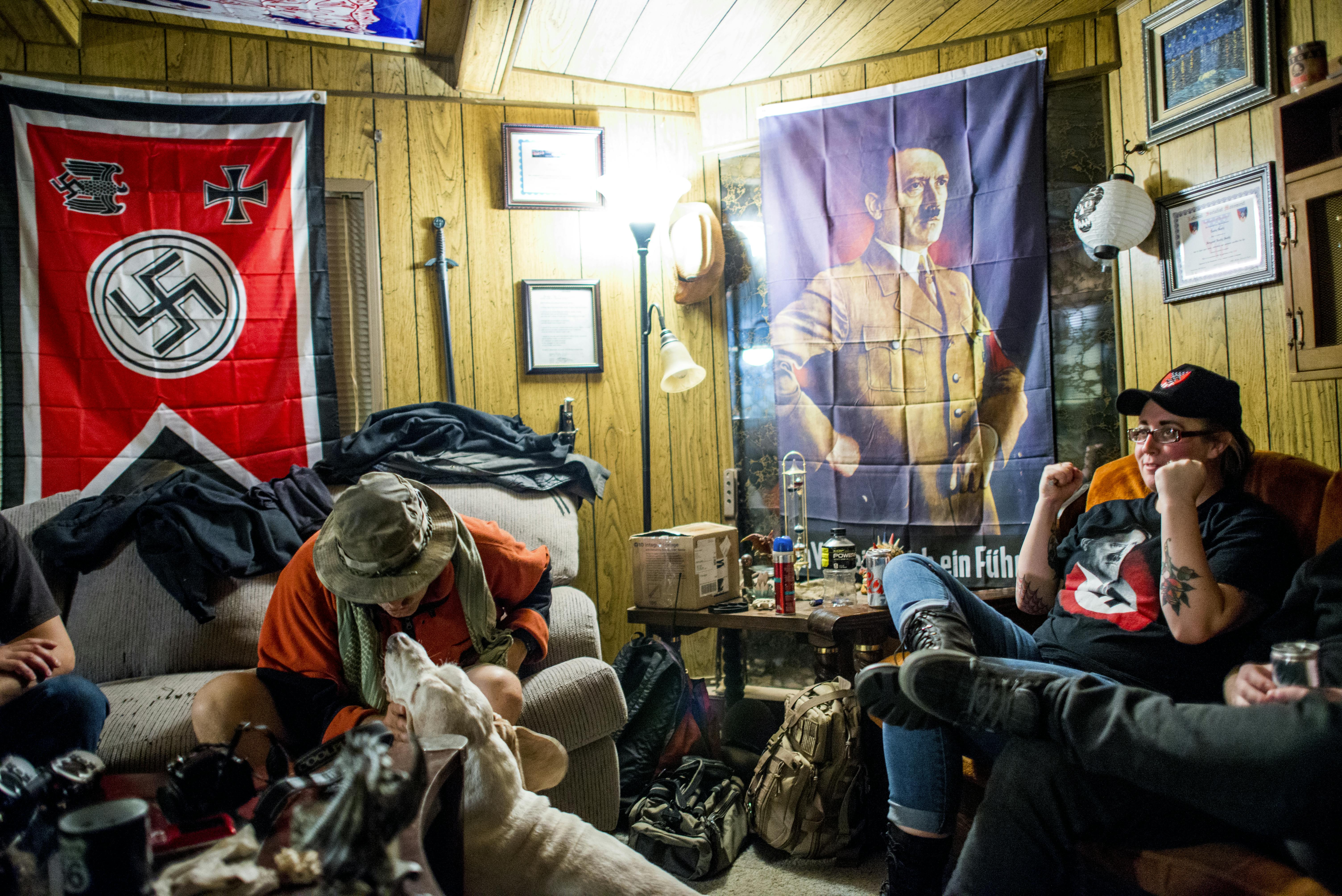 We are forced to confront many things in the images that photographer Johnny Milano spent five years capturing. The ceremonial burning of a cross and a swastika in an open field. The silhouette of a child, a young and defenseless observer of hate, situated between the flaming structures. The Nazi symbol on shirt and skin. Some of the images look modern; others seem straight out of an earlier era. They represent a people striving to keep with tradition, while simultaneously looking to rebrand their beliefs and appeal to new followers. Membership spreads not simply through inheritance, but through outreach.
Taken together, Milano's images make it impossible to deny that white supremacy is alive and well in this country. Powered by social media platforms, and encouraged by the rise of Trump-as-champion, America's hate groups have emerged from the fringes with a newfound sense of respectability. In 2015 alone, the number of homegrown hate groups jumped by 14 percent—a proliferation unprecedented in recent times.
These groups—Klansmen, neo-Nazis, white nationalists—did more than talk and meet and march. They plotted to turn their hatred into violence. "They laid plans to attack courthouses, banks, festivals, funerals, schools, mosques, churches, synagogues, clinics, water-treatment plants, and power grids," reports the Southern Poverty Law Center. "They used firearms, bombs, C-4 plastic explosives, knives, and grenades."
It would be all too easy to turn away from this reality, or consign it to the distant past. But Milano turned his camera lens directly toward it. For many, these images will be shocking. Others will be more saddened than surprised. But thanks to his work, we are all met with the direct evidence that white supremacist groups are thriving in America.
https://newrepublic.com/article/140110/hate-age-trump-photo-essay-van-jones-johnny-milano
7 replies, 1478 views
Replies to this discussion thread
| | | | |
| --- | --- | --- | --- |
| 7 replies | Author | Time | Post |
| Hate in the age of Drumpf. All across America the Klan and NAZIS are flourishing and joining forces (Original post) | DemocratSinceBirth | Feb 2017 | OP |
| | GliderGuider | Feb 2017 | #1 |
| | guillaumeb | Feb 2017 | #2 |
| | Hortensis | Feb 2017 | #3 |
| | The Wielding Truth | Feb 2017 | #7 |
| | dalton99a | Feb 2017 | #4 |
| | heaven05 | Feb 2017 | #5 |
| | murielm99 | Feb 2017 | #6 |
---
---
Response to DemocratSinceBirth (Original post)
Mon Feb 27, 2017, 03:50 PM
guillaumeb (27,453 posts)
2. Picture #2, with the young children.
Planting the seeds of race hate.
---
Response to DemocratSinceBirth (Original post)
Mon Feb 27, 2017, 03:53 PM
Hortensis (27,055 posts)
3. "Flourishing" in small numbers. They're having what
they imagine is their moment. Even so, the vast majority don't dare act out at work and step carefully in most public places.

People need to understand that some conservatives are wired by nature to reject those who are not like them. They come in everything from very mild to viciously hostile versions. We can work to minimize these feelings, and we have done a lot (positive exposure to "others" at work and school and so on works well), but these people will always be with us.

Anthropologists think the caution of conservatives, including the social/cultural conservatives who cause so much trouble for others, was once important to their societies, for instance by keeping liberals from just rushing to meet strangers and bringing back diseases that would wipe out the village. Of course, the hard-cores especially also tended to want to rush out and murder those strangers before anything bad might happen, and that's where more moderate conservatives and liberals came in.


---
Response to Hortensis (Reply #3)
Mon Feb 27, 2017, 04:21 PM
The Wielding Truth (10,557 posts)
7. Thanks for this information. It does seem hard wired in many Republicans. They are afraid to share.
---
Response to DemocratSinceBirth (Original post)
Mon Feb 27, 2017, 03:53 PM
dalton99a (29,885 posts)
4. There is no better time. Trump is aiding and abetting them.
---
Response to DemocratSinceBirth (Original post)
Mon Feb 27, 2017, 04:01 PM
heaven05 (18,124 posts)
5. surprise, surprise, surprise
Last edited Mon Feb 27, 2017, 04:33 PM - Edit history (1)
not
When lighting their burning KKKristian crosses, may their sheets burst into flames. I PRAY!!!!
Wish I could K&R this a thousand times...especially to those here and elsewhere that feel racism is not a large problem for the minority communities of color. And getting large, again. Boy-potus and his make ameriKKKa white again is TOTALLY responsible for this tragedy.
Thank you for this post
---
Response to DemocratSinceBirth (Original post)
Mon Feb 27, 2017, 04:16 PM
murielm99 (21,904 posts)
6. DOLLS?
They are raffling off little white-sheeted, hooded DOLLS? OMFG.

Just wait till some kid takes that to school for show and tell.