Wed Feb 15, 2017, 02:07 PM
Initech (76,179 posts)
Top 10 Conservative Idiots #2-13: Your Friendly Neighborhood Nuclear Football Guy Edition
Top 10 Conservative Idiots #2-13: Your Friendly Neighborhood Nuclear Football Guy Edition
Welcome back to the Top 10 Conservative Idiots! Really? Department stores? That's what we're going after now? All the rest of the world's ills have been solved? Murder? Crime? Poverty? Deadly diseases? War? Famine? Those problems have all been solved? Great. I love that David Frahm of the Atlantic called Trump the "QVC President". So what would a listing like that be on his network? I can imagine. "Up next, we have this lovely cabinet position for you to bid on! It's the Secretary Of Education! With this lovely cabinet position, you too can sell out the futures of the children of this great nation of ours. You will have those filthy liberal elitist universities trembling at your feet. There's no experience in education or government required, you just have to have lots of money and the ability to support the president's dangerous agenda lock step! All this can be yours today for the low low price of $100,000 per Senator. After all, you can't put a price on your children's futures. But you can definitely put a price on power, corruption, and that sweet, sweet profit. We have a caller. Betsy from Michigan, you're on the line!"
Thank you! Enough of the intro. We have a lot of idiocy to get to this week. But first John Oliver is back everybody!!! Yay!!!! And this week he absolutely destroys Trump with a segment called "Trump Vs. The Truth":
So where do we begin this week? Well Trump gets unseated this week! Instead, Trump's national security advisor Michael Flynn (1) takes the top spot. And there's many areas we can go with this. At slot number two, while Trump is busy tweeting about "illegal" intelligence, he blabbed it out in the open while dining with the Japanese prime minister at Mar-A-Lago, among other fuck ups that happened there. At number 3 is also Donald Trump (3). As I said in the intro they're going after department stores now. Ivanka Trump's line got booted from Nordstrom and it is just driving him batshit insane. At number 4, we have to talk about the Yemen raid, something we didn't get to cover last week. There's so much news that it's impossible to get everything.. Taking the number 5, we're going to talk about how Trump flip flops more than that big fat guy at the gym pool. Taking the 6th slot is Stephen Miller (6). Trump's professional brown shirt is channeling his inner Hitler. And if there's anything we're trying to teach you on this show is that you don't go full Hitler. Never, ever go full Hitler! At number 7 is our favorite batshit crazy conspiracy theorist Alex Jones. You thought he was crazy last week? He's turning it past 11 this week! At number 8 is New England Patriots owner Robert Kraft (8). Yes, the owner of the champs isn't shy about being a conservative idiot, and while Patriots are jumping ship in not going to the White House, the answer coming from Kraft will leave you scratching your head. At number 9 (NEIN!!!!) this week we're going to lighten things up and talk about basketball. You guys and gals like basketball don't you? Well, specifically we're going to talk about basketball's worst team – the New York Knicks, and a battle between Charles Oakley and Carmelo Anthony. And the more you dive on this subject, the weirder it gets, and we have to talk about it! Finally this week we're heading back to our Stupidest State Showdown! This time we're going to the Batshit Conference where it's a battle of the reigning Kings Of Guano (who I saw at the Troubadour last week – not that great!) – division leading rivals #3 Kentucky and #4 Texas are going to battle it out for which state is the most flat out batshit insane! And to finish, normally I would put some live music here, but now we've got to end with A Tribe Called Quest, and their glorious performance at the Grammys this week. You will enjoy it believe me! Enjoy! And as always don't forget the
key
!
[font size="8"]Michael Flynn[/font]
You know folks there's only one organization right now in this very country in this country that could rival the Donald Trump Administration in the incompetence, recklessness, and total disregard for everybody. Nobody has pissed their fans off this much and people still stick by them. The leadership of this organization is completely insane. They've tanked and they have tanked quickly. I'm of course talking about the New York Knicks. Hey o!!! I kid, I kid. The main difference between the New York Knicks and the Donald Trump administration is that the Trump administration has far more important things to deal with rather than a feud between two players. Like, I don't know matters of national security! You know during the campaign Hillary got grilled for her e-mail server, but at least she wasn't blabbing national security matters out in the open! But first we need to talk about who Michael Flynn is, exactly:
But it is a real thing. Flynn's son believed in the Pizzagate conspiracy theory to the point where his false information actually led to an incident similar to what happened at Comet Ping Pong. So what happened this week that has people fuming at Flynn?
Yes so Flynn would go ahead with lifting the sanctions on Russia imposed after the Crimea invasion. Which are reportedly leading toward talks of Flynn's dismissal:
And not only might he be fired, how is Michael T. Flynn firing back? He's hopping mad folks! And shit is going down! Oh yes it's going down! Remember back before the election when the worst thing we had to worry about was whether or not Hillary Clinton may or may not have stored vital national security secrets on a private e-mail server? Well it turns out the people we trusted with our national security secrets are well, not being very secretive about them! And here's how Flynn responded:
Oh and he just admitted – he might have committed some… light… treason, but guess what? He has no reason to resign!
And by the way – he did resign this week, and what happened the day after his resignation? The House Oversight Committee – which is run by a republican – and I shit you not – will not investigate Flynn! Their incompetence and reckless regard for the law knows no boundaries! Yeah never mind that we have a traitor in our midst, let's fire the messenger!
It's taking care of itself – what does that mean? Do we live in a perpetual shit machine now?
[font size="8"]Donald Trump[/font]
So this happened:
Link to tweet
Hey Trump, they're not sending you off into the sunset, they're telling you to go fuck yourself! I mean seriously is he Mr. Burns now?
So much better than Hillary's e-mails, they tell us! You know I have a place that the republicans should be made aware of where I would like to shove those servers, and it's not something they will feel very comfortably about after the act has been performed! I mean they're just fucking with national security at this point. And I will go out on a limb to say this: THE REPUBLICANS DON'T GIVE A RAT'S ASS ABOUT NATIONAL SECURITY!!!! Because this happened: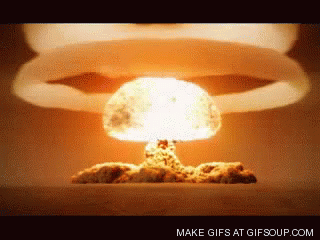 Oh lighten up people! I mean he's Rick! He's your friendly neighborhood Nuclear Football guy! So the GOP doesn't care about national security. They might as well just blare it over a Wal*Mart intercom! "Attention shoppers, will the North Korean diplomat buying laundry detergent on aisle 5 please let the whole world know that we know he has 2.5 megatons of enriched uranium attached to his wrist!". Oh and this again is one of the very things that again, republicans accused Obama of doing – identifying the guy who has the, um, nuclear launch codes!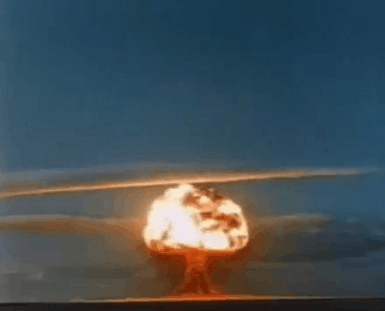 So republicans would throw a proverbial shit fit if Biden or Obama had even the slightest hint that they spotted the guy carrying a 2 megaton nuclear warhead attached to his wrist. But republicans who are big time Trump supporters can take selfies with him! Because… internet!
[font size="8"]Donald Trump[/font]
I love this so much:
As I said in the intro – we're going after department stores now. Really? So you know by now last week Trump was feuding with Nordstrom after they dropped Ivanka Trump's line. Can we throw that Tweet up there?
Link to tweet
But there's more and the more you dig into this story the weirder it gets:
It's a direct attack on the president! Oh no! The horror! And of course like everything Trump is doing, this is having a reverse effect:
Nordstrom's stock went up by more than 4 percent Wednesday after President Trump fired off a tweet criticizing it for discontinuing Ivanka Trump's brands of clothing and other merchandise.
[font size="8"]The Yemen Raid[/font]
You know the news changes on an almost hourly basis anymore. And we here at the Top 10 home office can barely take it all in. And since we have to limit it to 10, we often times have hold overs from previous editions. This is one of those. So Donald Trump got his first chance to play armchair commando this week. The Armchair Commandos, by the way, I saw them at the Troubadour last week – not that great, but they can't all be winners! So here's what happened:
That's a good question – where was Jack Bauer in all of this? This is a 24 scenario in real life! Yeah so we didn't get the guy we were going after but instead killed women and children! Welcome to Donald Trump's America – where international incompetence knows no boundaries! And yes they were waiting for our Navy Seals! This is a million times worse than Benghazi! Yemenghazi?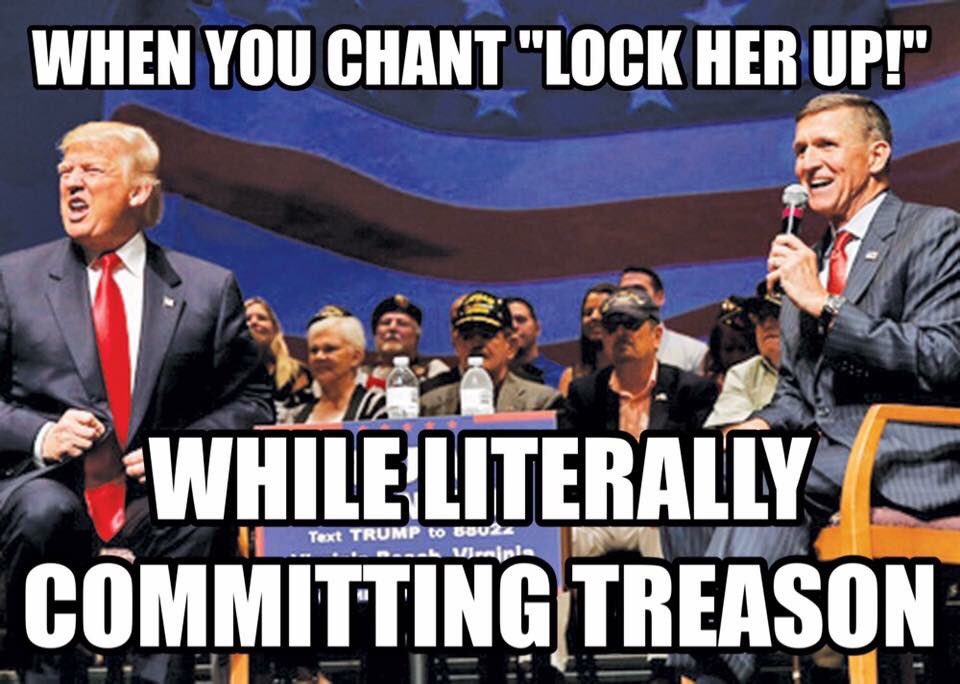 And I give this meme props for the correct usage of the term "literally". And I love how Trump declared it a "success" when it was a complete and utter failure. But then again we live in a world where "alternative facts" are a thing. And how did this whole thing come about? Well, Trump's staff is channeling their inner Bart Simpson by saying "Obama didn't do it!"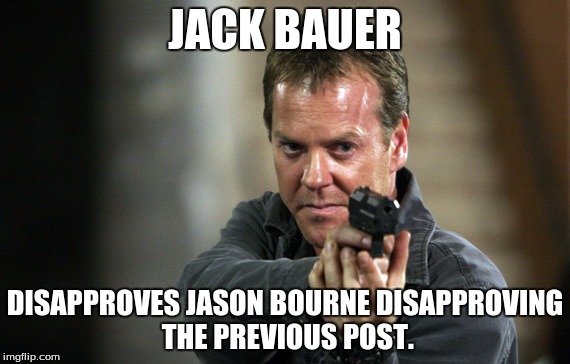 I like that one! But there's more. You know that the guy we were supposed to go after is still alive, and not only that he is gloating about it?
[font size="8"]Donald Trump[/font]
So we got to talk about what I like to call the "flip flopping president". I mean seriously this guy flip flops more than a beach goer that loses their sandals.
And what would those values be I wonder?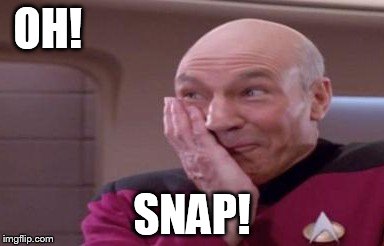 Oh snap! Indeed! So is Mitch McConnell using the "move along nothing to see here" card? Well you know who else is using that card as well? If you guessed Donald Trump you are correct! You get points! I would start with:
Today:
And there's more! Previously:
Today: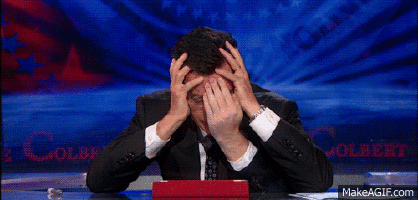 [font size="8"]Stephen Miller[/font]
So one guy in the Trump administration who we've yet to cover on this show is Donald Trump's senior advisor and part time Hannibal Lecter stand in Stephen Miller, who occasionally reminds Donald that he forgot to put the lotion in the basket, is absolutely completely deranged. In fact he came from a town close to where I live – Santa Monica, where the residents there are wondering exactly how they could have produced a guy this batshit insane:
So why is this creep in the news this week? Well you know the GOP's favorite boogeyman is voter fraud, and they go about chasing voter fraud in the same way Wiley Coyote chases the road runner. They know they are not going to catch anybody. They use lots of crazy tricks and contraptions to try to catch them in the act of committing voter fraud. So Donald Trump is egging on the myth that the states of Massachusetts and California (gee, why them?
) committed voter fraud and hired illegal voters and bussed them in from other states. Which is completely absurd.
But he isn't backing down, he's doubling down. Oh yes ladies and gentlemen, Donald Trump really is Wiley Coyote when it comes to voter fraud!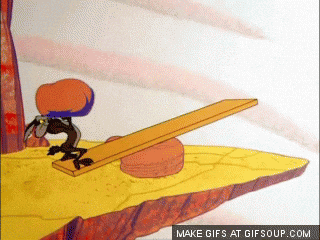 And how did Stephen Miller justify this? Why he just reiterated Trump's insane theory without any knowledge of the subject! I mean seriously we have the most insane and incompetent administration America ever has or will see. Because this happened:
By the way I think we have video of what Trump's investigation is going to look like. Can we show that?
[font size="8"]Alex Jones[/font]
So it's really sad that John Oliver is the only one in the media who can point out how dangerous the Trump – Infowars connection is. But can we throw up a screen shot of John Oliver's report on Alex Jones?
That is an inhuman shade of red on his face. I mean it looks like he's about to blow a 1950's cartoon style gasket. You know what? Let's go to the tape on this one and then we'll discuss.
Well Alex Jones hasn't remained silent since his boy got in the White House. In fact we've got a few of his greatest hits for you – just in the last week.
Which he followed up with:
Trump is super smart? Oh what planet are you living on? But this might be one of the most egregious examples of hate speech on his show. Uh, Alex? You are aware that the people who are the biggest takers of your money are the people who you helped put in the White House, right? It's not some insane conspiracy involving charities owned by people on the left. It's Trump, it's Mnuchin, it's DeVos, it's Tillerson, it's all those fuckers!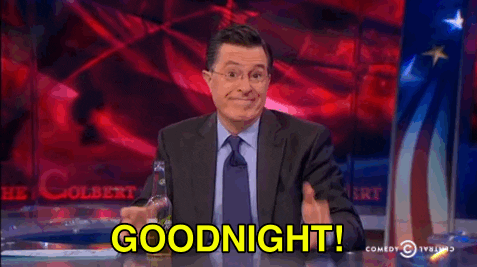 [font size="8"]Robert Kraft[/font]
Yeah yeah the Patriots are the Super Bowl Champions. Yeah fuck Roger Gooddell. Yeah Tom Brady is the greatest of all time. Blah blah blah. But we have to talk about a rather curious development with the champions. Sure, we can talk about Tom Brady famously not going to the White House 2 years ago to visit with Obama:
And then this week not one, not two, not 3 but a whopping 6 Patriots have said that they'll skip out on visiting Trump's White House. I may actually have some respect for them It started with Dont'a Hightower:
And from there 5 more Patriots joined Hightower. So much that now it's forced the owner and CEO of the team, Robert Kraft, to address the issue. So this happened:
And then the response from Kraft himself came out today. And well… what the fuck? I mean seriously we know he's a bonafied Trump supporter, as is Brady and Belicheck. Bill Maher had a great new rule about it before the Super Bowl:
And here's his statement:
And Brady himself isn't helping his own justification of not going to visit Obama 2 years ago: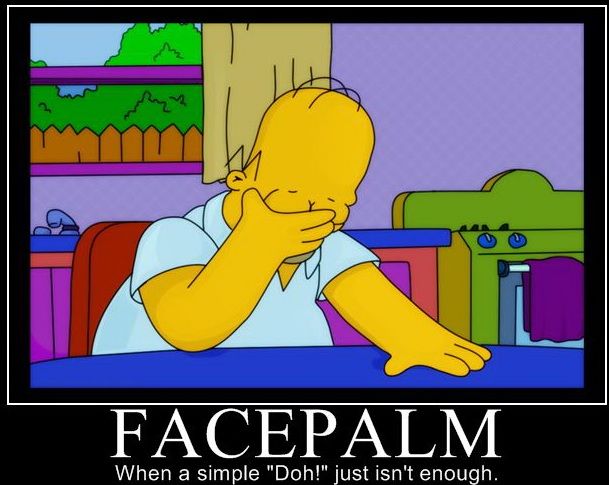 [font size="8"]New York Knicks[/font]
Ah, I love some Harlem Globetrotters! You know what folks? We're taking a break next week. I'm kind of burnt out talking about Trump 24/7, so with that in mind let's talk about something that doesn't have anything to do with politics and instead go to the sports world. We already discussed football, now let's talk about basketball. I love my Lakers don't get me wrong and I've repeatedly expressed that (although this season…
). But the worst franchise in basketball – the New York Knicks under Phil Jackson have been, the words "cluster" and "fuck" come to mind. So it turns out that the New York Knicks are about as out of control and turbulent as the Donald Trump administration so far. So what happened last week?
So yeah what the fuck did I just watch? What set Charles Oakley off? I mean it's a clusterfuck already when you're the last place team in basketball, and now to make things even worse, you ban a former member of your club for life. So what did Carmelo Anthony have to say about the turmoil surrounding his organization?
And then it gets weirder from there. So what did the Knicks owner James Dolan say after Oakley was ejected and arrested? Why guess what? He tried to blame the whole damn thing on Oakley!
I like that one!
And yes when you're in a hole, the first thing to do is to stop digging! And you know what happened next? You know what former Knicks legend they got to replace Oakley courtside? Latrell Sprewell! Yes, that Latrell Sprewell! Who is famous for feuding with owner James Dolan! The New York Knicks are a classic example of an organization that hates their own alumni.
[font size="8"]Stupidest State Round 4: Batshit Conference: Kentucky Vs. Texas[/font]
16 states will enter, and only one state will be crowned the new Top 10 Conservative Idiots Stupidest State! If you need a reminder of the conferences, there's the Batshit Conference, the Fiscal Irresponsibility Conference, the Gun Nut Conference, and the Family Values Conference. Last week it was an old west style duel to the death as the racists and white supremacists in Montana quick drew against the Homeland Security rejects in Arizona to advance to the next round. This time we're going to the overall favorite conference – the Batshit Conference! This the conference that contains such favorite states as Texas, Kentucky, Florida, Maine, West Virginia, Tennessee, Iowa, Louisiana and Nebraska. The states in the Batshit Conference each have a distinct personality in that their elected representatives as just as batshit crazy as the people who inhabit these states. These are the states where you can get a DUI while filming an anti-DUI video, while your congressional representatives use actual floor time in the state house to make the claim Obama was a gay prostitute in his past life and his wife is a paid actress. Yes that actually did happen. So in this round, we get heavyweight juggernauts Kentucky – who's made it to the Final Four 3 years in a row against perennial favorite Texas. Let's get out our brackets shall we?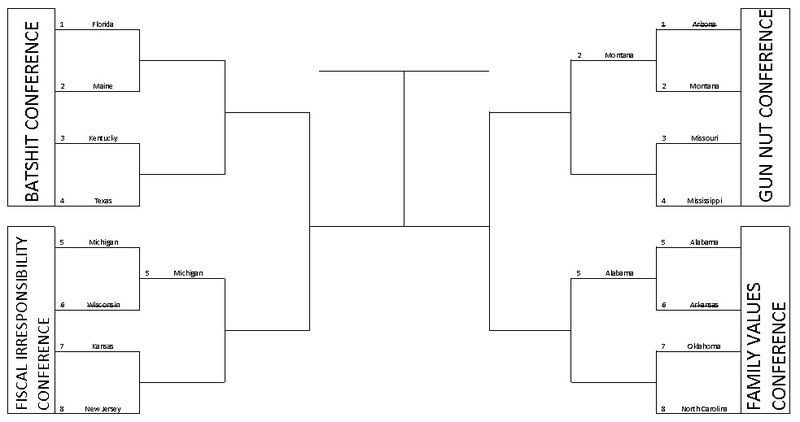 [font size="6"]Round 4: Batshit Conference: #3 – Kentucky vs #4 - Texas[/font]
[font size="4"]Kentucky[/font]
Kentucky. The Bluegrass State. It's the home of the Kentucky Derby which *allegedly* violates animal abuse laws in regards to the amount of care the horses get. It's also the home of one of the best basketball programs in the country – the UK Wildcats. It's also home to the Louisville Cardinals, who were at the center of one of my favorite sports scandals of all time. Just like last week we covered the fact that Montana's racists and white supremacists feel "emboldened" by Trump's victory . Well, so do Kentucky's.
First where are the Blues Brothers when you need them?
And second – why? I mean do today's modern racist families really need white representation? Who exactly are they catering to? I mean your racist uncle already has both houses of Congress and SCOTUS, what more do they need? I mean just look at the diversity here!
http://media.vanityfair.com/photos/58868856d821cd5a3993d0ed/master/pass/donald-trump-signing%20
(1).jpg
I count… white male, white male, white male, white male, white male, white male, white male, white male, white male, white male, and um… white male. Females? No. Black males? No. Black females? No. Latino males? No. Latino females? No. Asian males? No. Asian females? No. Just white men, and um, white men. That's enough. Do we really need more? I mean these people think of diversity the same way Ron Burgundy does:
And just like other governors we've named so far, what good is being a GOP governor without an ethics investigation? Because who needs things like laws and ethics? Pfft. If you're a republican governor and you're *NOT* under investigation for ethics violations, you're doing it wrong!
Yes! The investigation into the scandal was so corrupt that the guy headlining that guy leading the investigation resigned! So who backed this guy? Bevin ran on a staunch anti-Obamacare platform and that easily allowed him to win even though he was trailing just before the election. So who voted for him?
So the unhealthiest racist people in the entire world voted against free health care! Yes this is how we get completely unethical governors like Bevin and Senators like Mitch McConnell. Kentucky had its' own version of Covered California, called Kynect. But here's why Kentucky is part of the Batshit Conference – just like Trump, Bevin has been busy bashing Kentucky's judicial system:
[font size="4"]Texas[/font]
Next in our Stupidest State contest is none other than the Lone Star State – Texas! Texas is the biggest state in the union. Which means there's a lot of crazy we could cover. Texas is the home of Crawford, the residence of former president George W. Bush, and is also the home of the country's largest airport – Dallas Ft. Worth, and is also the home of the country's most scandal ridden university not named Penn State. I give you Baylor.
Yes holy shit! That's just one lawsuit! There's way more to this story. In fact Baylor may be the one university that would hold the record for the most lawsuits against it currently! Baylor is also the home of Ken Starr. Yes, that same Kenneth Starr who investigated Bill Clinton for an alleged rape that never happened! So why are the students and alumni of Baylor fuming?
You know let's check the bullshit meter on this one:
Oh it's going crazy ladies and gentlemen! Yes so Kenneth Starr – the guy responsible for the media circus that was Bill Clinton's impeachment trial is himself about to get impeached for the very thing he accused Bill Clinton of! Hypocrisy, thy name is Kenneth Starr! But Baylor isn't the only scandal ridden Texas University out there – there's also Rice University which boasts a strong population of Neo Nazis and Trump supporters who aren't afraid of showing their support for the orange gasbag!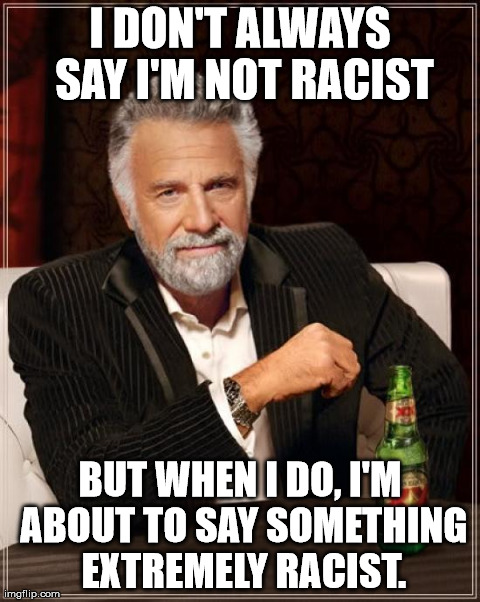 Texas is also the home of the Texas School Board, and one candidate in particular who is crazier than all of them put together – Mary Lou Bruner. We previously covered Bruner in
Idiots #19
where she has said some ridiculously batshit crazy stuff like:
Yes Obama is a gay prostitute! Or she also made claims like the assassination of JFK was a plot by the democrats to avoid elections, or that climate change has nothing to do with the climate. But next up we have Corpus Christi, Texas where mayor Joe Gazin might be one of the craziest and most corrupt mayors in the country:
Texas is also one of the states in the country with the highest murder rate, and the highest death penalty rate. In fact it recently set the bail of a man accused of murder at the low, low price of $4 billion. Wait, what? Yes you read that right - $4 billion. With a B.
But the craziest thing Texas has done lately? Gov. Abbott – the guy who replaced Rick "I can't name 3 branches of government I want to cut" Perry, not only sides with Trump on the controversial, illegal, and unconstitutional Muslim ban, he's threatening to bring the hammer down! What the fuck? Is he Thor now?
[font size="4"]And the winner is… [/font]
Texas! Texas easily routs Kentucky with a final score of 81 – 67. Kentucky may be kings when it comes to basketball, but Texas is king when it comes to crazy. But Texas isn't out of the woods yet – they still face some extremely stiff competition from Florida. Next time, we'll return to the Batshit Conference – yes the same conference two times in a row – where the all time division champions Florida – who lost to Arizona last year – are taking on extremely hot newcomer #2 – Maine.
[font size="8"]And now this:[/font]
[font size="8"]A Tribe Called Quest[/font]
You know folks, there's political statements at award shows every single year. But A Tribe Called Quest really stepped up the game here at the Grammys this weekend. So we'll end with this.
Yeah how about that?
We're going to take a week off next week, we'll be back on Wed. March 1st with a brand new edition! See you in two weeks!
1 replies, 4092 views
Replies to this discussion thread
| | | | |
| --- | --- | --- | --- |
| 1 replies | Author | Time | Post |
| Top 10 Conservative Idiots #2-13: Your Friendly Neighborhood Nuclear Football Guy Edition (Original post) | Initech | Feb 2017 | OP |
| | underpants | Feb 2017 | #1 |
---
Response to Initech (Original post)
Wed Feb 15, 2017, 02:17 PM
underpants (142,993 posts)
1. My thumb is sore