Wed Jun 27, 2012, 08:12 AM
Amerigo Vespucci (30,885 posts)
Romney campaign Über-Douche Eric Fehrnstrom: Outsourcing are people too, my friends!
Romney Campaign Boxes Itself In On Outsourcing, Offshoring Debate
Posted: 06/26/2012 1:30 pm Updated: 06/26/2012 6:28 pm
http://www.huffingtonpost.com/2012/06/26/romney-campaign-outsourcing-offshore_n_1627761.html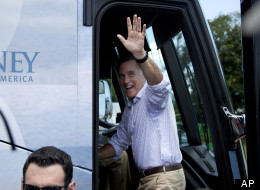 WASHINGTON -- After the Washington Post published a story last week detailing how Bain Capital investments may have helped send American jobs overseas, the Mitt Romney campaign tried to draw the very legitimate distinction between "offshoring" and "outsourcing" in the modern American economy.
On Friday, Romney campaign spokeswoman Andrea Saul quickly criticized the Post for not adequately defining the two trends. "This is a fundamentally flawed story that does not differentiate between domestic outsourcing versus offshoring," Saul said.
On Sunday, Romney campaign strategist Eric Fehrnstrom advanced the outsourcing versus offshoring distinction, providing perfectly adequate definitions of both phenomenons. "There's a very simple difference between outsourcing and offshoring," Fehrnstrom said on CBS' "Face the Nation." "Outsourcing is done by companies every day. They take functions and they allow vendors to do it rather than handling it in-house. Offshoring is the shipment of American jobs overseas."
But to distance Romney from offshoring, Fehrnstrom ends up giving implicit approval to domestic outsourcing. It's an unfortunate political position to be in, particularly during a campaign that's not just about American jobs but the quality of American jobs. Outsourcing may not eliminate jobs the way offshoring does, and the Romney campaign did not immediately respond to a request for clarification on its stance on domestic outsourcing. But in many industries, outsourcing ultimately leads to lower wages, fewer benefits and less job security for the same position.
0 replies, 1002 views