Wed Dec 7, 2016, 01:17 PM
Initech (76,296 posts)
Top 10 Conservative Idiots #2-4: The Election From Hell: The Art Of The No Deal Edition
Last edited Wed May 3, 2017, 12:23 PM - Edit history (1)
Top 10 Conservative Idiots #2-4: The Election From Hell: The Art Of The No Deal Edition
Hey everyone! This is officially the one year anniversary of the Top 10! We made it one year!!! Yes an entire year of following Donald Trump around documenting every failure and lie he's told! And I didn't want to throw my computer out the window! Woooooooooooooooooooo!!!!
Welcome back to the Top 10 Conservative Idiots! Are you a conservative white male over 50 years old with lots of disposable income who wants to hide the fact that they're aging very poorly? Or maybe you're the CEO of a large corporation, speaker of the house, or you're the future president elect of the United States. Well have no fear, the Bronzer Club for Men is here! For just four payments of $200, you too can look just like former speaker of the House, John Boehner, or the 45th president of the United States, Donald J. Trump. Just slather this giant tub of goo that you will receive weekly with your membership to your face and voila! Youth restored! Just imagine the beautiful young ladies that you will pick up to accelerate the process of divorcing from your third trophy wife! Just a quick phone call will make you look 10, 20, or 30 years younger! It will give you the perfect excuse to use those Viagra single packs that you got from your sketchy online pharmacy in Tijuana that you can use on the cruise to Puerto Vallarta that you just booked, am I right guys? Just call our hotline today at 1-800-FUT-RUMP. That's 1-800-FUT-RUMP. Remember – Donald Trump isn't just the founder of the club, he's also a member! Don't delay, order today! Ah, that's enough of that nonsense. Let's get to it shall we? First though our amazing current VP stopped by Colbert and said he wouldn't rule out running against Trump in 2020:
Do it Mr. Biden!!!
So where do we begin this week? The top slot this week is not going to go to returning champion Donald J. Trump, but to Alex Jones (1). Yes, Alex Jones knocks Donald Trump out fo the top spot this week. Turns out his fearmongering of the Pizzagate scandal – which has been proven to be fake news – has led to real violence! Holy shit! Of course slots 2 – 4 are going to our returning champion Donald J. Trump. In the second slot we're going to discuss how he plans to start WWIII by throwing 40 years of diplomatic relations between Taiwan and China down the toilet. In the third slot we're going to discuss the "deal" reached with Carrier and how he plans to save jobs – by shipping them to Mexico and giving the boss a bribe! In the fourth slot, we're going to discuss SNL taking their Twitter war with Donald Trump meta. Taking the fifth slot is Breitbart. Last week we talked about how Breitbart lost one of their biggest sponsors – Kelloggs, well cue the world's tiniest violin because they are hopping mad, and it's only causing more sponsors to pull out. In the number 6 spot, is the NRA (6). Should we change Black Friday to Red Friday? Because Black Friday sales were lackluster in most areas (partly because people are sick of it), but the one thing people bought more of than any other thing? Guns! In the number 7 seed is Sears. Sears is in deep shit financially thanks to their CEO's Ayn Randian policies that have tanked the once mighty chain. Yay! At number 8, we are going to talk about the War On Drugs – and the GOP and especially Donald Trump – definitely aren't helping things. In the number 9 (NEIN!!!!) slot, is the Trump Effect. This time, Trump's Brown Shirts are taking on the Mall Of America in Minneapolis – for – gasp – a black Santa! The horror! Finally this week we're going to do something radically different from anything we've ever done. You know the holidays are a thing that is happening right now as we speak. What, the non stop barrage of Lexus, Mercedes, Best Buy, and Zales ads haven't beat you over the head with it already? Well many of you are going to be traveling for the holidays and are probably going to be visiting your ultra conservative relatives. So we're going to be channeling the "For Dummies" series of books and giving you advice on how to talk to your relatives, in a new segment we are calling "Trump For Dummies!". Plus since you're nice for listening to my schtick, we have some live music again for you – and this time how about some live music from Puscifer? They have a great new album out called "Money Shot" that you really should listen to if you get a chance. It's the stuff of pure genius. And their video for the song they're going to play – "The Remedy" – has won awards! How about that? And they will be stopping by later! Enjoy! And as always don't forget the
key
!
[font size="8"]Alex Jones[/font]
Ugh… do I really have to talk about Infowars? Shit. No I don't want to! Make me. I know you are but what am I? Takes one to know one! OK fine. Fuck it. So one of the things that came out of the worst election ever was the fact that more people paid attention to fake news than real news. Like there's this guy.
Great! I have just one thing to say to you, if WWIII is the work of Donald Trump, and judging from his misadventures in diplomacy this week, it sounds like it's inevitable at this point. So that's on you. And I have one thing to say: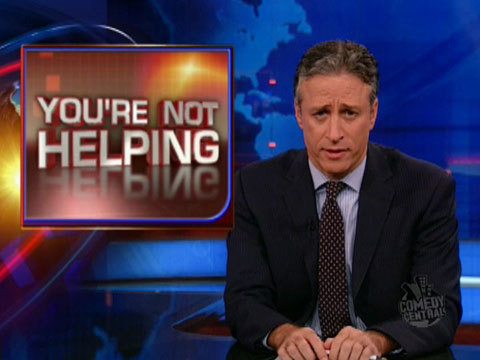 You know who else isn't helping? Alex Jones. You may have heard about a "scandal" brewing called Pizzagate. Now the jist of it is that allegedly Hillary Clinton and her campaign manager John Podesta allowed a pizza restaurant in Washington DC called Comet Ping Pong to run a child sex ring underneath the restaurant. Except that it has been proven to be not true. And these poor people have been subjected to endless harassment from alt reichers. And Alex Jones wont shut up about it.
And yesterday the second shooting happened under Alex Jones' name (the first was the Las Vegas cop shooting back in 2015 started by Infowars fans). This guy is going to start a fucking war if we're not careful.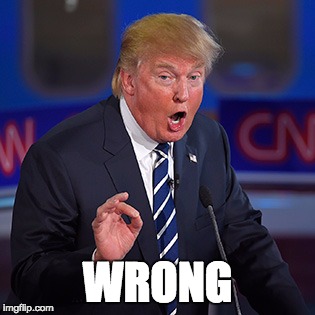 So to extrapolate the "logic" of Infowars fans, because Hillary Clinton had planned a fundraiser at this pizza place, it's all of a sudden the center of a child molestation investigation confrontation? Well it isn't true. There's nothing funny about that, and there's nothing funny about the endless harassment going to the owner and employees of Comet Ping Pong coming from Infowars fans. And of course since the actual violence happened, Alex Jones isn't helping things. Here's what the bloviating asshole had to say before the shooting happened.
Yes there is video of this. Unfortunately I couldn't find a link it's probably been taken down from Youtube (seriously fuck Alex Jones). But it definitely isn't helping that the son of the guy who Trump picked to be National Security Adviser fucked up and passed this crap around Twitter:
You know what's underneath the Comet Ping Pong restaurant? A fucking sewer! And the alt reich is in it!!!!! Really how fucking stupid are you? Oh yeah they think "ice cream" is code for "male prostitute"!!!!! Ah, the stupid it burns!!!
Yeah so the Pizzagate gunman was a fan of Infowars and Alex Jones:
[font size="8"]Donald Trump[/font]
If you haven't seen the current season of South Park, you must. It takes on Twitter trolling and Donald Trump: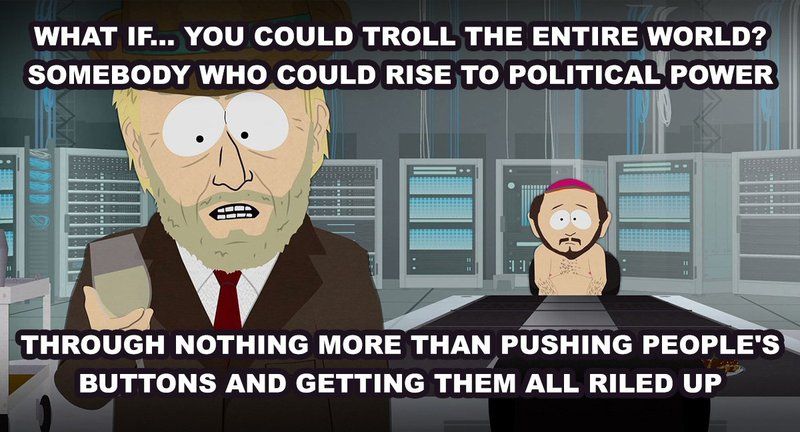 Let's lighten things up and talk about WWIII, shall we? Do I dare ask for some appropriate music?
Thank you!!!!!
Well it's the end of the world as we know it folks, and I feel fine. Well REM's song was only 25 years too early. Because the man who will most likely be responsible for the end of the world is none other than our actual future president Donald J. Trump. So before we dive into this head first, you are aware that Taiwan has been in a diplomatic feud with China over its' independence and control of the South China Sea, right? Plus we have some long standing diplomatic ties to China. So here's how Donald J. Trump is involved in this whole thing.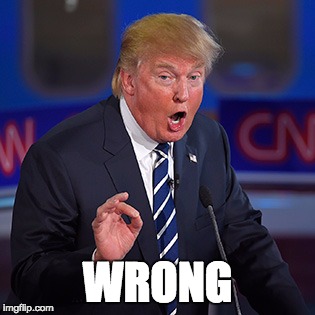 Whoa let's stop there. Yeah you are wrong there, Donald. So what is the whole controversy between Taiwan and China?
What is the China-Taiwan issue?
Both players claimed, at least formally, to represent all of China — which they considered to include each other's territory. That created problems, including periodic risks of war, for decades.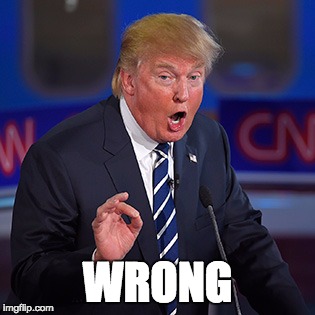 That's not wrong Donald, that's exactly what happened. So why does this phone call matter?
Holy fucking shit! So with one phone call, Donald Trump may have escalated 40 years of diplomatic tensions! By the way, does it seem odd to anyone else that all the world's problems seem to have started around oh 1980? Maybe Reagan's election was the nexus of the universe! Of course I'm surprised we didn't see time travelers on election night.
But there's more!
So Beijing has told Donald Trump that he's treading on extremely thin ice here! So he might be the catalyst for World War III after all! He's already nominated the other three horsemen – Bannon, Sessions, and DeVos to his cabinet! So what else is coming because of this?
So of course Trump retreats to his old friend Twitter for some angry 3:00 AM toilet Tweets. Like these:
Those are the actual Tweets. Of course making ones up is my job, damn it!
And apparently this whole thing has been planned for a long time:
Which prompted the White House to do some major damage control: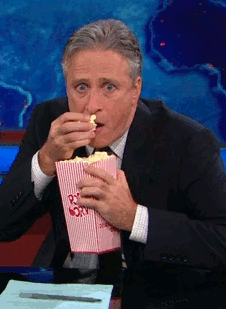 [font size="8"]Donald Trump[/font]
That was so brilliant. So the art of the deal… or in this case the Art Of The No Deal. As in what Donald Trump did to the Carrier Air Conditioning manufacturing company based in Indiana. So here's what happened:
Except it didn't.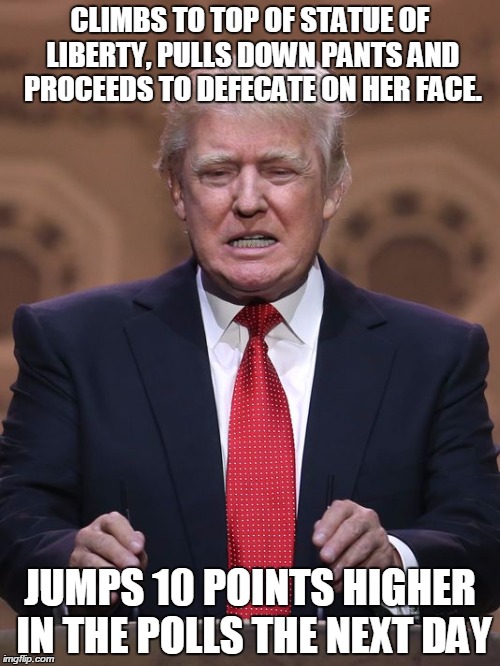 I like that one! Yes so if we extrapolate Donald Trump's logic, he saved 1400 jobs that United Technologies, a company he personally owns stock in, from going to Mexico – a country that he plans to build a wall around, by negotiating the number down to 1200. Those jobs are still gone. And Carrier gets some nice tax breaks out of it.
And here's where things get really scary – this was no victory. Instead I believe the technical term that we're looking for is "clusterfuck".
[font size="8"]Donald Trump[/font]
So what does Donald Trump do at 11:30 on a Saturday night? I'm guessing he is not attending the Green Day concert and going on an all night bender followed by a 3:00 AM quickie in an alley way by the concert venue. And no that's not how I spent my night at that show!
No, he's a family man, and is probably watching TV on the couch. And if he hates the show that much, you know Donald, there's a whole world of TV out there! Oh wait, he must have a DVR alert for shows about him, which might explain why he hates Alec Baldwin so much. Let's roll tape first.
So what did Trump himself have to say about this?
Let's throw that Tweet up there shall we?
Yes that's the actual Tweet. Now let's throw up Mr. Baldwin's response, shall we?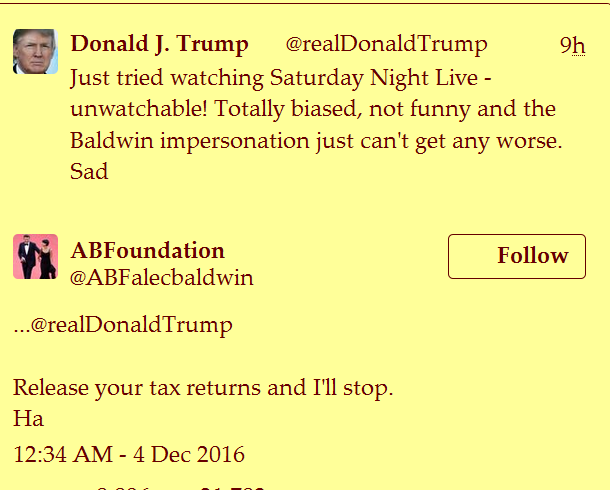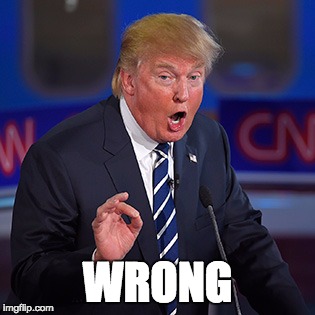 No it's not wrong. That's exactly what happened. And in fact Trump got even further beat down by another activist on Twitter: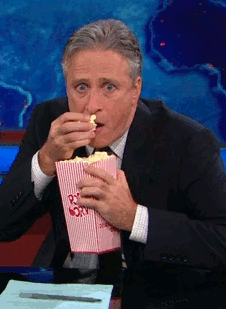 And in case you were wondering what the official position from Team Trump is, look no further than his campaign manager: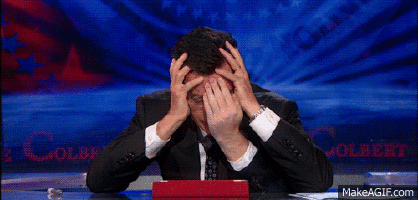 [font size="8"]Breitbart[/font]
So if you've been paying attention, you know last week we talked about how Kellogg's and other advertisers are pulling their sponsorship of Breitbart. You know Breitbart – that internet site that is the internet site of racist uncles everywhere. So Kellogg's, as they say drew first blood. And now Breitbart is going off the rails at Kellogg's.
Who does Brietbart think they are? Rambo? THEY DREW FIRST BLOOD!!!!!!!!!!!!!!
Actually, they're just a bunch of losers. 85 million losers, as their site claims their readership is. Might want to get out the Sad Hulk Music. And the world's tiniest violin.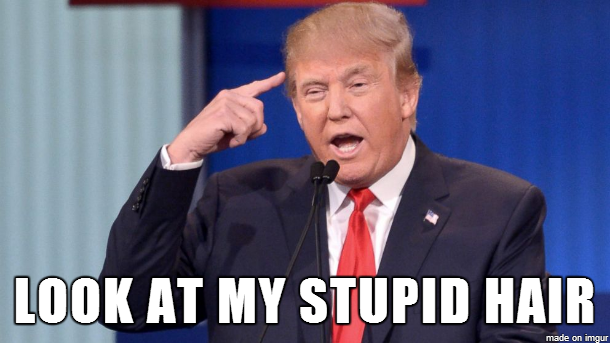 I like that one! But in case you're wondering where this is going, what the possible legal ramifications of this are, well here's what an actual 1st Amendment lawyer says regarding this issue:
You know Breitbart, when you're in a hole, the first thing to do is stop digging!!!!
Ooh, I like that one!
[font size="8"]The NRA[/font]
So going back to the first entry this week, never mind that a gun nut shot up the Comet Ping Pong pizza parlor in Washington DC based on a bullshit, non existent conspiracy theory that has no basis in reality and has been proven false by Snopes: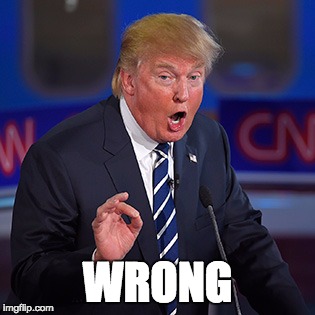 Finally! That one is wrong! And you know how the fuck do the people "investigating" Pizzagate know these things? Who the fuck knows what code words pedophiles use? I don't! And if you know and you continue to post these things out in the open, you probably should be investigated by the FBI! Thank you very much! But I'm getting carried away here. You know Black Friday is a thing that happened this year and you know what happened? This:
Maybe we should start calling it "Red Friday". It seems no one wants to go to the malls or camp out at Wal-Mart despite that they air ads like this:
But you know what people bought more of anything on Black Friday? Be afraid, be very afraid, folks!
[font size="8"]Sears[/font]
John Oliver does it much better than we do! But seriously – Ayn Rand – how is this still a thing in 2016?? Well we know Paul Ryan is a huge Ayn Rand fan – and that should be pretty obvious! But also how is this still a thing – Sears? I thought they went out of business a long time ago. But they're still around and very slowly tanking. Here's what happened:
This sounds like another classic Borders or Tower Records – take the money and run!
And here's where Ayn Rand comes into play. If you guessed that this backfired on Sears' CEO, you are correct sir / madam! You get points!
Which really sucks. You know Sears has always been dedicated to American manufacturing which is why their Craftsman line was always popular with machinests and construction workers and home improvement enthusiasts (hear that, Trump?), and it does kind of suck that they're going under at the hands of an asshole.
[font size="8"]The War On Drugs[/font]
Marijuana. That thing that keeps Cypress Hill employed.
I kid, I kid. But just when you think we're making strides toward legalization with nearly 8 states approving the use of legalized weed, along comes Donald Trump and appoints this guy as his new Attorney General, who promises to roll back decades of marijuana progress.
Holy fucking shit! Wait let's extrapolate this for a minute. So Jeff Sessions is against marijuana because he found out that the KKK smokes pot. Maybe you're unaware of this, Jeff, but your new boss got elected with overwhelming support from white supremacists, hardcore racists, the KKK, neo Nazis, and racist uncles everywhere. I mean even the next entry we are going to get into discusses this. But here's where Donald Trump isn't helping things:
So how did the Philippenes deal with this? Yeah they pretty much murder anyone who they suspect might be a drug dealer:
Nothing funny about that.
But there is some breaking news that I can make fun of!
http://www.hollywoodreporter.com/live-feed/duck-dynasty-producers-leave-at-itv-fraud-investigation-953092
[font size="8"]The Trump Effect[/font]
So we here at the Top 10 are going to say goodbye. Hey, wait, you didn't let me finish. We're going to say goodbye to a long standing policy on this show of using the number 9 (NEIN!!!!!) slot to call out white supremacists and white supremacy. Because the election of Donald Trump, white supremacists are coming out of the woodwork. They're everywhere, folks! White supremacy is now mainstream! Emperor Palpatine won, and Americans are starting to embrace the Dark Side! Yes I realize I am using way too many Star Wars references this week. Especially because we're a week away from a movie that I am very much looking forward to. Rogue One: A Star Wars Story. Instead from here on out, the number 9 (NEIN!!!) slot is going to be used for what I call "The Trump Effect". Because of this:
Because you know when the Germans are alarmed at our white supremacy, and use of Nazi imagery, you know it's becoming a problem. It's like that mole on your back. It was fine when you checked it a year ago, but now it's becoming a problem that we can no longer ignore. Which is why I'm changing the name to "The Trump Effect" because he created this problem. And here's a perfect example of what I am talking about.
Can we show that photo?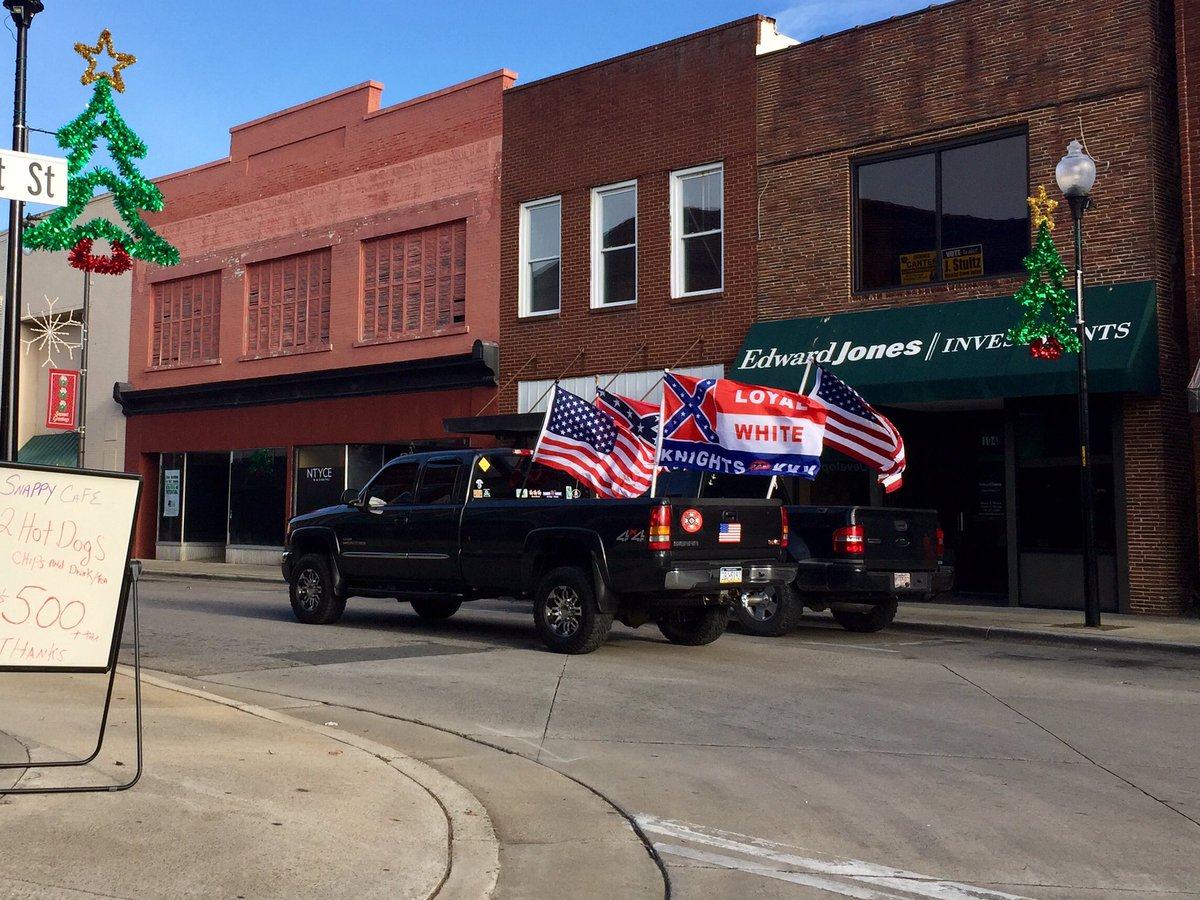 Worst ticker tape parade ever, by the way!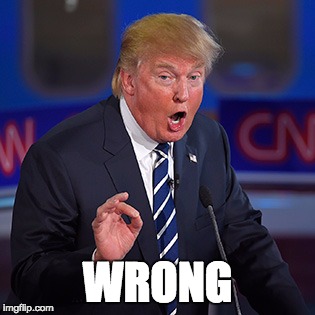 But this is why I wanted to do this entry this week. We head to the great city of Minneapolis for this one. So it starts out innocent enough:
Sigh. And here's where the internet comes in. See the alt right thinks of diversity the same way that Ron Burgundy does.
Which if you can guessed what happens next, you get points good sir / madam!
Good god these people fucking suck. And these people are the people who really hate America if they're attacking vets. If you do that, fuck you, OK? And they're going to be running the country for the next four years. Excuse me a minute…
[font size="8"]Trump For Dummies[/font]
Ladies and gentlemen, boys and girls, LGBT and gender non conformers. Gather around. So we have come to the end of one of the most volatile, hostile, and batshit insane election cycles in history. And our new president is a guy who might just be the biggest asshole on the planet. Now many of you are planning on traveling for the holidays, and going back home, wherever your home may be. And that means that you have to deal with your conservative relatives. So we here at Trump For Dummies are going to teach you about how do you deal with that? This is going to be the first part of an ongoing series in how to talk to Donald Trump fans. Let's get out our texts shall we?
[font size="6"]Chapter 1: Perception Vs. Reality[/font]
Donald Trump and his most hardcore followers live in fantasy world. A world where facts are meaningless. In fact his most hardcore fans even said so themselves:
Yes there you have it. Straight from the mouths of his most hardcore fans. Drop the mic.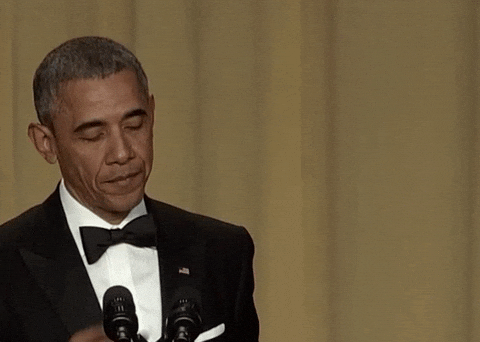 So I don't need to tell you already that Donald Trump won the coveted title of Time Magazine's Man Of The Year. Which means that he joins the ranks of other famous dictators including Hitler and Stalin that have graced the cover of the annual magazine. But once again, Donald Trump wins the election but loses the popular vote. Hey o!!!!
Who did win the popular vote? It's India's prime minister Narendra Modi!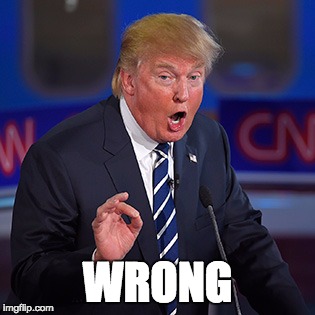 Well… since Donald Trump tends to speak like he Tweets, and that is in short sentences with lots of hyperbolic language, and your racist uncle may not know or care who the prime minister of India is, you can explain it like this:
[font size="6"]Chapter 2: Twitter[/font]
As we pointed out in Chapter 1 – most of Donald Trump's insanity comes from his racism, sexism, and xenophobia. And as we also said Donald Trump tends to speak like he Tweets – very loud, very angry and with lots of hyperbole. Even Donald Trump's favorite punching bag the New York Times isn't above this. Just look at what happened during Donald Trump's victory tour:
And here's what actually happened:
Pro tip:
Donald Trump supporters don't like being talked down to, especially when you quote things like facts, or his Twitter feed. When talking to a Trump supporter, it's best if you speak in their language. A fake Trump Tweet might get their attention like this:
Which you can use to literally say anything. You can even make him sound liberal!
Who are we kidding? Has Trump ever apologized for anything? Hell no! And he's about to ignite World War III. Now your racist uncle may read Breitbart and listen to Infowars on the claim that it speaks to them. Well if you explain to them that shit rots your brain, you are correct sir / madam. So Donald Trump might be the most embarrassing thing to happen to the White House.
OK second most.
Yes that's former president Lyndon Johnson telling a pants manufacturer about his bunghole and the area where your nuts hang. I'm getting off topic here. But I'd much rather hear LBJ talk about his bunghole than I would hear Donald Trump talk about well, anything.
[font size="6"]Chapter 3: Fake News[/font]
There's a lot that came out of the worst election in American history. And one of the biggest is that more Americans paid more attention to fake news than they did to real actual news. Sites like Infowars, Prison Planet, and Breitbart won. So Trump fans do not like logic, facts or reason. In fact they won't have any of it, and instead will resort to quoting Infowars, Prison Planet, and Breitbart. So when you bring up this:
They'll counter with this: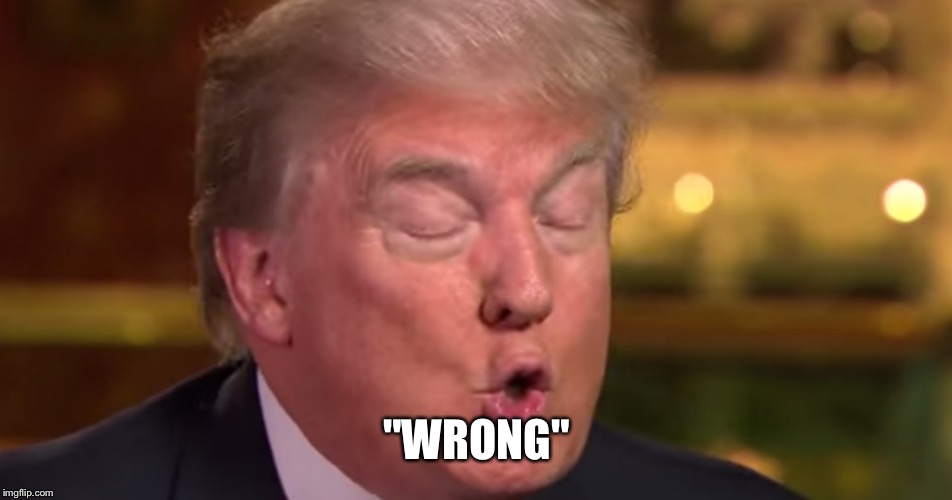 And then you can counter with images like this:
Or:
And they will still counter with: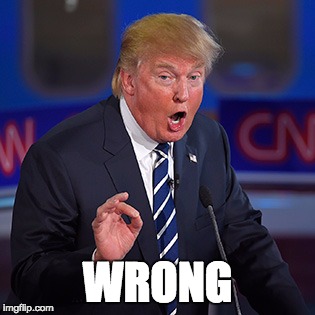 [font size="6"]Chapter 4: When Trump Talks About Himself[/font]
Donald Trump loves to talk about himself. And man does he love to talk about himself. And he talks in short sentences. And they are the best sentences. Nobody uses better words than he does. He uses the best words! And the best hyperbole!
Pro Tip:
Having an article that is well researched with facts to back up the argument helps, especially when we live in a world where "there's no such thing as facts anymore". So you can counter with an argument like this:
Pro Tip:
When Donald Trump says something, you can take one of two different articles. The one that quotes his Twitter feed directly:
Pro Tip:
The
Fake Trump Tweet Generator
allows you to convey facts in a way your Trump voting relatives will understand. Like this!
Or one that quotes you know, actual facts:
Pro Tip:
It helps if you speak in their language. If they counter with "wrong", counter with:
Pro Tip:
Having an emergency supply of Jack Daniels or your adult beverage of choice helps to make the holidays go much faster! Just take a page from John D. Blutarsky of Delta Tau Kai:
[font size="8"]And Now This:[/font]
[font size="8"]Puscifer[/font]
Ladies and gentlemen, playing their song "The Remedy" from their album "Money Shot", available everywhere music is sold, please welcome Puscifer!
Yeah how about that?
We've got just two Top 10s left in 2016. See you next week!
Ed. Note: BTW, this is the last edition where Forbes will be used as a source. Their site has made it difficult to navigate and to be able to find articles. If anyone has any suggestions for sources let me know.
1 replies, 2592 views
Replies to this discussion thread
| | | | |
| --- | --- | --- | --- |
| 1 replies | Author | Time | Post |
| Top 10 Conservative Idiots #2-4: The Election From Hell: The Art Of The No Deal Edition (Original post) | Initech | Dec 2016 | OP |
| | niyad | Dec 2016 | #1 |
---
Response to Initech (Original post)
Wed Dec 7, 2016, 01:28 PM
niyad (66,962 posts)
1. k and r