Thu Sep 8, 2016, 03:44 PM
jamzrockz (1,333 posts)
New York Times Misidentifies Aleppo Twice in Story About Gary Johnsonís Aleppo Gaffe
Libertarian presidential candidate and former New Mexico Gov. Gary Johnson went on MSNBC's Morning Joe today and admitted in response to a question about Aleppo, Syria, that he had no idea what "Aleppo" was. This was a pretty big mistake for someone who is likely to get millions of votes in the upcoming presidential election, so the New York Times wrote a story about it. Except that its story misidentified Aleppo.
https://twitter.com/nycsouthpaw/status/773878757111263236/photo/1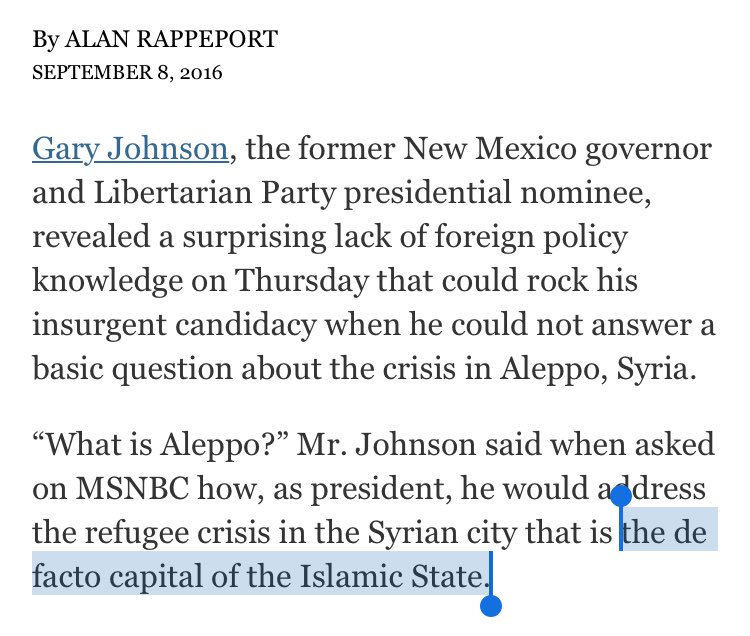 ISIS's de facto capital is Raqqa, not Aleppo. Whoops! But the paper realized its mistake pretty quickly and changed the story. From an archive site:
Here's the problem: Aleppo is not an ISIS stronghold, either. It's a divided city that doesn't have much of an ISIS presence and is the site of heavy ongoing fighting between the Syrian government and other rebels. So the Times had to change its story again.
Ruling: Finally correct.
Meanwhile, a gentleman named Christopher Hill who was the U.S.'s ambassador to Iraq under Obama also made the Raqqa/Aleppo mistake while ostensibly having a laugh at Johnson's expense.
http://www.slate.com/blogs/the_slatest/2016/09/08/no_one_knows_what_aleppo_is.html
The funny thing about this whole hit job is that Aleppo would be much better place if the neocons now funding Wahhabi mercenaries to fight in Syria did not know what Aleppo is. But sadly for Aleppo they know what it is and have pumped in enough money, weapons and fighters to keep the war going for almost 6 years now. Now aren't we all glad that they know what Aleppo is?
Also, its not that he did not know what Aleppo is, its just that with the weird way he pronounced the city threw him off that he needed a moment to think about it.
4 replies, 2079 views
Replies to this discussion thread
| | | | |
| --- | --- | --- | --- |
| 4 replies | Author | Time | Post |
| New York Times Misidentifies Aleppo Twice in Story About Gary Johnsonís Aleppo Gaffe (Original post) | jamzrockz | Sep 2016 | OP |
| | EV_Ares | Sep 2016 | #1 |
| | Democat | Sep 2016 | #2 |
| | benld74 | Sep 2016 | #3 |
| | Eleanors38 | Sep 2016 | #4 |
---
Response to jamzrockz (Original post)
Thu Sep 8, 2016, 04:08 PM
EV_Ares (6,587 posts)
1. Don't know what is wrong with the NY Times but cancelled my subscription & switched to the
Washington Post. Of Course, got a good deal being an Amazon Prime Member.
---
Response to jamzrockz (Original post)
Thu Sep 8, 2016, 04:10 PM
Democat (11,617 posts)
2. NY Times is the pro-Trump paper this campaign
They also supported Bush's war in Iraq.
---
Response to jamzrockz (Original post)
Thu Sep 8, 2016, 05:02 PM
benld74 (9,781 posts)
3. I always thought he wa the 5th Marx Brother



Groucho
Chico
Harpo
Zeppo


Alepo
---