Sun Jun 12, 2016, 06:11 PM
AntiBank (1,339 posts)
ISIS Unveiled US "Kill List" Last Week, Including 600 Florida Residents
http://www.zerohedge.com/news/2016-06-12/isis-unveiled-us-kill-list-last-week-including-600-florida-residents
In the wake of the tragic event that took place at an Orlando nightclub early Sunday morning that left 50 dead and 53 wounded as of the time of this writing, it has been discovered that the shooter Omar Mateen was on a "watch list" over his association with "suspicious people."
What will likely attract attention, and potentially lead to inquiries into why nothing was done in response, is that only a few days ago a pro-ISIS group released a hit list with the names of more than 8,000 people on it, mostly Americans.
One report said that more than 600 people from Florida were on the list, and many of those targeted live in Palm Beach County and on the Treasure Coast.
Former FBI agent Stuart Kaplan said at the time that the concern is that the list will inspire "lone wolf" style attacks, and predicted that the release of the list "is going to create some hysteria." It did not, instead it may have resulted in the worst mass shooting event in US history.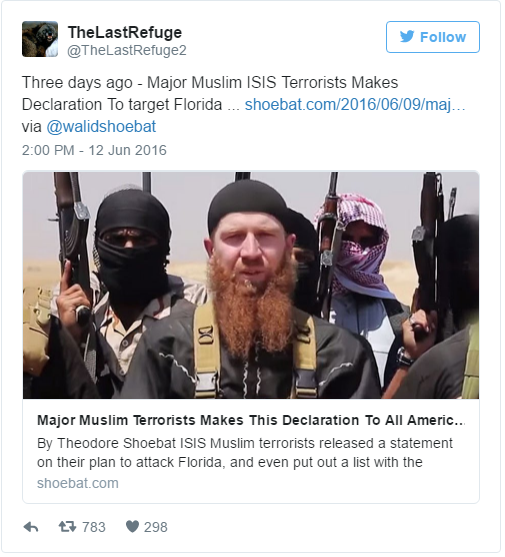 snip
-----------------------------------------------------------
background
3 days ago:
ISIS 'kill list' targets Palm Beach, Treasure Coast residents: Ex-FBI agent
BY KATHLEEN WALTER THURSDAY,
JUNE 9TH 2016
http://news3lv.com/news/nation-world/isis-kill-list-targets-palm-beach-treasure-coast-residents-ex-fbi-agent
WEST PALM BEACH (CBS12) — A pro-Isis group has released a hit list with the names of more than 8,000 peoplemostly Americans.
More than 600-people live in Florida, and one security expert believes that many of those targeted live in Palm Beach County and on the Treasure Coast.
The "United Cyber Caliphate" that hacked U.S. Central Command, 54,000 Twitter accounts and threatened President Barack Obama is the same pro-Isis group that's reportedly created a "kill list" with the names, addresses and emails of thousands of civilian Americans.

Reports of the list came to light online when Vocativ reported the list was shared via the encrypted app, Telegram, and called on supporters to kill.
Former FBI agent-turned lawyer Stuart Kaplan says the threat is especially alarming, because the people on this list are civilians who don't have the security necessary to protect themselves. "It's going to create some hysteria," he said.
snip
--------------------------------
ISIS orders American lone wolf jihadis to slaughter 8,000 citizens by releasing 'kill list' which includes the names of several Hollywood celebs
By CHRIS SUMMERS FOR MAILONLINE
PUBLISHED: 07:52 GMT, 9 June 2016 | UPDATED: 12:22 GMT, 9 June 2016
http://www.dailymail.co.uk/news/article-3632787/New-ISIS-kill-list-targets-7-848-Americans-message-app-tells-supporters-kill-strongly-revenge-Muslims.html#ixzz4BPBA6xpY
The ISIS-aligned United Cyber Caliphate has distributed a new 'kill list' which contains the names of 7,858 Americans.
The group, using the Russia-based app Telegram gave the names, addresses, and email addresses of 8,318 people in total, making it one of the longest kill lists ISIS have ever put out.
They urged their supporters to 'kill them strongly to take revenge for Muslims'.
snip
-----------------------------------
Welcome to the bizarre and frightening world of Islamic State channels on Telegram
http://www.ibtimes.co.uk/welcome-bizarre-frightening-world-islamic-state-channels-telegram-1561186
Like al-Qaeda before it, the Islamic State (Isis) has embraced technology to communicate, spread propaganda and target new recruits, but this new generation of digital jihadis has emerged in the era of free, easy-to-use and fully encrypted mobile messaging apps such as Telegram and WhatsApp.
While efforts have been made to crack down on Daesh on Twitter and Facebook, governments and cyber-spooks are finding it increasingly difficult to track and monitor communications on Telegram, which is now IS's number one source for communications, and efforts to combat the spread of material online have largely failed.
Telegram enables people to have one-to-one and group conversations that are encrypted end-to-end. Over the last 12 months, Isis has taken full advantage of the platform's privacy benefits to establish a flourishing community of channels, bots and chatrooms.
In addition to publishing news and media of recent victories and, of course, propaganda of how life is in the Islamic State, there are more private channels where wannabe jihadis trade tactics, military documents, weapons instructions and plan hacking operations.
snip
------------------------------------
So-called Islamic State group (IS) has shifted its propaganda distribution to the secure mobile messaging app Telegram from Twitter, where its accounts have been repeatedly shut down over the past year.
IS and other jihadist groups appear to be exploiting new functionality introduced by the app last month, which allows users to broadcast their messages to an unlimited number of members via their own Telegram "channel".
On 26 September, just four days after Telegram trumpeted the launch of its new "Channels" tool, IS media operatives on Twitter started advertising the group's own channel dubbed Nashir, which translates as "Distributor" in English.
It has already amassed more than 4,500 subscribers.
Since then, IS propaganda has started appearing first via Telegram, often several minutes before being posted to Twitter.
3 replies, 2282 views
Replies to this discussion thread
| | | | |
| --- | --- | --- | --- |
| 3 replies | Author | Time | Post |
| ISIS Unveiled US "Kill List" Last Week, Including 600 Florida Residents (Original post) | AntiBank | Jun 2016 | OP |
| | Warpy | Jun 2016 | #1 |
| | AntiBank | Jun 2016 | #2 |
| | craigmatic | Jun 2016 | #3 |
---
Response to AntiBank (Original post)
Sun Jun 12, 2016, 06:13 PM
Warpy (106,415 posts)
1. Rubbish. They never target the powerful and influential
They only target ordinary people going about their ordinary business. Ordinary people don't fight back.
---
Response to Warpy (Reply #1)
Sun Jun 12, 2016, 06:18 PM
AntiBank (1,339 posts)
2. rubbish how? I posit that this list and call to kill very likely could have been a triphammer with
the shooter. Even if he did not target a single person on the list, he could have found the fact so many Floridians were on it very "localising" on his psyche to act out. I would love to know if he had seen the list and the ISIS Telegram channels.
---