Sun Mar 13, 2016, 10:14 AM
Mira (21,494 posts)
What Voter Fraud actually looks like and Richard Burr, R, NC not having any ID at the poll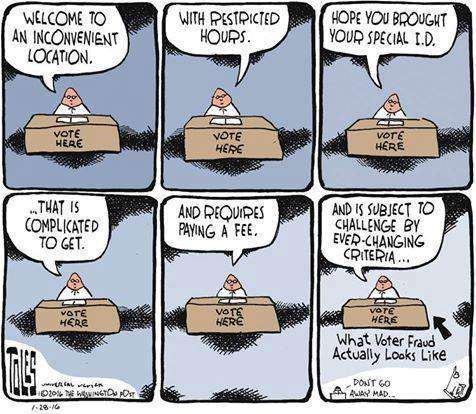 RALEIGH — Count U.S. Sen. Richard Burr among the voters taking advantage of an exception to the state law requiring an acceptable form of identification to cast a ballot.
The News & Observer of Raleigh reports that state elections records show Burr cast a provisional ballot and filled out a form explaining he couldn't show a photo ID due to a "reasonable impediment." The Republican from Winston-Salem then cast his ballot during the early voting period for the North Carolina primary
A spokeswoman explained in an email that the two-term senator discovered he lost his ID after arriving at the polling location, but then got a new driver's license.
SOURCE AND MORE:
http://www.journalnow.com/news/elections/state/us-sen-richard-burr-lost-photo-id-casts-provisional-ballot/article_0eae6e70-05f1-53e9-b8ce-4c160d55f72b.html
3 replies, 1152 views
Replies to this discussion thread
| | | | |
| --- | --- | --- | --- |
| 3 replies | Author | Time | Post |
| What Voter Fraud actually looks like and Richard Burr, R, NC not having any ID at the poll (Original post) | Mira | Mar 2016 | OP |
| | Jenny_92808 | Mar 2016 | #1 |
| | mercuryblues | Mar 2016 | #2 |
| | KoKo | Mar 2016 | #3 |
---
Response to Mira (Original post)
Sun Mar 13, 2016, 04:55 PM
Jenny_92808 (1,342 posts)
1. That puts it in a nutshell
This is what REAL voter fraud looks like!
---
Response to Mira (Original post)
Sun Mar 13, 2016, 05:59 PM
mercuryblues (7,999 posts)
2. he was not allowed
to vote on a machine. He cast a provisional ballot, on paper. Depending on state law he has a certain amount of time to prove to the election commission that he is an eligible voter. Provisional ballots Is a back handed way to disenfranchise the vote. After submitting a provisional ballot it is mostly up to the voter to prove they are an eligible voter. More hoops to jump through. If a voter does not contact the election board to find out why they weren't allowed to vote and correct the error, their vote most likely won't be counted.

What if I have a problem? What is a Provisional Ballot?


If the election officials can not find your name on the list of registered voters when you go to vote, or if you encounter any other problem, you have the right to receive what is called a "Provisional Ballot." You will have to fill out a form in addition to your ballot; the form helps the officials research your registration history. If your eligibility to vote is verified, your ballot will count like a regular ballot. You will be given a phone number and PIN number or a website to use to check the status of your Provisional Ballot and learn if it has been approved or rejected.

---
Response to Mira (Original post)
Sun Mar 13, 2016, 06:21 PM
KoKo (84,711 posts)
3. Kick & Recommend...So glad to see Richard Burr get his "Come Uppance!"
It should have come Sooner ..but the Time is Right to call that RW Guy Out!

Love Tom Toles!