Mon Mar 7, 2016, 12:51 AM
Initech (75,764 posts)
Top 10 Conservative Idiots #18: The KKK Took My OC Away Edition
Last edited Mon Mar 7, 2016, 09:54 PM - Edit history (5)
Top 10 Conservative Idiots #18: The KKK Took My OC Away Edition
Welcome back to the Top 10 Conservative Idiots! You're entitled – to a 40% discount of goods for using TTCI shipping when you check out using promo code TTCISHIPPING. As to what store, that uses this promo code, that remains a mystery. Yay, spring training starts this week! Finally – it's been a long, long, ridiculously long four months without it. So yeah it's good to be back! I might be driving to Arizona for a weekend to catch some games but am clearly undecided at the moment. But first we got to talk about the hilarious PR stunt that one of my all time favorite bands, the Foo Fighters posted that nearly broke Twitter, and the end result was absolutely hilarious:
So we're going to talk about the KKK for this edition. I don't want to talk about the KKK, but when they're on my home turf and it's a clusterfuck of this magnitude, they leave me absolutely no choice, damn it! Believe me it's going to go down. With that in mind, the top two spots are easily going to be the Orange County KKK (1, 2) for last week's rally and it was a shit storm. It had everything - the perfect combo of protestors, counter protestors, and of course police stupidity. But they weren't the only white supremacists this week who made the news – James Edwards (3) who is a white supremacist who was caught broadcasting in Donald Drumpf's rallies. At number 4 is former KKK Grand Wizard David Duke because, well, he's insane. Capping off the white supremacy talk at number 5 of course is Der Drumpfenfuror (5). This week the debate was a shit show – in one corner you have Ted Cruz eating his own snot, and in the other corner you have Drumpf and Marco Rubio in a literal penis measuring contest. We wonder why the rest of the world is laughing at us. Taking the number 6 seed, switching subjects, the GOP is great at getting people to vote against their best interests, and none is doing it better than Ted Cruz (6). Plus, wait until you get a load of what happened during the last debate. While on the subject of baseball, conservative columnist Phyllis Schafly (7) is treading dangerously on Gran Torino "Get off my lawn" territory when it comes to baseball. In the number 8 seed, we're going to take a look at a California rehab center (8) that might be the first corporation to ever be put on trial for murder. At number 9, is the triumphant return of the Bundy Bunch (9)… sort of. The indictments are coming fast and fierce and we'll break it down for you. And finally because I save the 10th spot for the craziest thing I can find this week and because March Madness is a mere 2 weeks away, we're going to take a look at a batshit crazy scandal that has rocked the Louisville Cardinals (10) to its' very core and got them self banned from NCAA tournament participation. Or did it? Enjoy! And as always don't forget the
key!
[font size="8"]The Orange County KKK[/font]
We need some appropriate music for these first two entries. Can we get that please?
Thank you Ramones!
So… the Klan in otherwise blue Southern California is a thing that exists (though Orange County, especially North Orange County is about as bright red as it gets… ugh). And for me it's about as close to home as it gets. And last week word spread far and wide that the KKK were planning a rally at Pearson Park in Anaheim.
White lives matter… shut up! It's not like you see Justin Beiber, Michael Flatley, and Kenny G threatening to walk out of the Oscars because of its' treatment of white people. It's not like white people are being incarcerated in mass numbers and being gunned down by asshole cops and wannabe asshole cops every day? Shut up!!!
And this is how it ends:
Yeah that's how the KKK rolls – with stabbings and arrests! But wait – read that last sentence again: "A Cal State San Bernardino professor who was there to do research found himself in the middle of the melee." So one of the counter proterstors was just an innocent Cal State San Bernardino professor researching hate groups in California who wanted to research this epic fail of a non protest which could have ended peacefully. But there's more:
What the whaaaaaaaaaaaaaaaaaaaaaaaaaat????
There's literally five people in the Orange County KKK. Five. And yet they attracted this kind of attention and national coverage. I bet Cartman is loving this right now.
[font size="8"]The Orange County KKK[/font]
No, sorry Cartman. No race war. The next time your conservative friends make fun of the Black Lives Matter movement please show them this story and tell them "no!". Because… really… they are wrong. And no. Because while this entire thing ended extremely poorly it's not over yet. So why am I bringing up Black Lives Matter? Excellent question sir / madam! Because if this rally had gone the other way, we probably would be having a much different discussion right now – after the brew ha ha went down in Pearson Park, this happened:
Now let's go back and revisit some history of the Orange County KKK. Last year in nearby Fullerton, just up the road from Pearson Park, the group attempted this stunt which quickly attracted the attention of the local police:
YES!!!!!!!!!! Candy! That's what a hardcore racist group needs to attract members – let's give local residents flyers with candy and a rock attached to them. Because… sugar and destruction. Yes what the KKK did was wrong. Well the KKK are wrong in general. But that's beside the point and not why I'm doing this this week. So here's how the demonstration went in Anaheim the next few days later:
See? It's entirely possibly to hold peaceful demonstrations without resorting to violence! But let's not overlook this one very interesting tidbit about one of the stabbing victims in this shindig:
That dude definitely has more balls than you or I ever will. A Jewish man taking a knife to the abdomen for the KKK and then living to tell about it? Now I have seen everything!
Wait – I've got an award we can give him – Stephen Colbert's "Brass Balls" Award:
You sir, have giant cojones.
[font size="8"]James Edwards[/font]
So The OC ("Don't call it that" - Michael Bluth) was not just the only place where white supremacism reared its' ugly head this week. It's pretty well known that former KKK Grand Wizard David Duke isn't hiding his feelings about a Donald Drumpf presidency. But he's not the only white supremacist in the country who is in love with Der Drumpfenfuror. Drumpf took seven states on Super Tuesday and that is frightening. Especially when something like this happens inside a Drumpf rally:
Yes, the Huffington Post. Come for the hard hitting political journalism, stay for articles about giant sculptures of ice penises. But I kid, I kid. But that whole thing is long and worth reading as well as the article below, because it contains some interesting tidbits about what James Edwards has said like: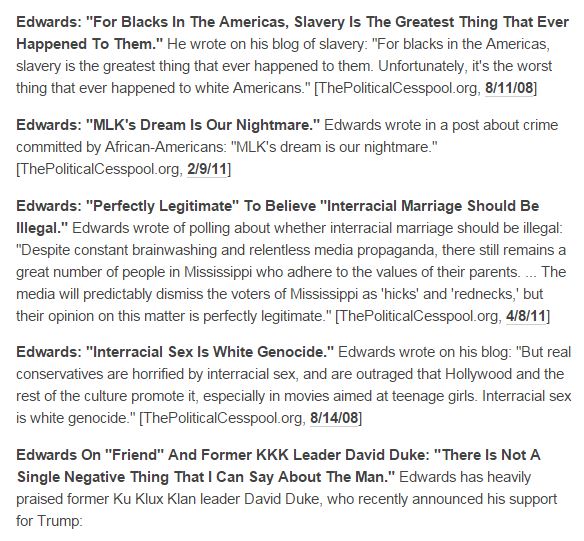 http://www.theoccidentalobserver.net/2016/03/james-edwards-of-the-political-cesspool-at-a-donald-Drumpf-rally-in-memphis/
Yikes.
[font size="8"]David Duke[/font]
As I said in the previous edition, white supremacists aren't even trying to hide their love and support for Der Drumpfenfuror's campaign. So far that they've even gone out of their way to get caught live blogging Drumpf events. But guess what? Despite that David Duke is now in the spotlight because of his support for Donald Drumpf, who is going very far out of his way to deny that this exists, this happened:
OK David Duke, we get it, you're a racist scumbag, OK? But he really hates Bernie Sanders, and how could you hate Bernie??? He's the anti-Drumpf!
See, hardcore racist pieces of shit like David Duke only have a one track mind when it comes to our presidential candidates. But let's point out this sentence here: "That doesn't mean every Jew, and I'm not attacking every Jewish person, at all." Yes, you did asshole! You just did literally two sentences ago! Shut the fuck up! You're just as bad as those KKK assholes in Anaheim!
[font size="8"]Donald Drumpf[/font]
No your eyes are not deceiving you! That was an actual unedited screen capture of the GOP debate from last week. Even the people doing the closed captioning on the fued between Marco Rubio and Der Drumpfenfuror gave up! This is too damn good!
So this happened:
Yes that's Donald Drumpf bragging about the size of his penis to Marco Rubio. Excuse me a minute, I need to go take a cold shower after reading that.
And here's where a Drumpf supporter got caught assaulting a black woman at a Drumpf rally:
Sorry Mr. Pryor but we live in the age of the social media outrage machine! There's nothing you can do to "take it back". Cue the world's tiniest violin:
So here is where Florida proved that Donald Trump might be taking things in a very Nazi-esque direction:
And here's Drumpf supporters doing a Nazi salute: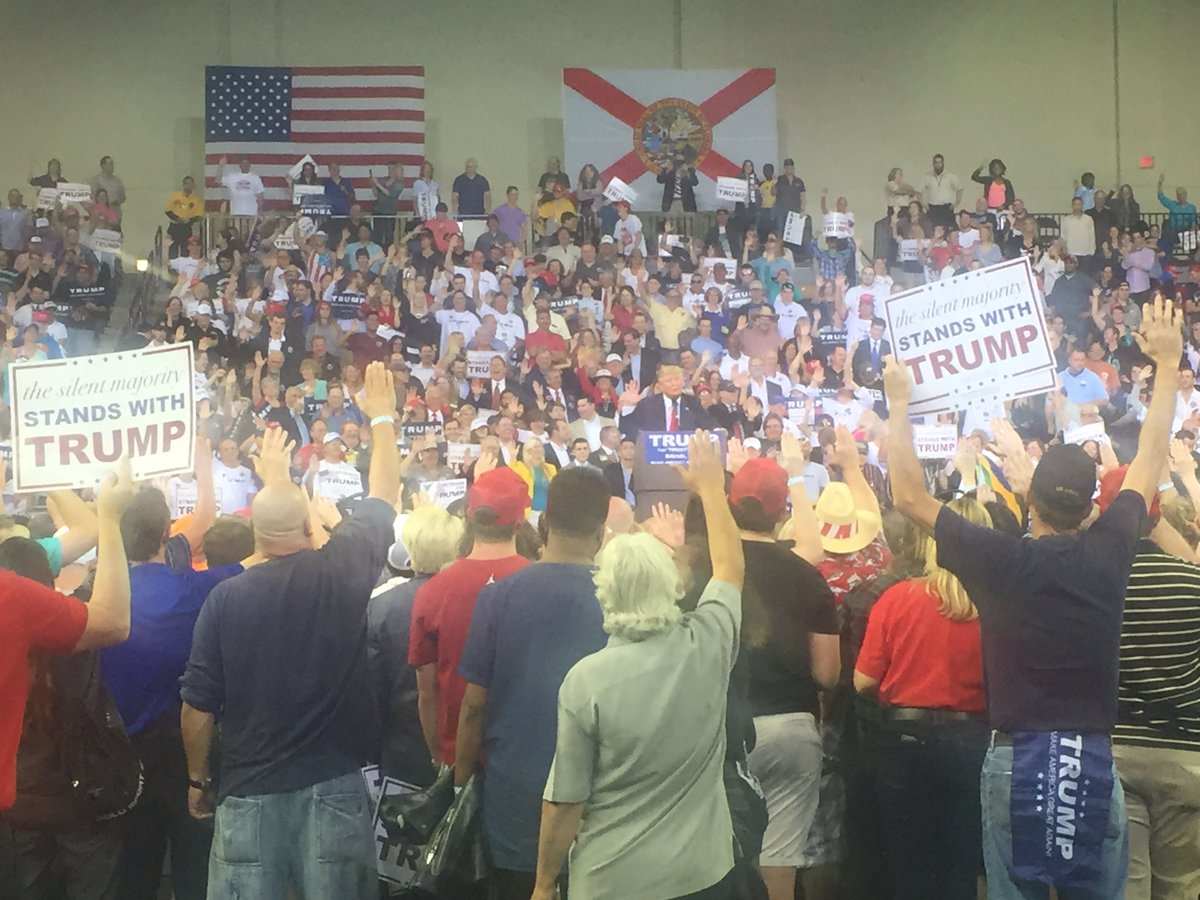 And in case you needed any further proof, here's Drumpf's former wife Ivana talking about how
her former husband kept a book of Hitler's speeches by his bedside
. So even Drumpf acknowledges that he will strengethen and broaden torture laws. But even GOP governors are terrified at the prospect of a Drumpf presidency.
Even the GOP governors are terrified at the prospect of a Donald Drumpf presidency. And then while that was going on, and James Edwards was caught dishing out a good old fashioned dose of American white supremacy at Drumpf rallies, even more Drumpf supporters got caught doing something racist:
It's getting scary out there. I mean really scary. But Drumpf was the subject of intense scrutiny from another failed GOP candidate and that's Mitt Romney. By the way batshit crazy Arizona governor Jan Brewer said that Romney's speech was the
GOP eating itself
. By the way we'll let you judge for yourself:
[font size="8"]Ted Cruz[/font]
First off, wait until you see what Ted Cruz may or may not have done during the last debate. A word of warning before playing this video – we here at TTCI are not responsible for lost stomach contents while watching this.
On these lists, I have bragged heavily about my love of the NBC comedy 30 Rock. This next entry reminds me of the episode of 30 Rock where Tracy stages a protest against NBC for its' treatment of idiots. At the end of the two part episode, Tina Fey is screaming about how all the people protesting against the network don't know what they're protesting because they're idiots, and people will vote against their best interests like free health care. Well… when it comes to transgender issues, I don't think Caitlyn Jenner has the best interests of the trans community in mind.
What the whaaaaaaaaaaaaaaaaaaaaat???? Excuse me???? Sorry there Ms. Jenner, but did you not see this part of the article? "During a radio interview in November, Cruz called the movement for gender-open bathrooms in schools "lunacy."" Yeah, somehow I don't think that's happening by the way.
But this story – while not directly giving away Ted Cruz's exact feelings on trans issues despite what was said in the article – is a pretty damn good indicator of how he feels about LGBT rights issues in general:
Yup – that's how Teddy rolls! With a deranged crowd of racists and extreme right wing mysoginists. Maybe Cait would be wise to stay away from this crowd.
The Trans Ambassadors by the way, I saw them at the Troubadour last week – pretty awesome band.
[font size="8"]Phyllis Schafly[/font]
Baseball. That thing that happens in the months between when the Super Bowl ends and the NFL training camps begin. But while our nation's pastime returns, well, haters gotta hate. And players got to play. I know, shake it off. There's my Taylor Swift reference for you. Well… some people just won't have any of it. I mean who doesn't love the nation's past time? Am I right? Well there's Phyllis Schafly, who this week wrote a column explaining this:
Yeah it's because, um………………… baseball is too damn long for a regular season! I'm a baseball fan! I've been to the World Series! I think 162 games is too damn long for a regular season! And then you have another 30 games for the post season! By contrast football has 17, basketball and NHL both have 82. Did you ever stop to think about that? Oh let's blame foreign born players because they're "cheaper and easier to control". Cheaper? Have you seen the salaries that guys like the Japanese born Yu Darvish of the Texas Rangers, or the Puerto Rican born Albert Pujols of the LA Angels make? Or how about Yasiel Puig of the Dodgers? All of these guys make several hundreds of millions. And talk about "easier to control"…. Which that Puig guy is far from? Maybe Phyllis should stop trash talking and start watching some games. She sounds like the "They took our jobs" guys from South Park.
[font size="8"]A Better Tomorrow [/font]
Fair warning – I am not going to use this entry to make fun of rehab or addiction, or people who have been seeking treatment for addiction. If you need help, get help. And just to show I'm serious this time around, there won't be any funny videos, GIFs, or images to accompany this entry, because it's really fucking serious. Now, with that out of the way, we may have a Top 10 Conservative Idiots first here. And this is one thing where nobody wants to be the first no matter what the circumstances. So what we have here might be the first corporation ever to be tried for first degree murder. This happened:
But it's not over. A Better Tomorrow might be the first corporation accused of murder in the United States. Hey! I'm finally seeing an upside to Citizens United. In a country where the incarceration rate is 5 times higher than the next 15 countries combined, why not start locking up some of these criminal corporations! Can they be executed? Let's continue:
Holy. Fuck. That is all I have to say – how could this company – a company that prides itself on care – simply take a patient that it was unable to handle? This is a colossal fuck up on so many levels. But… this particular facility has had not just one, but four… four! FOUR!!!! Four patients die on them! You would think after the first one that criminal charges would be levied against them. Or as George W. Bush said – "Fool me once, shame on you. Fool me…. You won't get fooled again.". Yes such is the touching words said from former President Bush, and Roger Daltry.
There's more:
While they can't technically call it a homicide, they can call it a "colossal fuck up". Which is exactly what this is. But when you take into account the fact that four patients have died while attempting to seek treatment from this facility, you can't help but wonder exactly who is running things, and what else they're covering up.
In their investigation into Benefield's death, state licensing officials found the company deficient in 14 areas, including dispensing sample medications to residents, providing medication without a prescription, filling out medication logs in advance and providing medical-related services beyond the scope of its license.
There you have it. We officially live in the Matrix.
[font size="8"]The Bundy Bunch[/font]
Yay!!!!!!!!!!!!!!!!!!!!!! It's the triumphant return of the Bundy Bunch to the Top 10 Conservative Idiots! Wooooooooooooooooooo! Woooooooooooo. Wooo. Yeah… maybe not so much enthusiasm coming from the audience here. Well, the Bundy Bunch are in prison for various crimes against federal law enforcement for their dildo poop trench freak show they put on at the Malheur Wildlife Sanctuary last month.
Wow. Those are some pretty serious charges against the Bundy Bunch. You have conspiracy, obstruction, assault and threatening federal officials. I wonder where the charges are for the massive trench of rancid feces they left behind at Malheur are? Can anybody tell me?
So what does Ammon think of this? Well let's ask him.
Because…………. He…………….. is……………. One? That's why he's being charged and treated like a domestic terrorist? Oh and by the way in case you were wondering, yes, there is a Donald Drumpf official in the mix who got busted by the FBI for violating several firearms charges:
By the way I love the part of the article here where it explains that a Drumpf official who defended Drumpf against Pope Francis' allegations (see last week) calling him "the anti Christ". Well when you consider the 5+ pages of cities that are named in the end credits of this year's Best Picture winner "Spotlight", where priests were caught abusing alter boys, that might actually be an accurate assumption.
[font size="8"]Rick Pitino[/font]
Finally tonight, in case this edition gets too dark for you, there was a lot of racism, white supremacism, and death. So we're going to take a look at something much lighter before you get out of here.The March Madness tournament. Where even President Obama has zero chance in hell of making a perfect bracket, so imagine what chance you have of doing the same! So we're going to go to Kentucky for this insane story. Specifically the Louisville Cardinals. Since the beginning of the 2015 – 2016 season, the Louisville Cardinals have been at the center of one of the most insane scandals ever to hit the NCAA. Specifically this happened:
That… sounds innocent enough. I mean doesn't it? We're having a party for you on the 6th floor dorm room, room 25A, no RAs, no rules and just about anything goes! Enjoy yourselves, we'll look the other way. And you have campus insurance in the event of STDs or drug overdoses. We just want a winning basketball team. Just go there, you will be treated to a fucking awesome time! The university's former head of athletics paid local area strippers to purposefully entice new recruits to sign up for Louisville's basketball program. It would be even funnier if they used a Groupon. And what kind of service do you go through? Did they have the strippers on a rolodex? That is shockingly, stunningly idiotic. So when one gets caught with their pants down – literally in this case, with raging boners included (the Raging Boners - I also saw them at the Troub, they were also playing with the Trans Amabassadors
) – how does one redeem themselves? Why you self impose a ban from participating in the next couple of rounds of NCAA tournaments!
That's right – they purposefully self imposed a ban on participating in this year's NCAA tournament. The NCAA findings did find that Louisville knowingly participated in some astoundingly stupid recruiting violations. This is something so jaw droppingly stupid that the kindergartener who sits in the corner and eats paste looks smarter than most of the university employees at Louisville. But what does Pitino himself think of his school's recruiting violations?
So the question remains – did he know or did he not know about the campus recruiting violations ahead of time? Well the reason why they self imposed a ban lies in the hands of a guy named Chuck Smrt:
Sure! The guy who spells his name "Smart" without an "a" sounds like a trustworthy fellow! I know what you're thinking right?
But here's where it gets really weird. And I mean really weird. As if it wasn't weird enough already:
YES!!!!!!!!!!!!!!!!!!!!!!!! That's it! Amid one of the most jaw dropping, shockingly stupid sports scandals in recent memory, starring someone who's not named Ryan Braun (oh stop booing, Brewers fans!), Rick Pitino makes it all better for his departing seniors by giving them championship rings and a fake championship ceremony! There is nothing, I mean nothing can put into words this epic fail of a scandal. I mean they didn't even play one fucking game in the March Madness tournament, and decided to reward themselves. So with that in mind, I'm going do something unprecedented for our audience here tonight. I'm giving you all… fake championship rings. When people ask you what you did to earn this ring – tell them it doesn't matter! Use Louisville's excuse!
That's right! You get a ring! And you get a ring! And you get a ring! And you get one, and you get one, and you get one! Everybody gets a ring!! And here, I'll even give you your own net to cut down! Sponsored by Werner Ladders!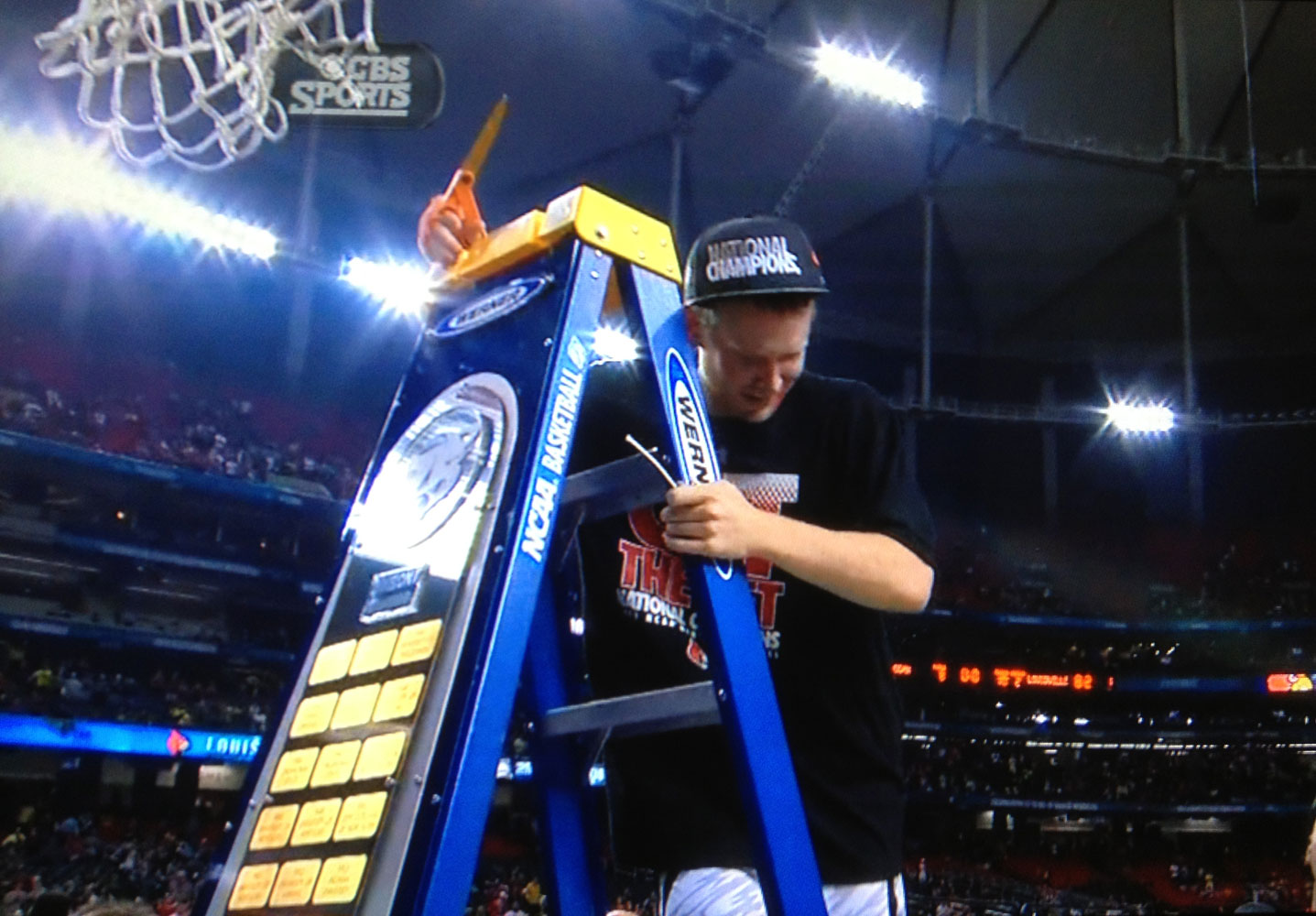 By the way yes I'm aware of the irony that photo is from Louisville's championship run in 2013. I'll even throw in that bullshit One Shining Moment song:
Just remember – it doesn't matter what you did to earn this championship, all that matters is that you're a self imposed champion, and nobody can ever take that away from you!
See you next week!
4 replies, 3656 views
Replies to this discussion thread
| | | | |
| --- | --- | --- | --- |
| 4 replies | Author | Time | Post |
| Top 10 Conservative Idiots #18: The KKK Took My OC Away Edition (Original post) | Initech | Mar 2016 | OP |
| | Javaman | Mar 2016 | #1 |
| | Initech | Mar 2016 | #3 |
| | dembotoz | Mar 2016 | #2 |
| | AwakeAtLast | Mar 2016 | #4 |
---
Response to Initech (Original post)
Mon Mar 7, 2016, 12:48 PM
Javaman (53,040 posts)
1. You get extra props this week for paraphrasing the Ramones in your title..
---
Response to Javaman (Reply #1)
Mon Mar 7, 2016, 03:18 PM
Initech (75,764 posts)
3. The more I read about this story the more it seemed like the perfect title!
---
Response to Initech (Original post)
Mon Mar 7, 2016, 02:20 PM
dembotoz (15,073 posts)
2. k and r
---
Response to Initech (Original post)
Tue Mar 8, 2016, 01:03 AM
AwakeAtLast (12,634 posts)
4. K & R!
And bookmarking for me to read again later.