Thu Jan 14, 2016, 07:45 PM
Octafish (55,745 posts)
444:444 FBI - Police Killings actually are 'Justified Homicides'
Last edited Thu Jan 14, 2016, 08:17 PM - Edit history (1)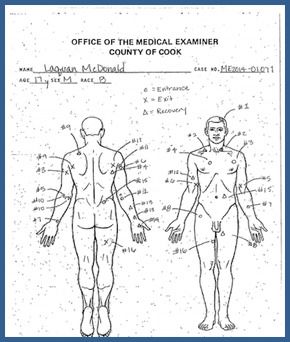 The cops' killing spree in 2015: by the numbers
By Richard Becker
Liberation, Jan 12, 2016
In 2015, police in the United States continued to kill at a rate far higher than every other country in the world for which statistics are currently available. That year, U.S. cops killed at least 1,200 people, more than three per day on average, according to the research of the website www.killedbypolice.net.
The exact number is not known. There is no federal agency that keeps track. The FBI compiles annual statistics for "justified homicides" by police—but participation in the program by the approximately 18,000 police agencies in the country is completely voluntary, and only about 800 actually provide reports. Most departments, including the notoriously racist and murderous New York Police Department, do not participate at all.
The FBI reported 444 killings by police in 2014, the latest report available. The FBI's amazingly broad definition of "justifiable homicide" by police is: "The killing of a felon by a law enforcement officer in the line of duty." The FBI classified every one of the 444 killings as "justified."
SNIP...
No 'war on police' in 2015
SNIP...
Police officers killed by hostile actions—gunfire or assault—declined from 64 to 49. Given that there are more than 1.5 million police in the country, those numbers reveal that the claim of a "war on cops" is truly bogus.
U.S. cops kill at 100 times or more the rate of other countries
U.S. political leaders frequently promote the chauvinistic idea of "American exceptionalism," the notion that the United States is the "one indispensable country," superior to all others. It is dangerous propaganda employed to justify wars and interventions around the world.
But in the area of state violence, the United States is indeed "exceptional," particularly as compared to other developed capitalist states.
CONTINUED...
http://www.liberationnews.org/cops-killing-spree-2015-numbers/
0 replies, 769 views