Sat Dec 19, 2015, 02:00 PM
marmar (72,853 posts)
Governor Animal House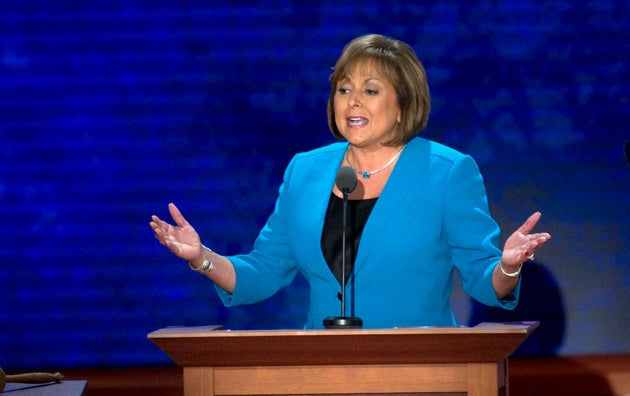 New Mexico Gov. Susana Martinez (R) was forced to apologize on Friday after audio surfaced of her admonishing police officers who tried to disband a hotel party she was attending.
Three audio recordings obtained by several local media outlets feature staff at the El Dorado Hotel in Santa Fe, New Mexico, calling police in the early hours of Dec. 13 to ask them to kick noisy people off the hotel premises after complaints from other hotel guests.
"We have guests that have been partying in their room," Shelly Garcia at the El Dorado front desk told the Santa Fe police dispatcher. "They've been warned already and they are still not quieting down."
Garcia told police that the rowdy guests had been throwing bottles off their hotel room balcony. .............(more)
http://www.huffingtonpost.com/entry/drunk-new-mexico-governor-cops_5674aae0e4b014efe0d5aaf0
4 replies, 921 views
Replies to this discussion thread
| | | | |
| --- | --- | --- | --- |
| 4 replies | Author | Time | Post |
| Governor Animal House (Original post) | marmar | Dec 2015 | OP |
| | Stuart G | Dec 2015 | #1 |
| | Rex | Dec 2015 | #2 |
| | Hugin | Dec 2015 | #3 |
| | Sen. Walter Sobchak | Dec 2015 | #4 |
---
Response to marmar (Original post)
Sat Dec 19, 2015, 08:06 PM
Stuart G (30,348 posts)
1. So that is the Governor of New Mexico?
Drunk?..making noise?? Partying?.. Not following the rules?..oh my ..say it ain't so...
---
Response to marmar (Original post)
Sat Dec 19, 2015, 09:04 PM
Rex (65,616 posts)
2. So the cops act like good little robots and tuck tail back to their domain.
Pathetic, however her demanding to know which person complained so she could send a goon squad after them is even more pathetic.
---
Response to marmar (Original post)
Sat Dec 19, 2015, 09:17 PM
Hugin (28,188 posts)
3. But... But... But... I read in the ABQ Journal and saw on the teevee!
The fragile [strike]Texas[/strike] flower was only caring for her handicapped sister and they were quietly eating very soft pizza.
Oh, and the bottles... There may have been a few very un-packed snowballs dropped from the balconies in celebration of the coming celebration of the baby Jesus.
Think of the children.
Here's a quote from the dainty butterfly herself...
"We wasn't doing nutthin' Ossifer... *hic* What's you mean keep it down? PARTY! WOO! Who's being telling on us?
*BRAAAAP!*
"
As, you can see there's nothing to see here, but, a quiet informal moment of serenity. Move along.
---