Mon Aug 17, 2015, 03:59 PM
Omaha Steve (81,688 posts)
Hotel Workers in Las Vegas: "Mr. Trump, Start Here."
Last edited Mon Aug 17, 2015, 07:07 PM - Edit history (2)
http://www.culinaryunion226.org/news/press/hotel-workers-in-las-vegas-mr-trump-start-here
FOR IMMEDIATE RELEASE
August 17, 2015
MEDIA CONTACT:
Bethany Khan:
[email protected]
▪ (702) 387-7088
Trump: "Make America Great Again."
Hotel Workers in Las Vegas: "Mr. Trump, Start Here."
Las Vegas, NV – "Donald Trump says he wants to make America great again,'" said Geoconda Arguello-Kline, Secretary-Treasurer for the Culinary Union. "Mr. Trump should start right here in Las Vegas with workers at his hotel. Many of them are immigrants who work hard to provide for their families. They deserve equal treatment and should be respected for their contributions to this great city."
On Friday, August 21, 2015 at 5 p.m., employees from Trump International Hotel Las Vegas will march from Las Vegas Boulevard to their hotel to demand equality. They will be joined by clergy leaders, community organizations, elected officials, and union workers throughout the city. Over 500 Trump Las Vegas employees are seeking to unionize so that they can have the American Dream and have a better life for themselves and their families.
"I came from Mexico many years ago and became an American citizen to have a better opportunity for me and my family," said Maria Jaramillo, a housekeeper at the Trump Las Vegas. "This country is a nation of immigrants, and we all work hard and deserve to be treated fairly."
"I was born in America, and, with my union job, I have the opportunity to provide for my family. That's why I support Trump workers who want to unionize," said Pamela Parre, a banquet server at the Monte Carlo Resort and Casino, an MGM Resorts International property in Las Vegas. "Mr. Trump can make America better by treating his employees with dignity and respect, and make their jobs great jobs just like mine."
FULL story at link.
###
Culinary Workers Union Local 226 and Bartenders Union Local 165, Nevada affiliates of UNITE HERE, represent over 55,000 workers in Las Vegas and Reno, including at most of casino resorts on the Las Vegas Strip and in Downtown Las Vegas. UNITE HERE represents 270,000 workers in gaming, hotel, and food service industries in North America.
www.CulinaryUnion226.org / @Culinary226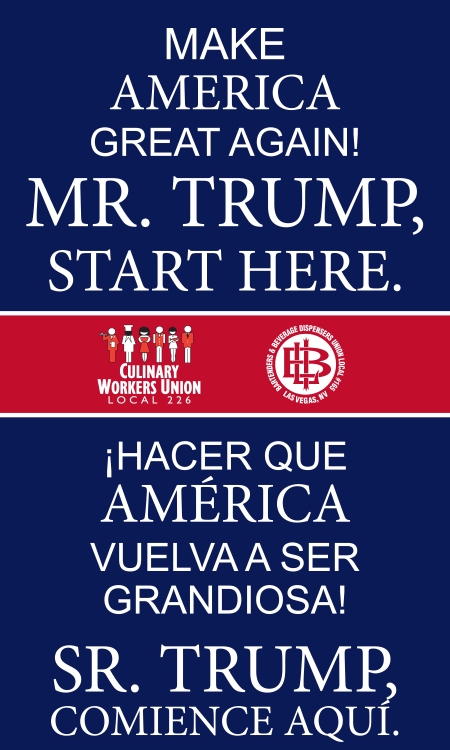 2 replies, 892 views
Replies to this discussion thread
---
Response to Omaha Steve (Original post)
Mon Aug 17, 2015, 06:48 PM
Omaha Steve (81,688 posts)
1. Kick
---
Response to Omaha Steve (Original post)
Mon Aug 17, 2015, 06:56 PM
spanone (128,234 posts)
2. K&R...
why don't they ask mr trump why he didn't open a casino in vegas?

well, he couldn't get a gaming license....too many bankruptcies