Tue Jul 28, 2015, 10:53 AM
marmar (72,733 posts)
U.S. Homeownership Rate Falls to the Lowest Level Since the 1960s
(
Bloomberg
) The share of Americans who own their homes fell to the lowest level in almost five decades, extending a multiyear decline as families struggle to regain ground lost during the financial crisis and rentals gain favor.
The U.S. homeownership rate was 63.4 percent in the second quarter, down from 63.7 percent in the previous three months, the Census Bureau reported Tuesday. It was lowest reading since 1967.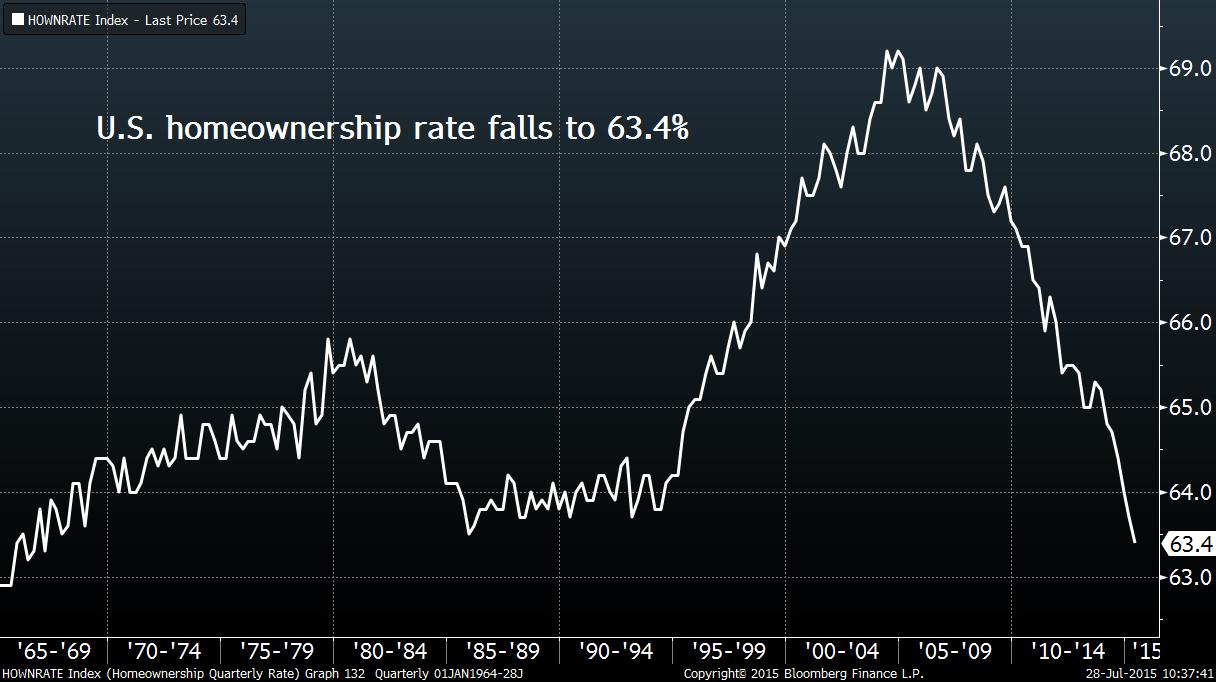 Would-be homebuyers have been held back by stringent mortgage standards and wage growth that hasn't kept up with surging home prices. The average household income in June was 4 percent below a record high set in early 2008, even as unemployment dropped to its pre-recession rate, according to Sentier Research LLC.
"We're still suffering the effects of the housing collapse and the financial crisis," said Mark Vitner, senior economist with Wells Fargo Securities in Charlotte, North Carolina. "We may have another percentage point to go before we see a bottom" in the homeownership rate, he said. ..................(more)
http://www.bloomberg.com/news/articles/2015-07-28/u-s-homeownership-rate-falls-to-lowest-since-the-1960s
4 replies, 598 views
Replies to this discussion thread
| | | | |
| --- | --- | --- | --- |
| 4 replies | Author | Time | Post |
| U.S. Homeownership Rate Falls to the Lowest Level Since the 1960s (Original post) | marmar | Jul 2015 | OP |
| | MADem | Jul 2015 | #1 |
| | merrily | Jul 2015 | #2 |
| | global1 | Jul 2015 | #3 |
| | Igel | Jul 2015 | #4 |
---
Response to marmar (Original post)
Tue Jul 28, 2015, 11:12 AM
MADem (135,425 posts)
1. Housing is terribly expensive....not just buying, but "the rent is too damn high!" nt
---
Response to marmar (Original post)
Tue Jul 28, 2015, 11:29 AM
merrily (45,251 posts)
2. There weren't many condos in the 60s, either. You owned the whole structure or you were a renter.
Investors bought up the distressed real estate between 2009 and maybe 2012, and, with or without renovation, sold it at a tidy profit or rented it out, also profitably. Either way, the stock of dwellings affordable to own dwindled.
---
Response to marmar (Original post)
Tue Jul 28, 2015, 11:48 AM
global1 (22,411 posts)
3. Those That Are At The Age To Buy A Home Are Saddled With Student Loan Debt And.....
can't afford to buy a house. They can't afford to start a family either. Property taxes have and are going up on houses. So add that cost to the mortgage and it puts them out of play.

Renting - even though it is costly - because of supply and demand - is the best alternative these young college graduates that are starting their career have.

We're not going to come back out of this housing bubble until the Congress does something to relieve student debt.

Relief of student debt will be an energizer to the economy.

But instead - our Congress wants to go to war against Iran. Go figure.
---
Response to marmar (Original post)
Tue Jul 28, 2015, 12:09 PM
Igel (31,556 posts)
4. Many clamored for more stringent mortgage requirements.
Some of those are now complaining that they got what they wanted. Unintended consequences and all that. That's one.

Student debt matters.

Unemployment rates matter. Once you've got a job, you don't necessarily suddenly have a down payment.

Many millennials prefer an urban or urban-like environment. Apts., not houses. Less maintenance.



Those things mean fewer houses can be bought. If home ownerships is # of houses/number of households, decreasing the top # makes for a small ratio.



If you marry later, that means more apts for singles.

Given that unemployment's dropped, those who can move out of the nest (or who can move from group living arrangements) tend to do so quickly.

That means there are more people renting apts and the number of hourseholds increases. Increase the bottom number if # houses/# households and you get a smaller ratio.