Sun Mar 22, 2015, 06:17 PM
Judi Lynn (132,191 posts)
Colombia drug debate revived as herbicide deemed carcinogen
Colombia drug debate revived as herbicide deemed carcinogen
By JOSHUA GOODMAN | Associated Press – 6 hours ago.
BOGOTA, Colombia (AP) — The new labeling of the world's most-popular weed killer as a likely cause of cancer is raising more questions for an aerial spraying program in Colombia that is the cornerstone of the U.S.-backed war on drugs.
The International Agency for Research on Cancer, a French-based research arm of the World Health Organization, has reclassified the herbicide glyphosate as a result of what it said is convincing evidence the chemical produces cancer in lab animals and more limited findings it causes non-Hodgkin's lymphoma in humans.
The ruling on Thursday is likely to send shockwaves around the globe, where the glyphosate-containing herbicide Roundup is a mainstay of industrial agriculture.
In Colombia, there is an added political dimension stemming from the fierce debate that has raged over a program that has sprayed more than 4 million acres of land in the past two decades to kill coca plants, whose leaves are used to produce cocaine.
Read more:
https://in.news.yahoo.com/colombia-drug-debate-revived-herbicide-deemed-carcinogen-043122445.html
2 replies, 1217 views
Replies to this discussion thread
| | | | |
| --- | --- | --- | --- |
| 2 replies | Author | Time | Post |
| Colombia drug debate revived as herbicide deemed carcinogen (Original post) | Judi Lynn | Mar 2015 | OP |
| | B Calm | Mar 2015 | #1 |
| | Judi Lynn | Mar 2015 | #2 |
---
Response to Judi Lynn (Original post)
Sun Mar 22, 2015, 06:25 PM
B Calm (28,762 posts)
1. The US War on Drugs is spreading cancer and where is our media?
---
Response to Judi Lynn (Original post)
Sun Mar 22, 2015, 06:27 PM
Judi Lynn (132,191 posts)
2. Years ago teachers in Colombia asked their students to make pictures showing the effects
in their own lives of the aerial spraying being done by these government airplanes. The results were very telling:
[center]
http://www.yesmagazine.org/peace-justice/images/fumigation-painting-courtesy-sanho-tree/image_preview
School children from both Colombia and neighboring Ecuador actually drew these pictures included in this diary..... The spray not only kills coca plants, but any other, legal, crops in the vicinity. Sadly it also kills livestock and far worse it has also killed many children.
Aerial spraying is meant to eradicate illegal coca crops, but often kills legal crops as well.
~ ~ ~[/center]
Colombia: Chemical Spraying of Coca Poisoning Villages
by Hugh O'Shaughnessy, The Observer (London)
June 17th, 2001
Bogota -- Franci sits on the veranda and whimpers. The little girl is underweight. Her armpits are erupting in boils. Like most of her people, she has suffered from respiratory problems and stomach pains since the aircraft and the helicopter gunships came over at Christmas and again at New Year dropping toxic pesticides on their villages.
The tiny indigenous Kofan community of Santa Rosa de Guamuez in Colombia had it hard enough with pressures from settlers on their reservation, without Roundup Ultra containing Cosmoflux 411F, a weedkiller that is being sprayed on their villages in a concentration 100 times more powerful than is permitted in the United States.
Aurelio, a Kofan village elder, shows us around his village. The Kofan have been here 500 years. Now it looks as though their time is up. Pineapples are stunted and shriveled. The once green banana plants are no more than blackened sticks. The remains of a few maize plants can be seen here and there, but the food crops have been devastated. There is hunger at Santa Rosa. He is close to despair.
Colombian babies and children are falling ill. Peasants, already miserably poor, are getting hungrier. Indigenous tribes are being torn apart and whole communities pushed into exile.
More:
http://mydd.com/users/redstatehatemonitor/posts/bush-policy-of-spraying-poison-on-children
[center]~ ~ ~[/center]
Overflow of the aerial chemicals going to Ecuador, along the border:
[center]
[/center]
Alarm bells first rang in Ecuador about aerial spraying of herbicides in September 2000 when 44 people from one community reported stomach and skin problems to their local health centre, shortly after major aerial spraying across the border in neighbouring Colombia.
Under the US-funded Plan Colombia to eradicate drug crops, crop-dusting planes have sprayed the herbicide glyphosate over at least 40,000 ha in southern Colombia. Aerial application has intensified since December 2000, with startling adverse effects on human and livestock health [see PN 53 p9]. Ecuadorean peasant farmers living close to the border observed planes spraying for several hours a day over three consecutive days during February and March 2001 and noticed how thick clouds descended on their villages, leaving a strong chemical smell in the air and water sources. Peasant organisations have since made several denunciations about the impact of the spraying on their health, animals and crops but the local and national authorities in Ecuador have failed to respond to their concerns, while the US Ambassador in Quito has stated that 'glyphosate produces the same effect as common salt or aspirin and is less damaging than nicotine or vitamin A.'
Given the lack of official concern, the PAN Ecuador group Acción Ecológica decided to document some of the health impacts to bring government and public attention to the plight of the farm families affected. In June 2001 they undertook a clinical survey of a sample of 142 people from six communities living between 0-10km from the border zone close to the spraying and also interviewed local health personnel(1). Table 1 presents the symptoms recorded during medical consultation in these communities. 100% of those living within 5km of the spray zone suffered some form of acute poisoning, with fever being the most common symptom, followed by diarrhoea, migraine and dry cough, which demonstrate systemic effects via oral and respiratory tracts. These symptoms were closely followed in frequency by dermatitis, vomiting and conjunctivitis, indicating chemical entry via skin and mucous membranes.
The data show a clear relation between number and incidence of symptoms and distance from the spray zone. People within 0-2km suffered an average of six different symptoms (range 2-18), those within 5-6km an average of 5.8 and those 8-10km away an average of four symptoms. Schools in two farming cooperatives close to the border had to close after all 83 pupils became ill. However, only three people from the communities sought medical assistance, one of whom was hospitalised for a week. Most peasant families simply do not have the cash to pay for medical treatment – they tried to treat their symptoms with herbal remedies instead.
This lack of interaction with official health services partly explains why the impact of the aerial spraying remains largely invisible to the authorities and public. Three months after the spraying, 33% of residents closest to the border were still suffering chronic intoxication symptoms, and 10% of those at 5-6km distance – mainly dermatitis, fever, migraine and conjunctivitis.
The precarious household economy of these poor communities has been further undermined by the impact of herbicide fall-out: 80% of poultry in the 0-2km zone died and there were numerous deaths of cattle, pigs, horses, dogs and goats, as well as spontaneous abortions of calves. Animal deaths were reported up to 10km away. This season's entire coffee crop has been lost, rice yields have dropped by 90% and cocoa, plantain, sugarcane, cassava and fruit production have been badly affected. Farmers now fear that they will be unable to feed their families unless they receive some form of financial aid or compensation, yet none has been offered.
http://www.pan-uk.org/pestnews/Issue/pn54/pn54p8.htm
[center]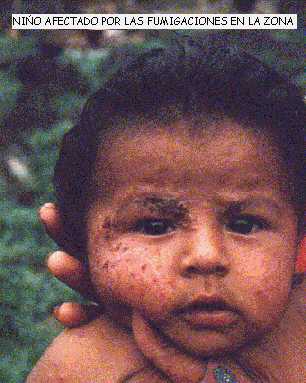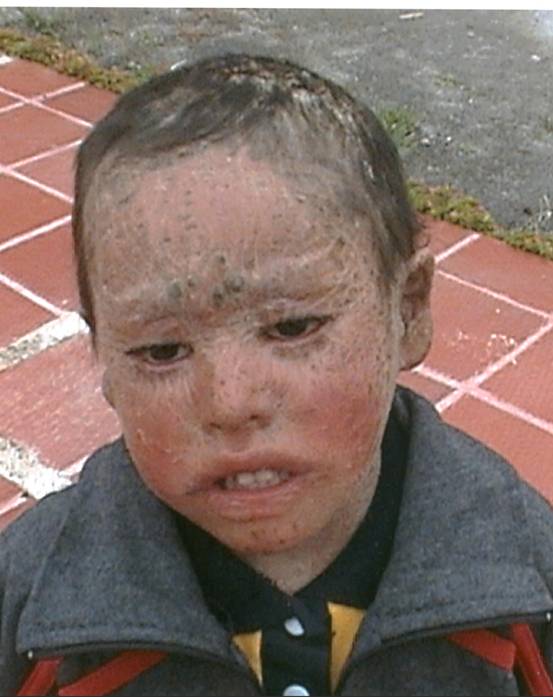 [/center]
Petition to the United Nations Calling for a Moratorium on Aerial Spraying in Colombia in Compliance with International Law and Conventions
Bogotá, December 4th 2012
His Excellency Ban Ki-moon
Secretary-General of the United Nations
New York
Attached letter documenting the reasons for this petition:
Dear Mr. Secretary-General:
We are writing you out of humanitarian considerations and in the face of the numerous complaints regarding the health hazards, environmental-impact, Human Rights and International Humanitarian Law violations and the Colombian State's failure to comply with the Nation's 1991 Political Constitution and its reservations [1] with regard to the 1988 Vienna Convention against Illicit Traffic in Narcotic Drugs and Psychotropic Substances. We therefore appeal to you, and through your good offices to the International Community and international bodies in charge of protecting Human Rights, and dealing with the causes of internal refugees, displaced populations, environmental protection and limitations to the use of chemical weapons, to intervene before the governments of Colombia and the United States requesting, demanding, that they comply with the Treaties, Conventions and Protocols to which their States are parties.
One of Colombia's reservations to the Vienna Convention is expressed by the Constitutional Court Ruling No. C-176/94 as follows: "...the Colombian State should reserve itself the right to assess the ecological impact of drug control policies since persecuting the narcotics traffic cannot be translated into a disregard of the Colombian State's obligation to protect the environment, not only for present generations but for future generations as well." [2] This ruling clearly orders the Colombian governments to assess the repercussions of hazardous antinarcotics measures. It also reaffirms the Constitutional Principle according to which duly ratified Environmental, Human Rights, IHL, ENMOD and CWC international treaties prevail over domestic policies and measures.
The United Nations, the European Union as well as the Colombian[3] and United States Congresses[4] have on various occasions expressed their apprehension regarding the negative effects of the Aerial Eradication Program with defoliants. Nevertheless, the Colombian governments, under the insistence of the United States and with its endorsement, have persisted in applying a policy which is clearly hazardous and shown to be ineffective for the eradication purposes proposed.[5]On his Mission to Ecuador in May 2007, Paul Hunt, the UN Special Rapporteur on the Right to the Highest Attainable Standard of Health found and informed that: "There is credible, reliable evidence that the aerial spraying of glyphosate along the Colombia-Ecuador border damages the physical health of people living in Ecuador. There is also credible, reliable evidence that the aerial spraying damages their mental health. Military helicopters sometimes accompany the aerial spraying and the entire experience can be terrifying, especially for children."[6] The UNODC itself clearly states that: "UNODC neither participates nor supervises aerial spraying activities".[7] The European Union has been warning Colombia for years: "..the European Union has had the opportunity to express its position to Colombian authorities, and in particular to express doubts about the effectiveness of the measure. ... The EU has also pointed out to Colombian authorities the danger of a negative impact of the aerial spraying on past and future EU cooperation projects."[8] It has also recently reaffirmed the need to carry out independent —of US and Colombian authorities— monitoring of fumigation under UN and PAHO supervision.
Colombia is currently the only country in the world that sprays from the air potent chemical mixtures as State policy and as a war measure. Fumigation measures were first applied in Colombia in 1978 in accordance with US persuasion that the Drug War could be waged by attacking crops through the use of chemicals outside of the US. The US's proactive role in fumigation in Colombia has been thoroughly acknowledged by, among others, its own official documents.[9] The first fumigations in Colombia were carried out by experimenting with highly dangerous chemicals, among others, Paraquat. Despite the fact that information according to which "the spraying of marijuana with paraquat is likely to cause serious harm to the health of persons who may consume the sprayed marijuana" [10]conveyed in 1979 by Health Education and Welfare (HEW) Secretary, Joseph Califano, led to abandonment of US aerial spraying in Mexico, this did not stop the US from making aerial spraying of Parquat in Colombia a Drug War condition. The aerial use of the pulmonary toxin Paraquat is currently banned world-wide. Colombia and the US have experimented with a series of chemicals. According to a 1996 Commission on Narcotics Drugs (CND) report: "Glyphosate has been applied to all three plants, and 2,4-D [component of Agent Orange, out of text] to opium poppy, both in the form of liquid sprays. For coca bush, tebuthiuron and hexazinone, which are granular and applied by aerial distribution, have been used, and for cannabis plant, the liquid spray 2 ,4 ,5 ,7 - tetrabromofluorescein, known as Eosine Yellowish, although the latter can cause some browning of leaves of adjacent vegetation."[11]
According to the scarce public-official information available, the chemical used since 1984 is Glyphosate (Monsanto's Roundup Ultra) the toxic surfactant POEA compounded by the coadjuvants Cosmo-Flux 411F and CosmoInD used to render four times more potent the corrosive effect of Roundup. Yet there persists a reasonable doubt as to what we are being fumigated with. In 1988, Eli Lilly refused to let its herbicide, tebuthiuron be used for coca spraying stating that it had not been tested in tropical environments and it feared all sorts of law suits. Nevertheless, there are references to the fact that the highly dangerous tebuthiuron has been used on Colombians. A FOIA of a July 1997 CIA document reveals that, as per USDA experimentation in Peru and Panamá, Colombia had acquiesced to the "pilot program for the use of the granular herbicide tebuthiuron in the eradication of coca". [12]
More:
http://www.mamacoca.org/cartaun/CartaUNen.htm
[center]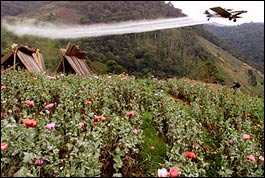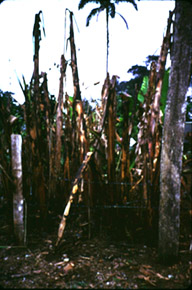 [font size=6]ETC.[/font]