Thu Jan 22, 2015, 11:10 PM
RiverLover (7,830 posts)
Ken Burns' 'The Roosevelts' Reveals Everything Wrong With Our Current Political Class
Ken Burns' 'The Roosevelts' Reveals Everything Wrong With Our Current Political Class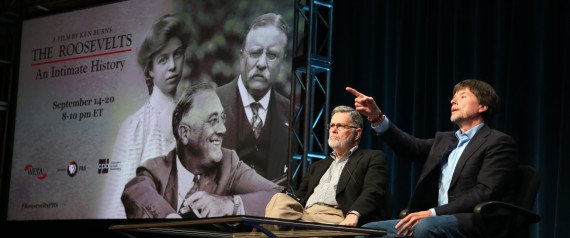 By exploring the lives and times of TR, FDR, and ER Burns shows that in our not-so-distant past the governing institutions of this country were actually responsive to the needs and desires of working-class Americans. This superb and moving portrait is a perfect fit for our times.
The utter failure of our current "leaders" is glaring by comparison.
Yes, TR was a warmonger, and FDR signed the order that imprisoned innocent Japanese Americans. There are long lists of both presidents' failures.
But we shouldn't let those flaws bury the fact that both TR and FDR were not afraid to stand up to big corporations and Wall Street if they viewed their actions as damaging to the country. That alone is probably the biggest difference between those leaders of the early decades of the 20th Century and today.
After thirty years of "supply-side" economics that has left working people still waiting for better times to "trickle down"; eight years of George W. Bush's misrule that brought us war and recession; the Far-Right ascendency in 2010 that has all but shuttered the federal government in an attempt to destroy Barack Obama; and a Supreme Court that is proudly subservient to every tenet of plutocracy -- I think it's okay to flip on PBS and feel a bit nostalgic for a time when there existed effective politicians who actually gave a damn about the quality of life of the majority of Americans.
Over the past thirty years, Presidents and Congresses have become so subservient to corporations and Wall Street that the two major political parties are all but indistinguishable
....
...
Ironically, in the 1990s, when the Democratic Party grew more diverse based on race and gender, it shifted far closer to the Republicans in terms of class. We've seen one Democratic president (Bill Clinton) push NAFTA and other "free trade" deals that decimated labor unions; unravel the social safety net in the name of "welfare reform"; and deregulate Wall Street.
And we've seen another Democratic president (Barack Obama) refuse to send any bankers to jail for the massive fraud they committed in the mortgage markets; choose to beat up teachers' unions with Arne Duncan's "Race to the Top"; and accommodate the profiteers inside our health care system.
All of these policies represent a capitulation to the interests of big corporations and Wall Street on the part of Democratic administrations at the expense of their own constituencies.
...
http://www.huffingtonpost.com/joseph-a-palermo/ken-burns-the-roosevelts-_b_5858470.html
3 replies, 986 views
Replies to this discussion thread
| | | | |
| --- | --- | --- | --- |
| 3 replies | Author | Time | Post |
| Ken Burns' 'The Roosevelts' Reveals Everything Wrong With Our Current Political Class (Original post) | RiverLover | Jan 2015 | OP |
| | RiverLover | Jan 2015 | #1 |
| | Omaha Steve | Jan 2015 | #2 |
| | zeemike | Jan 2015 | #3 |
---
Response to RiverLover (Original post)
Fri Jan 23, 2015, 12:06 AM
RiverLover (7,830 posts)
1. FDR on living wages~
---
Response to RiverLover (Reply #1)
Fri Jan 23, 2015, 02:09 AM
Omaha Steve (75,354 posts)
2. And this
---
Response to RiverLover (Original post)
Fri Jan 23, 2015, 02:11 AM
zeemike (18,998 posts)
3. Kick and rec.