Tue Apr 24, 2012, 01:04 PM
G_j (38,004 posts)
Knowledge Is Your Weapon: say NO to palm oil!
[IMG]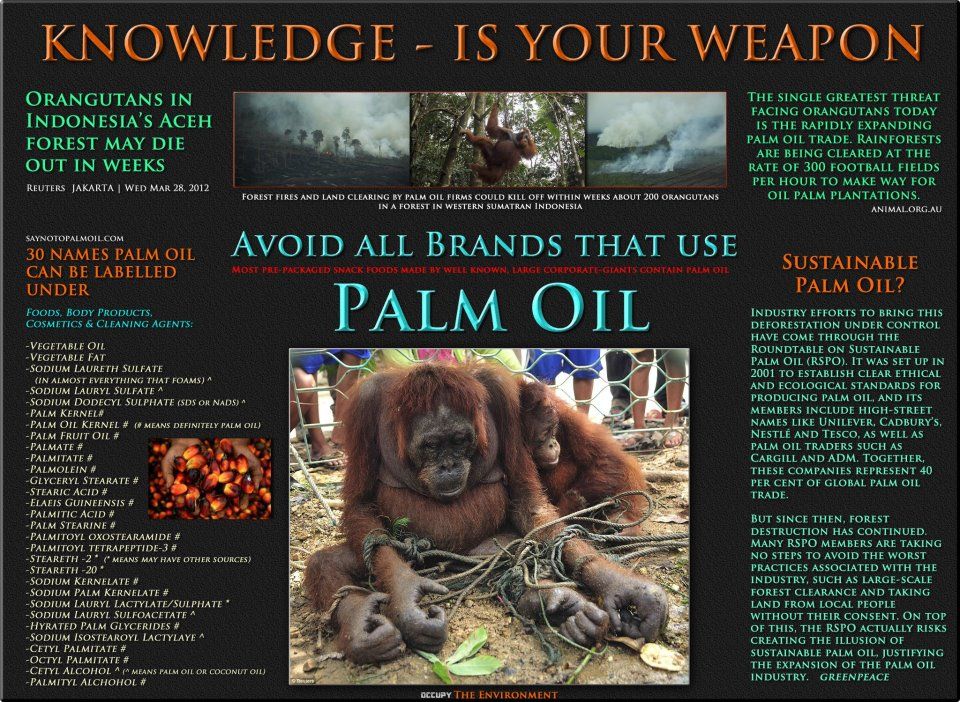 [/IMG]
Op-Ed: Outrage as palm oil companies exterminate hundreds of orang-utans
ElizabethBy Elizabeth Batt
Mar 31, 2012
Banda Aceh - Devastating fires deliberately set by palm oil companies in Indonesia may have killed hundreds of Sumatran orang-utans. And the land grab means the creatures may have only weeks or a few months, before disappearing forever.
The fires are the latest move in a sickening and gut-wrenching war waged on orang-utans by palm oil companies over land in northern Indonesia, says the UK's Daily Mail.
Hundreds of the arboreal great apes, recognized by their reddish-brown hair and uniquely expressive faces, may have perished in the fires allegedly started by palm oil companies in the Tripa forest on the coast of Aceh province. It is one of the largest remaining populations of wild orangutans in the world.
More devastating, are the reported claims of palm oil employees forcing fleeing orang-utans back into the burning forest, to their deaths. An action, said Ian Singleton of the Sumatran Orangutan Conservation Programme, that has cost the apes dearly. He told The Mail:
"It is no longer several years away, but just a few months or even weeks before this iconic creature disappears."
Read more:
http://www.digitaljournal.com/article/322150#ixzz1sJndiLvT
[IMG]
[/IMG]
http://wwf.panda.org/what_we_do/endangered_species/great_apes/orangutans/
http://www.uen.org/utahlink/activities/view_activity.cgi?activity_id=3817
http://www.allaboutwildlife.com/endangered-rainforest-species-orangutans
6 replies, 3322 views
Replies to this discussion thread
| | | | |
| --- | --- | --- | --- |
| 6 replies | Author | Time | Post |
| Knowledge Is Your Weapon: say NO to palm oil! (Original post) | G_j | Apr 2012 | OP |
| | Odin2005 | Apr 2012 | #1 |
| | Daalalou | Apr 2012 | #3 |
| | Ecumenist | Apr 2012 | #2 |
| | kenny blankenship | Apr 2012 | #4 |
| | Ecumenist | Apr 2012 | #6 |
| | Mnemosyne | Apr 2012 | #5 |
---
Response to G_j (Original post)
Tue Apr 24, 2012, 01:07 PM
Odin2005 (53,521 posts)
1. Shit, is there any soap or shampoo that ISN'Y made from palm oil???
---
Response to Odin2005 (Reply #1)
Tue Apr 24, 2012, 01:39 PM
Daalalou (54 posts)
3. Yes. It's hard to say no to something
...unless you provide information about alternatives we can say yes too.
---
Response to G_j (Original post)
Tue Apr 24, 2012, 01:37 PM
Ecumenist (6,086 posts)
2. What about African palm oil?
West African countries also produce palm oil....It's traditionally used in cooking.
---
Response to Ecumenist (Reply #2)
Tue Apr 24, 2012, 01:55 PM
kenny blankenship (15,689 posts)
4. Palm cultivation is less organized there, hence more sustainable
There are palm plantations in Africa, but since the oil is such a traditional product cultivation tends be to local and small scale. With smaller and more widely distributed plantings, the impact on the environment is likewise smaller and more spread out. For the present.

A danger exists of course that at any time palm tree cultivation in Africa may convert to the industrial plantation model. African businessmen may attempt to replicate the Indonesian model. Or businesses operating palm plantations in Indonesia and Malaysia could metastasize to Africa. They could buy influence with African governments, enter into partnerships with government with the government expropriating the lands that the oil companies want for their trees. Small, local oil producers could be run out of business by large multinational plantation owners in the same ways that large businesses have always used to force smaller competitors out. The fact that this hasn't happened yet doesn't mean that it can't.

If it isn't stopped in Indonesia, the chances are greater that it will happen in Africa too. International pressure must be brought to bear on Indonesia and Malaysia to check the destruction of irreplaceable endangered species habitat. But at the same time, the international community must be on guard against the palm oil barons reacting to this by spreading their devastation to other places.
---
Response to kenny blankenship (Reply #4)
Tue Apr 24, 2012, 02:01 PM
Ecumenist (6,086 posts)
6. God, I hope that doesn't happen. Afriac has enough problems and adding this horror could possbily
---
Response to G_j (Original post)
Tue Apr 24, 2012, 02:00 PM
Mnemosyne (21,363 posts)
5. K&R nt