Sat Nov 29, 2014, 02:56 AM
Voice for Peace (13,141 posts)
The Rolex Caliph's Camel Selfie: How Iraqi Youth are Ridiculing Daesh/ISIL Online
http://www.juancole.com/2014/11/caliphs-ridiculing-daeshisil.html?utm_source=dlvr.it&utm_medium=facebook
The Rolex Caliph's Camel Selfie: How Iraqi Youth are Ridiculing Daesh/ISIL Online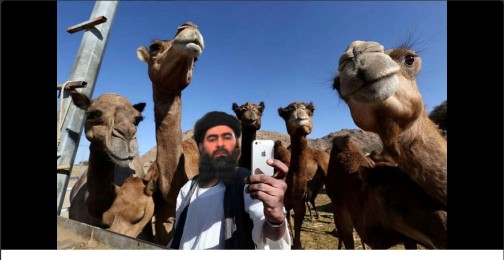 The extremist Islamic State group has been very effective on social media, terrifying their enemies and boosting their own prestige. Now a new group of keyboard warriors are fighting back. They come via the Twitter website and they're well armed with jokes about goats and donkeys and some funny names. But their ambitions are deadly serious: to take social media back from the extremists and discourage would-be jihadis from joining the group.
...
And many have already asked how best to counter that kind of propaganda, particularly on social media, where a legion of the group's fans disseminates their messages. Over the past few months an unlikely new force has emerged online with their own answer to that question. And they go by some fairly odd, somewhat tasteless, almost superhero-esque names – the likes of Abu al-Kababi Fatassi, Caliph al-Rolexi, the Gay Caliph and Ms Jihadi among others. Because while some actors have found that parody videos and songs best suit their needs to make light of the IS group's terror tactics – there are YouTube clips from Palestine and even an Iraqi Kurdish television skit as well as a fake Jihadi Vogue magazine – this particular group of anti-IS keyboard warriors exists largely on the social media network, Twitter.
The aforementioned funny names are behind a number of humorous Twitter accounts that continuously post jokes that take the mickey out of the IS group. Some of the earliest of these accounts were online in early June, shortly after the IS group entered Mosul. But over the past few months numbers have increased substantially. There are dozens now, some more prominent and active than others. There are also at least two Twitter accounts run by the US government – one is called ISIS Fake, a parody account supposedly run by the CIA and the other is the more serious Think Again Turn Away account run by the US State Department. But behind almost all of the other parody accounts are private individuals.
"In the beginning it was a way to discharge my anger by mocking their stupidity," says one of the owners of an IS parody account who wished to be known only by his Twitter handle, ISIS Media. "Then I noticed that it can be used for a more serious, better cause. The biggest weapon of ISIS is propaganda and they can't stand effective counter-propaganda. I wanted to show how stupid ISIS is and what a stupid idea it is to join them for jihad."
1 replies, 2090 views
Replies to this discussion thread
| | | | |
| --- | --- | --- | --- |
| 1 replies | Author | Time | Post |
| The Rolex Caliph's Camel Selfie: How Iraqi Youth are Ridiculing Daesh/ISIL Online (Original post) | Voice for Peace | Nov 2014 | OP |
| | Voice for Peace | Nov 2014 | #1 |
---
Response to Voice for Peace (Original post)
Sat Nov 29, 2014, 03:16 AM
Voice for Peace (13,141 posts)
1. not unlike tea partiers.
"There are a large number of actual ISIS sympathisers who follow me and even retweet many of the jokes," al-Fatassi says. "Because the first thing they do when making a Twitter account is search for "ISIS". So they end up following me and ISIS Media not knowing we are both parody accounts."

"I used to have at least 200 to 300 genuine ISIS followers on my old account and around 100 on my new account," ISIS Media adds. "They retweet the tweets that actually mock them. I am serious! I do some really humiliating, but indirect, joke about ISIS and they retweet it. In my opinion, that just shows the IQ level of their supporters," he concludes.