Wed Apr 18, 2012, 05:39 PM
autorank (29,404 posts)
The Fantasy of Tar Sands - from James Hansen
Dr James Hanson is probably our greatest living scientist and the first to define the problems of climate change. This is a letter from him that explains most of what we need to know about the tar sands adventure. To get on his mailing list, click here.
His website is here
.
Grandparents Oppose Tar Sands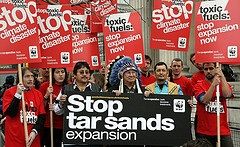 (
Image hidden side
)
From: James Hansen
Alberta tar sands are estimated to be 240 GtC (gigatons of carbon); see Intergovernmental Panel on Climate Change (2007) Working Group 3 report. That is about seven times greater than the cumulative historical CO2 emissions from oil use by the U.S. (36 GtC). U.S. oil use was 28% of global oil use for the cumulative amounts over the past 200 years. So Alberta tar sands contain about twice the total amount of carbon emitted by global oil use in history.
Yet some people argue that tar sands are not so great that we need to be concerned about their effect on climate. They argue that only about 40 GtC of the tar sands are presently economically extractable. However, if an addiction to tar sands is established, as it would be with big pipelines, you can be confident that the addiction would lead eventually to ways of cooking the oil out of most of the tar sands. Moreover, these numbers do not include the emissions from conventional fossil fuels used to mine and process the tar sands into useable fuel. Nor do they include the other greenhouse gas emissions produced by the mining and processing.
The global stampede to find every possible fossil fuel is not being opposed by governments, no matter how dirty the fuels nor how senseless the energy strategy is from long-term economic and moral perspectives. Instead governments are forcing the public to subsidize the polluters, as discussed in
The Case for Young People and Nature.
Fortunately, people are beginning to recognize the situation. Today the Norwegian Grandparent's Climate Campaign, supported by 27 other organizations, delivered[link:
http://columbia.us1.list-manage.com/track/click?u=0ebaeb14fdbf5dc65289113c1&id=014e4ea714&e=1d20dce1fd
| a demand to Statoil (Norwegian government being 2/3 owner of Statoil), the principal tar sands funder, to withdraw support for tar sands development.
]
Given the stranglehold that the fossil fuel industry has on governments worldwide and their effective campaigns to misinform the public, this may seem to be a small step. But do not underestimate the potential of people dedicated to a righteous cause to initiate a broader public recognition and understanding of where the public's interest lies.
Jim Hansen
17 April 2012
6 replies, 1512 views
Replies to this discussion thread
| | | | |
| --- | --- | --- | --- |
| 6 replies | Author | Time | Post |
| The Fantasy of Tar Sands - from James Hansen (Original post) | autorank | Apr 2012 | OP |
| | Dead_Parrot | Apr 2012 | #1 |
| | autorank | Apr 2012 | #4 |
| | freedom fighter jh | Apr 2012 | #2 |
| | autorank | Apr 2012 | #5 |
| | Bigmack | Apr 2012 | #3 |
| | autorank | Apr 2012 | #6 |
---
Response to autorank (Original post)
Wed Apr 18, 2012, 05:53 PM
Dead_Parrot (14,413 posts)
1. Not that we'll listen - we never do.
Mind if I xpost to E/E, or would you like to?
---
Response to Dead_Parrot (Reply #1)
Wed Apr 18, 2012, 09:24 PM
autorank (29,404 posts)
4. Xpost away. Thanks!!!
We need to be saved by some solution that goes outside the normal energy players. I'm liking solar shingles, which are going into mass production as we type. There's a buyers collective in the SF bay area that can get a 2k square foot home solar for around $4000 and leases, with no upfront costs (except removing any current shingles). Works out to about $40 a month. No oil companies involved, just good deals on technology advances. And Dupont, Corning, etc., the solar shingle manufacturers, could give two hoots what Exxon thinks about it. Some hope out there.
---
Response to autorank (Original post)
Wed Apr 18, 2012, 06:38 PM
freedom fighter jh (1,782 posts)
2. This is the most important issue for the future of the human race.
Check out this excellent presentation about climate denial and how it works:
---
Response to freedom fighter jh (Reply #2)
Wed Apr 18, 2012, 09:25 PM
autorank (29,404 posts)
5. Muchos Gracias!!!!!!!!!!
I read his paper responding to the deniers but had not seen this. Great stuff.
---
Response to autorank (Original post)
Wed Apr 18, 2012, 06:44 PM
Bigmack (8,020 posts)
3. James Hansen. My ONLY hero
God only knows he makes EVERY effort to wake up the Great Unwashed. If only....
Ms Bigmack
---
Response to Bigmack (Reply #3)
Wed Apr 18, 2012, 09:27 PM
autorank (29,404 posts)
6. He's a warrior
Got that way through intellect and experience with the asshats of the great right wing noise machine.

Hes my only hero too!