Fri Apr 6, 2012, 09:56 PM
DemoTex (22,692 posts)
Better late than never: My 2004 DU post hits a GOP nerve in 2012
The recent email from Rebecca Collins to my former neighbors in Dallas (includes the text of my 2004 DU post about her and Lynn Cheney):
Glad I am retired before someone posts my pic at post office. See headline
below.

From 'Democrat Underground' blog, 2004. WOWSA! Oh me, oh my, I had
no idea my neighbor had such hatred because Lynne bought my stuff. (And
also because this neighbor hit on me regularly). I would sell to Michelle, too,
I am not political re my financial well being! Some of my best friends are
Democrats, tis true. I also had no idea that I was super right wing!!!! Just
a fiscal conservative.

In this decade's divisive political climate, it's a good thing we don't walk around
with machetes like in they did in Rwanda!!

And, I have to say, in Lynne's defense, she is one of the most fun, intelligent,
easy to be with, fun, very fun, down to earth people I have ever known! And
she smiles and laughs A LOT!! OMG!

Ah, that's me, 'a bowl of scorpions'. And he is just a sweetheart.. righto
And then Collins quotes my post (8 years late!)
Lynn Cheney deals jewelry with a Dallas outlaw ... Rebecca Collins!

Rebecca Collins lived across the street from me on Cragmont Avenue in Dallas (75205). Lynn Cheney would pull up every few months, with her SS entourage, to buy designer jewelry from Collins. The problem was Collins was running a big business from her house that was against Dallas zoning ordinances. She had a staff that parked on our street everyday, and sometimes blocked my driveway. I regularly complained, through city channels, and would get a case number. Anyone else would have been busted. Not to fear though: Collins' next door neighbor, a dear liberal friend of mine with considerably more political clout than I had, has taken up my fallen banner.

I think it was a DUer who said, a couple of years back, that Lynn Cheney always looks as if she were eating a bowl of black scorpions. Actually, I think that is what Dick and Lynn both have for breakfast every morning. Black scorpions and cream.

BTW: Rebecca Collins also has a shop (Rebecca Collins) at the Preston/NW Highway complex, kind of behind Houston's. She also has an internet trade. She is super right-wing and should be avoided like a bowl of black scorpions (for the normal among us). Verb sap!
Bwaa haa haa! I've been gone from Dallas and that neighborhood for eight years. But I told my good friend who forwarded that message to be sure to identify me as the author to both Rebecca Collins and the Family Cheney.
Rebecca claims that "this neighbor" hit on her regularly. WTF? She NEVER talked with ANYONE in the neighborhood, and she totally mis-guessed who the author of the DU piece was.
I assume she still has her high-end jewelry store off Preston and NW Highway. Let's not shop there. OK?
Goddamn I love DU! It can often be a gift that keeps on giving!
Mac
BTW: I am packing for Oregon. I'll be leaving the Carolinas on about 5/10 for my 4th fire season in central Oregon (just saw a map that plotted the geographic center of Oregon at a point about 2 miles NE of my lookout tower).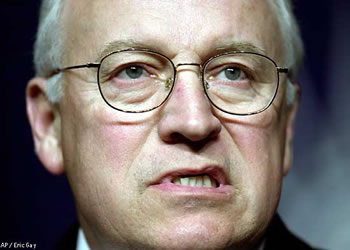 Cheney has a change of heart. Snarl to move to other lip .. soon.
4 replies, 1725 views
Replies to this discussion thread
| | | | |
| --- | --- | --- | --- |
| 4 replies | Author | Time | Post |
| Better late than never: My 2004 DU post hits a GOP nerve in 2012 (Original post) | DemoTex | Apr 2012 | OP |
| | onehandle | Apr 2012 | #1 |
| | Suich | Apr 2012 | #2 |
| | pscot | Apr 2012 | #3 |
| | Sedona | Apr 2012 | #4 |
---
Response to DemoTex (Original post)
Fri Apr 6, 2012, 10:59 PM
onehandle (51,122 posts)
1. Troublemaker.
Looking forward to your photos.


---
Response to DemoTex (Original post)
Fri Apr 6, 2012, 11:44 PM
Suich (10,642 posts)
2. How bizarre!
Lynn Cheney gives me the creeps!
Looking forward to your posts from the lookout...any forecasts on what kind of fire season it's going to be?
---
Response to DemoTex (Original post)
Fri Apr 6, 2012, 11:58 PM
pscot (20,518 posts)
3. Dallas has zoning ordinances?
---
Response to DemoTex (Original post)
Sat Apr 7, 2012, 12:13 AM
Sedona (2,305 posts)
4. Yay Demo Tex!
You ROCK!
Safe travels to both you and Nick. I'm looking forward to yet another summer of your spectacular photos.
(we need a dog smiley...and a cat one too)