Fri Apr 6, 2012, 09:29 AM
xchrom (108,903 posts)
US job market recovery stalled in March, halting streak of major gains
http://www.guardian.co.uk/business/2012/apr/06/us-jobs-market-stalls-march-numbers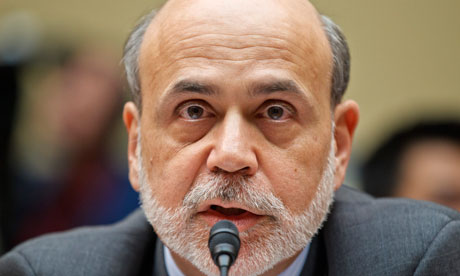 Federal Reserve chairman Ben Bernanke has been warning for some time that the US's economic recovery remains fragile. Photograph: J Scott Applewhite/AP
The recovery in the US jobs market stalled in March, adding just 120,000 jobs, according to the labor department, far below the figures most economists had been predicting.
The US added 227,000 new jobs in February and economists had been expecting that this would be the fourth month in a row that the economy has added over 200,000 jobs. Ahead of the release economists in a Bloomberg News survey forecast nonfarm payrolls would rise by 205,000 in March.
The fall will be disappointing to President Barack Obama who has put the economic recovery at the heart of his re-election campaign.
The unemployment rate, obtained by a separate survey of US households, ticked down a tenth of a percentage point to 8.2%, but the drop resulted in part from fewer Americans seeking work.
6 replies, 1272 views
Replies to this discussion thread
| | | | |
| --- | --- | --- | --- |
| 6 replies | Author | Time | Post |
| US job market recovery stalled in March, halting streak of major gains (Original post) | xchrom | Apr 2012 | OP |
| | bart95 | Apr 2012 | #1 |
| | xchrom | Apr 2012 | #2 |
| | Turbineguy | Apr 2012 | #3 |
| | doc03 | Apr 2012 | #4 |
| | xchrom | Apr 2012 | #5 |
| | xchrom | Apr 2012 | #6 |
---
---
Response to xchrom (Original post)
Fri Apr 6, 2012, 09:53 AM
xchrom (108,903 posts)
2. Only 120,000 jobs added in March, missing economic expectations
http://thehill.com/blogs/on-the-money/801-economy/220275-job-report-misses-expectations
The economy added 120,000 jobs in March, well below what economists predicted, while the unemployment rate ticked down slightly to 8.2 percent.
The number is nearly half of the 210,000 expected and ends the streak of three straight months when the economy added more than 200,000 jobs, according to a Labor Department report released Friday.
The news isn't what the White House would want to see just as the labor market seemed to be improving at a faster pace.
With the economy remaining a top issue for voters, any preception that its growth is slowing down could hurt President Obama's re-election effort.
---
Response to xchrom (Original post)
Fri Apr 6, 2012, 10:12 AM
Turbineguy (23,662 posts)
3. The GOP
---
Response to xchrom (Original post)
Fri Apr 6, 2012, 10:37 AM
doc03 (19,227 posts)
4. Gas Prices n/t
---
Response to xchrom (Original post)
Fri Apr 6, 2012, 10:59 AM
xchrom (108,903 posts)
5. Government job losses dragging down growth
http://lifeinc.today.msnbc.msn.com/_news/2012/04/06/11039018-government-job-losses-dragging-down-growth?lite
&width=500
The economy has been adding jobs lately, but not government jobs.
More than half a million, local, state and federal jobs have been cut since the recession ended in June 2009, according to an analysis released this week by the Economic Policy Institute.
That's the opposite of what happened following the previous three recessions and could be part of the reason why this recovery has been so weak, particularly when it comes to jobs. The government reported Friday that the unemployment rate fell slightly, to 8.2 percent in March, as the economy added 120,000 jobs, much fewer than had been expected.
Despite the government job cuts, more than 20 million people work in the public sector, making it a key part of the overall jobs picture.
---
Response to xchrom (Original post)
Fri Apr 6, 2012, 11:53 AM
xchrom (108,903 posts)
6. U.S. Local Governments Cut Payrolls to Lowest Level Since 2006
http://www.bloomberg.com/news/2012-04-06/u-s-local-governments-cut-payrolls-to-lowest-level-since-2006.html
U.S. local-government payrolls fell to the lowest level in more than six years in a sign that municipalities still face fiscal strains almost three years after the end of the recession.
Employment by local governments, adjusted for seasonal hiring swings, dropped by 3,000 in March to 14.1 million, the lowest since February 2006, the U.S. Labor Department reported today. State payrolls helped offset the loss, showing a third straight month of gains, rising 2,000 to 5.1 million. It's the longest streak of job increases at that level since 2008.
Municipalities, which depend largely on property taxes, are probably cutting jobs because the housing market is still rebounding and homeowners are pressing for lower assessments, said Alan Schankel, a managing director at Janney Montgomery Scott LLC in Philadelphia. State governments, which depend more on income and sales taxes, have also cut local aid to balance budgets in the wake of the recession that ended in June 2009.
"It's kind of a double-whammy," Schankel said in a telephone interview today. "There's still stress at the local level.