Fri Apr 6, 2012, 06:12 AM
HiPointDem (20,729 posts)
How Wall Street Created Panama
In 1900, a group of investors led by William Nelson Cromwell, the founder of the "prestigious" New York law firm, Sullivan & Cromwell, and the banker J.P. Morgan, created a secret syndicate of Wall Street financiers and politicians to buy the shares of the bankrupt French Panama Canal Company, which owned the right to build the Panama Canal, from thousands of small shareholders throughout Europe. They invested about $3.5 million and gained control of the company...
Only one problem—Panama was at the time a province of Colombia, and the United States needed Colombia's approval to move ahead. Teddy Roosevelt sent Cromwell, who stood to benefit financially from the deal, to negotiate with Colombia. Colombia balked, demanding more money. Cromwell decided to circumvent Colombia, and to instead get Panama to secede and create it's own country—which it did...
"I want people to know a chapter in world history that brought down a French republic, a Colombian government, created a new republic, shook the political foundations in Washington with corruption and gave birth to American imperialism in Latin America," Diaz says.
"It was one of the biggest scams in history. And I believe that alone is worth knowing about."
http://www.hartford-hwp.com/archives/47/476.html
5 replies, 1302 views
Replies to this discussion thread
| | | | |
| --- | --- | --- | --- |
| 5 replies | Author | Time | Post |
| How Wall Street Created Panama (Original post) | HiPointDem | Apr 2012 | OP |
| | Octafish | Apr 2012 | #1 |
| | MrScorpio | Apr 2012 | #2 |
| | Mosaic | Apr 2012 | #3 |
| | leveymg | Apr 2012 | #4 |
| | Baitball Blogger | Apr 2012 | #5 |
---
Response to HiPointDem (Original post)
Fri Apr 6, 2012, 08:08 AM
Octafish (55,745 posts)
1. Wall Street still calls the shots.
---
Response to HiPointDem (Original post)
Fri Apr 6, 2012, 08:10 AM
MrScorpio (67,666 posts)
2. Even a broken clock is right twice in a day
There was money to be made… Great motivator.
---
Response to HiPointDem (Original post)
Fri Apr 6, 2012, 08:18 AM
Mosaic (1,451 posts)
3. Making money is no excuse
For immoral and unethical behavior. Wall Street are sociopaths and must be brought under the People's control. Viva Occupy Wall Street, and the re-election of President Obama, when he will really go after these wall street criminals who think they are immune.
---
Response to HiPointDem (Original post)
Fri Apr 6, 2012, 09:12 AM
leveymg (36,418 posts)
4. That excerpts one of the all-time great books about dirty tricks,big finance and global politics.
Pick up the original work by Ovidio Espino: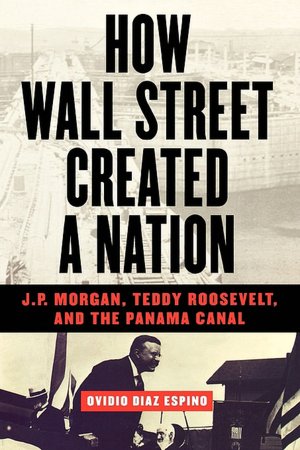 ---
Response to HiPointDem (Original post)
Fri Apr 6, 2012, 10:04 AM
Baitball Blogger (26,680 posts)
5. Yup. That contract was not signed by the Panamanian.
It was a contract between a French company and the U.S.A.

Incredible pattern that continues to this day. Land being sold between corporations and local government, while the real owners are denied any real say in it.

Though one can argue that the county's independence was part of the bargain.