Fri Jul 11, 2014, 08:19 AM
James48 (2,997 posts)
Veteran needs help to get home back
Veteran needs help to get home back
Fundraising effort seeks $132,000 for Hamburg resident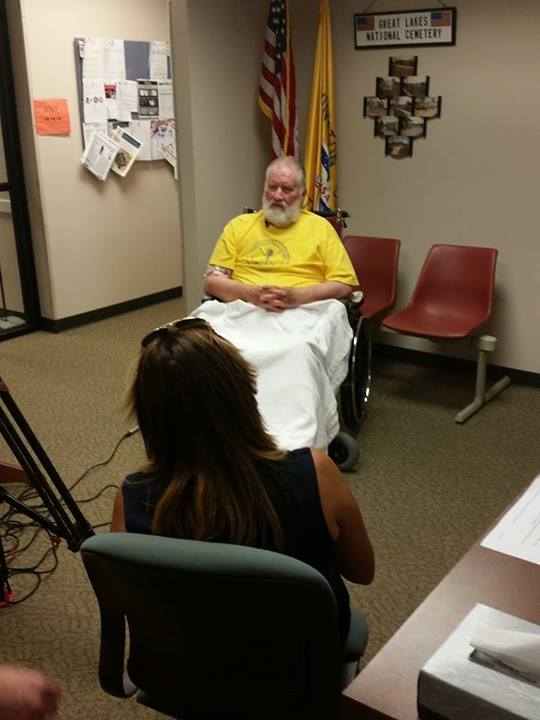 Howell, Michigan: -- A Livingston County Veterans Affairs employee hopes others will step up to help an 82-year-old Hamburg Township veteran on the brink of being homeless.
Joshua Parish, a veterans benefits counselor, launched a crowdfunding campaign June 25 and plans to host fundraisers to try and raise $132,008 for Ross Dahlberg to reclaim his home before a six-month redemption period expires Sept. 26.
Owing about $4,000 in mortgage payments, the Korean War-era veteran lost his home of 17 years at a sheriff's auction in March while in the hospital recovering from triple-bypass surgery. Parish said he believes Dahlberg was overlooked by a state system when he applied for financial assistance.
"It's not just this veteran in this county that it's happening to, it's everywhere," Parish said.
Dahlberg, who uses a wheelchair due to the effects of diabetes, said he applied for assistance through the StepForward program after he fell behind on mortgage payments after several surgeries and a divorce.
Parish said he had been conditionally approved through the program and was told his house would not be foreclosed upon while the program processed his application. Yet, Dahlberg received a letter from the program weeks later informing him that his application had been declined due to a clerical error, Parish said.
"Either something fell through the cracks, or someone didn't do their job," said Parish, who is acting as a representative for Dahlberg while he recovers from a bacterial infection at a Howell rehabilitation facility.
"It's a nightmare," said Dahlberg, who said his faith is helping him through his situation. "It's like I'm in a horror chamber."
More news story:
http://www.livingstondaily.com/article/20140711/NEWS01/307110012/Veteran-needs-help-to-get-home-back
GoFundme site:
http://www.gofundme.com/KoreanWarVeteran
3 replies, 804 views
Replies to this discussion thread
| | | | |
| --- | --- | --- | --- |
| 3 replies | Author | Time | Post |
| Veteran needs help to get home back (Original post) | James48 | Jul 2014 | OP |
| | misterhighwasted | Jul 2014 | #1 |
| | yeoman6987 | Jul 2014 | #2 |
| | earthside | Jul 2014 | #3 |
---
Response to James48 (Original post)
Fri Jul 11, 2014, 08:23 AM
misterhighwasted (9,148 posts)
1. K&R His Birthday is July 16. Thank You the Post
---
Response to James48 (Original post)
Fri Jul 11, 2014, 08:27 AM
yeoman6987 (14,449 posts)
2. Where is the 4k for the mortgage payment?
I understand he was in the hospital and And maybe unable to write a check for the payment. However, when he got out, the money would have still been in the account. I am so glad I electronically pay. I could be in the hospital a year and the house would be paid at least. Well best of luck to him. He needs to contact the bank to ensure his account was not hacked.
---
Response to James48 (Original post)
Fri Jul 11, 2014, 08:42 AM
earthside (6,953 posts)
3. If he wasn't a veteran, then too bad?
What difference does being a 'veteran' have to being rendered potentially homeless by medical issues and divorce?

Besides, what does being a Korean-era 'veteran' mean? Was he a clerk? Was he in Korea? For most folks, being in the military is/was just a job -- it doesn't necessarily mean 'hero' or having been in a war zone, etc.

'Veterans' are people just like the rest of us and I just don't see why there should be any different treatment. It seems like these days all you have to do to activate the liberal-guilt response is attach the word 'veteran' to anything and people go all gushy (to be fair this tactic is being used on America at-large, too -- like the insurance and mortgage TV ads I've seen just for veterans).