Thu Apr 5, 2012, 04:47 PM
bigtree (68,273 posts)
Who's Really Threatened Here?
Last edited Fri Apr 6, 2012, 08:45 AM - Edit history (2)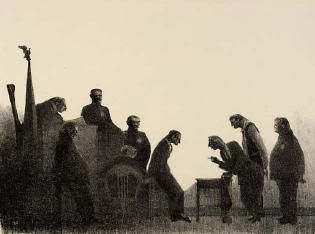 THE Supreme Court can do great harm to the presidency. but the president can do very little of significance to affect the Court -- outside of nominating replacement justices. That's what makes all of the hyperventilated hissyfits from lawmakers and others about the President's use of the word 'unprecedented' such opportunistic nonsense.
Even if you just completely ignore the years and years where conservatives have railed against 'activist' judges and warned them against playing politics with their decisions, these republican critics of President Obama couldn't be more transparent in their political opportunism on this; or more inane.
This court challenge of the health law that lawmakers spent so much political capital to craft and enact is a dagger hanging directly above the heads of the American public; not just the President.
There's nothing that the White House and Congress can do about that except just wait, hope, and cajole from the outside. They can also start over and craft new laws, but that would be at the expense of millions of families, in this case, who are already invested and dependent on important and sustaining provisions in the new health law.
The President is correct in strongly defending the legislative process that the Court so callously and recklessly threatens to undo with an intellectual, imperious wave of their unelected hands. Overturning this health law might not actually be 'unprecedented' but it would be an unusual and earth-shattering rebuke to the authority and provenance of the other two branches of government.
That threat from the Court would seem to demand a more forceful response than a few choice words of warning from the Chief Executive. That's a challenge worth defeating in the only way available to the President and Congress; through their political activity and legislative impetus. If one discordant and confrontational word can cause so much angst among the Court's defenders, then that would appear to call for even more sharp reminders of the primacy of the efforts of our elected representatives.
Political activity is what the other branches of government are designed for. Not so with the Supreme Court. They are supposed to decide these cases dispassionately, without regard to the political din outside of the actual legislative process which produced the bill under judicial review. That's their lot. If they don't decide this case fairly -- even as the President reminds them of the boundaries of their roles in making that decision -- their independence doesn't really deserve defending.
Now, who's really threatened here?
5 replies, 1490 views
Replies to this discussion thread
| | | | |
| --- | --- | --- | --- |
| 5 replies | Author | Time | Post |
| Who's Really Threatened Here? (Original post) | bigtree | Apr 2012 | OP |
| | Vincardog | Apr 2012 | #1 |
| | Angleae | Apr 2012 | #4 |
| | Vincardog | Apr 2012 | #5 |
| | bigtree | Apr 2012 | #2 |
| | bigtree | Apr 2012 | #3 |
---
Response to bigtree (Original post)
Thu Apr 5, 2012, 04:55 PM
Vincardog (20,230 posts)
1. Congress has the power to limit the SCOTUS. They can pass a law that the SCOTUS can not rule on
the subject of Healthcare, Election financing, and or anything else they want to make immune to activist judges.

The problem is their masters (The Corporations) want to keep using the courts to further their Fascist agenda.

The Black Robed Mafia should have been removed or censured after Bush V Gore.
---
Response to Vincardog (Reply #1)
Fri Apr 6, 2012, 06:46 PM
Angleae (2,555 posts)
4. SCOTUS would then rule that law is unconstitutional.
and then rule on Healthcare, Election financing, and or anything else they want
---
Response to Angleae (Reply #4)
Fri Apr 6, 2012, 06:52 PM
Vincardog (20,230 posts)
5. The Constitution says that the SCOTUS operates as final appeal and under such restrictions as
The Congress shall establish.
The Constitution also says that any powers not given to one of the government branches is reserved for the people.
The SCOTUS is the only one to say they could rule on the constitutionality of any law.
Article III - The Judicial Branch Note
Section 1 - Judicial powers
The judicial Power of the United States, shall be vested in one supreme Court, and in such inferior Courts as the Congress may from time to time ordain and establish. The Judges, both of the supreme and inferior Courts, shall hold their Offices during good Behavior, and shall, at stated Times, receive for their Services a Compensation which shall not be diminished during their Continuance in Office.
Section 2 - Trial by Jury, Original Jurisdiction, Jury Trials
(The judicial Power shall extend to all Cases, in Law and Equity, arising under this Constitution, the Laws of the United States, and Treaties made, or which shall be made, under their Authority; to all Cases affecting Ambassadors, other public Ministers and Consuls; to all Cases of admiralty and maritime Jurisdiction; to Controversies to which the United States shall be a Party; to Controversies between two or more States; between a State and Citizens of another State; between Citizens of different States; between Citizens of the same State claiming Lands under Grants of different States, and between a State, or the Citizens thereof, and foreign States, Citizens or Subjects.) (This section in parentheses is modified by the 11th Amendment.)
In all Cases affecting Ambassadors, other public Ministers and Consuls, and those in which a State shall be Party, the supreme Court shall have original Jurisdiction. In all the other Cases before mentioned, the supreme Court shall have appellate Jurisdiction, both as to Law and Fact,
with such Exceptions, and under such Regulations as the Congress shall make.
---
Response to bigtree (Original post)
Thu Apr 5, 2012, 08:56 PM
bigtree (68,273 posts)
2. kick
---
Response to bigtree (Original post)
Fri Apr 6, 2012, 08:04 AM
bigtree (68,273 posts)
3. kick