Fri Mar 30, 2012, 02:49 PM
Amerigo Vespucci (30,885 posts)
Ann Coulter Compares Zimmerman Critics To KKK, says activists' call for a trial is a "cop out.'
Ann Coulter Compares George Zimmerman Critics To KKK
http://www.huffingtonpost.com/2012/03/30/ann-coulter-george-zimmerman-klu-klux-klan_n_1392078.html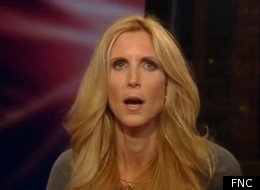 "When you have celebrities tweeting addresses of people and NBC essentially turning into the 'whip people into a frenzy network.' This is beyond irresponsible," Ingraham said. "Something violent could happen toward an innocent person or a family member of George Zimmerman if not him himself, and who's complicit here if something does happen?"
"Right or just random white people. That's happened before with hoax hate crimes," Coulter said. "It's shocking."
She continued, "It's a lynch mob. This isn't how we try cases in this country and the last time you saw this sort of thing on a regular basis was of course again from the Democratic Party and the Democratic Party's outgrowth—the KKK."
Coulter said that Democrats have "never bought into the criminal justice system" and that it was a "cop out" for activists to call for a trial. "This idea that, 'oh, well we just want a trial,' well not everything goes to trial," Coulter pressed. "How about we have a trial on what Chris Matthews' IQ is? No, that doesn't fit into what the criminal justice system is designed to address. And if the cops and prosecutor look at a case, look at the evidence, and conclude that they don't have probable cause for an arrest, there won't be a trial," she said.
9 replies, 2158 views
Replies to this discussion thread
| | | | |
| --- | --- | --- | --- |
| 9 replies | Author | Time | Post |
| Ann Coulter Compares Zimmerman Critics To KKK, says activists' call for a trial is a "cop out.' (Original post) | Amerigo Vespucci | Mar 2012 | OP |
| | The Velveteen Ocelot | Mar 2012 | #1 |
| | Mysfyt | Mar 2012 | #2 |
| | Amerigo Vespucci | Mar 2012 | #6 |
| | Mysfyt | Mar 2012 | #8 |
| | nadinbrzezinski | Mar 2012 | #3 |
| | pinboy3niner | Mar 2012 | #7 |
| | libinnyandia | Mar 2012 | #4 |
| | CanonRay | Mar 2012 | #5 |
| | Blue Owl | Mar 2012 | #9 |
---
Response to Amerigo Vespucci (Original post)
Fri Mar 30, 2012, 02:53 PM
The Velveteen Ocelot (56,019 posts)
1. Why does anybody pay any attention to her any more?
Seems like she just amps up her outrageous statements to make people notice her. It's obvious she says this shit just to get people riled up - she's just an attention hound, and a washed-up one at that.

Ann, you shriveled old stick insect, your 15 minutes were up ages ago.
---
Response to Amerigo Vespucci (Original post)
Fri Mar 30, 2012, 02:54 PM
Mysfyt (50 posts)
2. if zimmerman had shot that boy right in front of her
she still would criticize...

she is nothing but a mean hate filled slag.

that being said i think some of the vigilantism (black panther bounty)
needs to stop. it isnt helpful and in fact hurts martins supporters.
i do get it. but they need to respect his parents wishes to handle this peacefully.
---
Response to Mysfyt (Reply #2)
Fri Mar 30, 2012, 03:02 PM
Amerigo Vespucci (30,885 posts)
6. Members of the original Black Panther Party have been distancing themselves
From the Huey P. Newton Foundation:
There Is No New Black Panther Party: An Open Letter From the Dr. Huey P. Newton Foundation
In response from numerous requests from individual's seeking information on the "New Black Panthers," the Dr. Huey P. Newton Foundation issues this public statement to correct the distorted record being made in the media by a small band of African Americans calling themselves the New Black Panthers. As guardian of the true history of the Black Panther Party, the Foundation, which includes former leading members of the Party, denounces this group's exploitation of the Party's name and history. Failing to find its own legitimacy in the black community, this band would graft the Party's name upon itself, which we condemn.
Firstly, the people in the New Black Panthers were never members of the Black Panther Party and have no legitimate claim on the Party's name. On the contrary, they would steal the names and pretend to walk in the footsteps of the Party's true heroes, such as Black Panther founder Huey P. Newton, George Jackson and Jonathan Jackson, Bunchy Carter, John Huggins, Fred Hampton, Mark Cark, and so many others who gave their very lives to the black liberation struggle under the Party's banner.
Secondly, they denigrate the Party's name by promoting concepts absolutely counter to the revolutionary principles on which the Party was founded. Their alleged media assault on the Ku Klux Klan serves to incite hatred rather than resolve it. The Party's fundamental principle, as best articulated by the great revolutionary Ernesto "Che" Guevara, was: "A true revolutionary is guided by great feelings of love." The Black Panthers were never a group of angry young militants full of fury toward the "white establishment." The Party operated on love for black people, not hatred of white people.
Furthermore, this group claims it would "teach" the black community about armed self-defense. The arrogance of this claim is overwhelmed by its reactionary nature. Blacks, especially in the South, have been armed in self-defense for a very long time; indeed, the spiritual parent of the Party itself was the Louisiana-based Deacons for Defense. However, the Party understood that the gun was not necessarily revolutionary, for the police and all other oppressive forces had guns. It was the ideology behind the gun that determined its nature.
http://www.blackpanther.org/newsalert.htm
---
Response to Amerigo Vespucci (Reply #6)
Fri Mar 30, 2012, 03:25 PM
Mysfyt (50 posts)
8. cant really blame for that...
it looks really bad. i thought i read one of them were arrested but i cant recall where i saw it
and why...?
crap i hate it when that happens
i know it is very emotional issue for folks but they need to stay on the high side of right.
people are just waiting to pounce on anything that would discredit the supporters and trayvon himself..
like coulter :\
---
---
Response to nadinbrzezinski (Reply #3)
Fri Mar 30, 2012, 03:04 PM
pinboy3niner (53,339 posts)
7. *snort*
---
Response to Amerigo Vespucci (Original post)
Fri Mar 30, 2012, 02:56 PM
libinnyandia (1,374 posts)
4. This case is like so many cases in the South through the years: kill blacks and nothing happens.
Things haven't changed so much down there after all. The KKK is now aligned with majority party in the South and it's not theDemocratic Party.
---
Response to Amerigo Vespucci (Original post)
Fri Mar 30, 2012, 03:02 PM
CanonRay (8,514 posts)
5. Let's make a pact
No more posts on anything Ann Coulter says...because what's the point. We all know she's an idiot with no following except other idiots.
---
Response to Amerigo Vespucci (Original post)
Fri Mar 30, 2012, 03:57 PM
Blue Owl (13,719 posts)
9. Her hair is flowing like a KKK robe