Fri Apr 25, 2014, 05:46 PM
RainDog (28,784 posts)
Pew Poll April 2014: Americans view alcohol as more harmful than marijuana
Two-Thirds Favor Treatment, Not Jail, for Use of Heroin, Cocaine
Good news! Harm reduction approaches are winning the hearts and minds of Americans.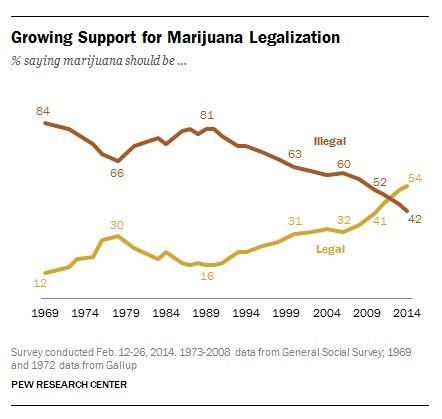 http://www.people-press.org/2014/04/02/americas-new-drug-policy-landscape/
The public appears ready for a truce in the long-running war on drugs. A national survey by the Pew Research Center finds that 67% of Americans say that the government should focus more on providing treatment for those who use illegal drugs such as heroin and cocaine. Just 26% think the government's focus should be on prosecuting users of such hard drugs.
...The survey by the Pew Research Center, conducted Feb. 14-23 among 1,821 adults, finds that support for the legalization of marijuana use continues to increase. And fully 75% of the public –including majorities of those who favor and oppose the legal use of marijuana – think that the sale and use of marijuana will eventually be legal nationwide.
By wide margins, the public views marijuana as less harmful than alcohol, both to personal health and to society more generally. Moreover, just as most Americans prefer a less punitive approach to the use of drugs such as heroin and cocaine, an even larger majority (76% of the public) – including 69% of Republicans and 79% of Democrats – think that people convicted of possessing small amounts of marijuana should not have to serve time in jail.
The Pew Research Center's report on U.S. drug policy comes at a pivotal moment in the national debate over how best to deal with drug abuse. There is a new bipartisan effort in Congress to give federal judges more discretion in low-level drug cases and reduce mandatory sentences for some drug crimes. Separately, the United States Sentencing Commission is expected to vote soon on a proposal to lessen the federal sentence for drug dealers.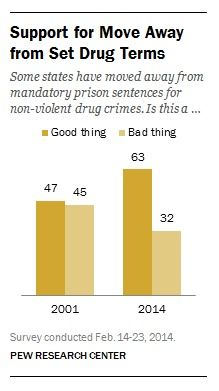 Interestingly, it's an even split who thinks drug use is a crisis or problem - BUT NOT WHERE THEY LIVE. It's those "others" who get stopped, frisked and jailed who are seen as the problem. (This, fwiw, may be an expression/result of what the ACLU termed
the staggering racial bias in arrests
.) Or it may reflect the bias among older members of the population whose views on marijuana are out of step with current understandings.
4 replies, 866 views
Replies to this discussion thread
| | | | |
| --- | --- | --- | --- |
| 4 replies | Author | Time | Post |
| Pew Poll April 2014: Americans view alcohol as more harmful than marijuana (Original post) | RainDog | Apr 2014 | OP |
| | FiveGoodMen | Apr 2014 | #1 |
| | RainDog | Apr 2014 | #4 |
| | Comrade Grumpy | Apr 2014 | #2 |
| | RainDog | Apr 2014 | #3 |
---
Response to RainDog (Original post)
Fri Apr 25, 2014, 07:24 PM
FiveGoodMen (20,018 posts)
1. As they should.
---
Response to FiveGoodMen (Reply #1)
Fri Apr 25, 2014, 10:29 PM
RainDog (28,784 posts)
4. agreed
look at the chart for support for legalization in comparison to internet usage/graphic based web design, etc.

of course that also corresponds, roughly, with the first legal medical mj in 1996, so correlation, not causation - but I'm sure the free flow and sharing of information has contributed to this change.

CO demonstrated that the sky does not fall with legal cannabis - yet those states first in on legal cannabis will reap the greatest rewards via taxation.

Simply by doing something, and letting others see the reality, rather than the propaganda, change can happen.

I doubt that anyone would be upset, for instance, if marijuana were decriminalized at the federal level, while letting states set their own laws. I wish this would happen, and it would align with the justice dept's attempts to bring more equality to the law in sentencing as well as lessening the sentences of nonviolent offenders.

no need to keep filling prisons with arrests for possession - and this is the bulk of the arrests for mj - and for the entire drug war.


---
Response to RainDog (Original post)
Fri Apr 25, 2014, 07:50 PM
Comrade Grumpy (13,184 posts)
2. The tide is turning in drug policy.
We have 21 medical marijuana states, 18 decriminalization states, and 2 legalization states already.

I predict Alaska, Oregon, and Washington, DC, will legalize via the initiative process this year.

Then California, Arizona, New Mexico, and maybe Maine or Michigan or Ohio in 2016. Via the initiative process.

Then state legislatures, probably first in the Northeast, start legalizing it.

There are already bills in Congress to end federal pot prohibition; I think that will happen within five years or so. Then it's like alcohol--up to the states--and who wants to be the last pot prohibition state?

And that's just pot.

We've seen important sentencing reforms in about half the states and now, thanks to Obama, at the federal level, with, hopefully, more to come. Also, the Obama administration is now literally asking federal drug prisoners to seek commutation of their sentences. We could be seeing thousands of federal drug war prisoners come home soon.

And the fact that our latest heroin "epidemic" is linked to pain pills seems to be making it easier to both talk about treatment instead of prison and provide sensible harm reduction services, like providing Narcan to first responders and friends and family members.

The public understands the drug war is a disastrous failure. Now, the politicians have to catch up. At least they're catching on.
---
Response to Comrade Grumpy (Reply #2)
Fri Apr 25, 2014, 08:46 PM
RainDog (28,784 posts)
3. Prost, Comrade Grumpy
...esp. for the post on the thread concerned about mj... and still apparently, not accepting that no, absolutely no evidence indicates mj causation for a variety of things.