Mon Mar 26, 2012, 09:11 PM
JackBeck (12,359 posts)
Court documents prove NOM's plan to divide black, gay communities
The National Organization for Marriage's
unsuccessful fight
to skirt Maine's financial disclosure laws just backfired majorly on the group by revealing a distasteful part of its game plan to stop marriage equality.
According to a court document that was
uploaded online
, NOM specifically worked to drive a wedge between the black and gay community on the subject of marriage equality:
According to page 11 of this
document
called Marriage: $20 Million Strategy for Victory:
[IMG]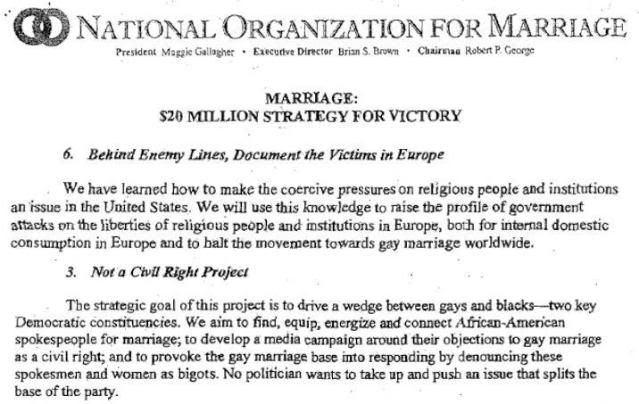 [/IMG]
3.
Not a Civil Right Project

The strategic goal of this project is to drive a wedge between gays and blacks - two key democratic constituencies. We aim to find, equip, energize and connect African American spokespeople for marriage; to develop a media campaign around their objections to gay marriage as a civil right; and to provoke the gay marriage base into responding by denouncing these spokesmen and women as bigots. No politician wants to take up and push an issue that splits the base of the party.
NOM has portrayed whatever African-American opposition to marriage equality its spotlighted as spontaneous attempts by leaders and members of the black community to keep its civil rights legacy from supposedly being "tainted" by a comparison to gay equality.
But now we see that there was nothing spontaneous about this. It was a cynically planned effort by NOM - which the organization continues to exploit - in order to drive a wedge between blacks and gays.
More at:
http://holybulliesandheadlessmonsters.blogspot.com/2012/03/court-documents-prove-nom-planned-to.html#.T3EcxcJjhAw.facebook
7 replies, 4035 views
Replies to this discussion thread
| | | | |
| --- | --- | --- | --- |
| 7 replies | Author | Time | Post |
| Court documents prove NOM's plan to divide black, gay communities (Original post) | JackBeck | Mar 2012 | OP |
| | 1StrongBlackMan | Mar 2012 | #1 |
| | ruggerson | Mar 2012 | #2 |
| | JackBeck | Mar 2012 | #5 |
| | ruggerson | Mar 2012 | #6 |
| | w8liftinglady | Mar 2012 | #3 |
| | Lilyeye | Mar 2012 | #4 |
| | MNBrewer | Mar 2012 | #7 |
---
---
Response to JackBeck (Original post)
Mon Mar 26, 2012, 09:27 PM
ruggerson (17,483 posts)
2. NOM just rode the coattails.
The divide was there long before NOM exploited it.

It's called the "church."

And, btw, I've heard most of these arguments, almost verbatim, right here on DU - ("gay rights are not civil rights,""It's demeaning to compare the two," etc).

The question is how do you go about changing such deeply held beliefs, ingrained from early childhood.

And, as importantly, no one discusses the people who suffer the most from all of this: LGBT Americans of color.
---
Response to ruggerson (Reply #2)
Mon Mar 26, 2012, 10:00 PM
JackBeck (12,359 posts)
5. Coalition building.
Here in New Jersey, the Assembly's vote in support of marriage equality was primarily lead by the African-American leadership. Assembly Speaker Sheila Oliver (Prime Sponsor), Troy Singleton (Prime Sponsor), Bonnie Watson Coleman, Nancy Munoz, Mila Jasey (Prime Sponsor), Ruben Ramos (Prime Sponsor) and many other Assembly members of color spoke out in support, one was even a deaconess in her church who spoke about her struggle with this issue.
There are too many videos to post right now, but here's the link to the Democratic Assembly's page if you are interested:
http://www.youtube.com/user/NJAssemblyDems
But who vetoed the legislation? A straight, Catholic, white man. I think what's important about the NOM memo that was uncovered is that we see, once again, that most of the anti-gay leadership and funding comes from the white community.
The invisibility of American LGBT people of color isn't something unique to the non-white, faith-based community. But that is something we can discuss in another post.
---
Response to JackBeck (Reply #5)
Mon Mar 26, 2012, 10:25 PM
ruggerson (17,483 posts)
6. It's more generational than anything else
and that goes for all communities. But yes, reaching out and creating coalitions is vital and if that worked in New Jersey I'm sure it can work elsewhere. But, as I noted above, the problem is not blacks vs gays it is the rightwing churches (both black and white) vs gays. I don't think we can point to one state and extrapolate that it is one church community more than another that influenced the result from a nationwide perspective. Each state that passed one of these monstrous laws or amendments has its own tortured history, some of them different from what you experienced in New Jersey.

It is also difficult to build coalitions with people whose prejudices and fanatical belief systems are so ingrained that they believe in the "pray away the gay" syndrome.

And again, the people left behind, in the dust, in many of these divisive campaigns are both LGBT people of color and LGBT people of faith.

.
---
Response to JackBeck (Original post)
Mon Mar 26, 2012, 09:36 PM
w8liftinglady (23,278 posts)
3. I'm not surprised to see them listed as a hate group on SPLC
---
Response to JackBeck (Original post)
Mon Mar 26, 2012, 09:37 PM
Lilyeye (1,417 posts)
4. I always knew this was the case.
---
Response to JackBeck (Original post)
Tue Mar 27, 2012, 08:08 PM
MNBrewer (8,462 posts)
7. I wonder who saw this document, and decided to fund NOM.
Which red-robed kiddyfuckers are responsible?