Thu Mar 22, 2012, 07:17 AM
Are_grits_groceries (16,845 posts)
If you want a good political and election analysis website try this:
http://www.centerforpolitics.org/crystalball/
About:
A comprehensive website run by the University of Virginia's Center for Politics, Larry J. Sabato's Crystal Ball features detailed and frequently updated analysis for elections across the country. The Crystal Ball keeps tabs on presidential elections, along with every Senate and gubernatorial race, as well as the tightest campaigns for the House.
The Crystal Ball has been a leader in accurately predicting elections since its inception. In 2004, the Crystal Ball notched a 99 percent accuracy rate in predicting all races for House, Senate, Governor and each state's Electoral College outcome. In 2006 the Pew Research Center and the Pew Charitable Trusts' Project for Excellence in Journalism recognized the Crystal Ball as the leader in the field of political predictors, noting that the site "came closer than any other of the top ten potential predictors this cycle."
<snip>
Sabato has been around for years. He has been especially good at deciphering Souhern politics.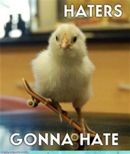 1 replies, 861 views
Replies to this discussion thread
| | | | |
| --- | --- | --- | --- |
| 1 replies | Author | Time | Post |
| If you want a good political and election analysis website try this: (Original post) | Are_grits_groceries | Mar 2012 | OP |
| | mvymvy | Mar 2012 | #1 |
---
Response to Are_grits_groceries (Original post)
Thu Mar 22, 2012, 12:30 PM
mvymvy (197 posts)
1. The National Popular Vote Bill
Crystal Ball could be useless soon.

The National Popular Vote bill would guarantee the Presidency to the candidate who receives the most popular votes in all 50 states (and DC).

Every vote, everywhere, would be politically relevant and equal in presidential elections. No more distorting and divisive red and blue state maps. There would no longer be a handful of 'battleground' states where voters and policies are more important than those of the voters in more than 3/4ths of the states that now are just 'spectators' and ignored.

When the bill is enacted by states possessing a majority of the electoral votes– enough electoral votes to elect a President (270 of 538), all the electoral votes from the enacting states would be awarded to the presidential candidate who receives the most popular votes in all 50 states and DC.

The bill uses the power given to each state by the Founding Fathers in the Constitution to change how they award their electoral votes for President. Historically, virtually all of the major changes in the method of electing the President, including ending the requirement that only men who owned substantial property could vote and 48 current state-by-state winner-take-all laws, have come about by state legislative action.

In Gallup polls since 1944, only about 20% of the public has supported the current system of awarding all of a state's electoral votes to the presidential candidate who receives the most votes in each separate state (with about 70% opposed and about 10% undecided). Support for a national popular vote is strong among Republicans, Democrats, and Independent voters, as well as every demographic group in virtually every state surveyed in recent polls in closely divided Battleground states: CO – 68%, FL – 78%, IA 75%, MI – 73%, MO – 70%, NH – 69%, NV – 72%, NM– 76%, NC – 74%, OH – 70%, PA – 78%, VA – 74%, and WI – 71%; in Small states (3 to 5 electoral votes): AK – 70%, DC – 76%, DE – 75%, ID – 77%, ME – 77%, MT – 72%, NE 74%, NH – 69%, NV – 72%, NM – 76%, OK – 81%, RI – 74%, SD – 71%, UT – 70%, VT – 75%, WV – 81%, and WY – 69%; in Southern and Border states: AR – 80%,, KY- 80%, MS – 77%, MO – 70%, NC – 74%, OK – 81%, SC – 71%, TN – 83%, VA – 74%, and WV – 81%; and in other states polled: CA – 70%, CT – 74%, MA – 73%, MN – 75%, NY – 79%, OR – 76%, and WA – 77%. Americans believe that the candidate who receives the most votes should win.

The bill has passed 31 state legislative chambers in 21 small, medium-small, medium, and large states. The bill has been enacted by 9 jurisdictions possessing 132 electoral votes - 49% of the 270 necessary to bring the law into effect.

NationalPopularVote
Follow National Popular Vote on Facebook via nationalpopularvoteinc