Thu Mar 22, 2012, 06:35 AM
mfcorey1 (7,413 posts)
Florida and that damn law: Miami judge decides fatal stabbing was self-defense
Judge Beth Bloom threw out the murder charge against a man who chased a car burglar for more than a block and then stabbed him, killing him.
By DAVID OVALLE
dovalle@MiamiHerald.com
As critics assail Florida's "Stand Your Ground" law in the wake of the killing of an unarmed Miami Gardens teen in Sanford, a Miami-Dade judge on Wednesday cited the law in tossing out the case of a man who chased down a suspected burglar and stabbed him to death.
Greyston Garcia was charged with second-degree murder in the slaying of Pedro Roteta, 26, whom he chased for more than a block before stabbing the man.
The case illustrates the difficulty police and prosecutors statewide have experienced since the 2005 law eliminated a citizen's duty to retreat in the face of danger, putting the burden on a judge, not a jury, to decide whether the accused is immune from prosecution.
In Sanford, police have cited the Stand Your Ground law in their decision not to arrest a neighborhood watch volunteer in the shooting death of Trayvon Martin, 17. A Seminole County grand jury will decide on whether the man who shot Trayvon, George Zimmerman, 28, should face homicide charges.
Read more here:
http://www.miamiherald.com/2012/03/21/2706789/miami-judge-stabbing-in-the-back.html#storylink=cpy
8 replies, 2082 views
Replies to this discussion thread
| | | | |
| --- | --- | --- | --- |
| 8 replies | Author | Time | Post |
| Florida and that damn law: Miami judge decides fatal stabbing was self-defense (Original post) | mfcorey1 | Mar 2012 | OP |
| | ejpoeta | Mar 2012 | #1 |
| | Are_grits_groceries | Mar 2012 | #3 |
| | MannyGoldstein | Mar 2012 | #2 |
| | DrDan | Mar 2012 | #4 |
| | Egalitariat | Mar 2012 | #5 |
| | HockeyMom | Mar 2012 | #6 |
| | socialist_n_TN | Mar 2012 | #7 |
| | spanone | Mar 2012 | #8 |
---
Response to mfcorey1 (Original post)
Thu Mar 22, 2012, 06:43 AM
ejpoeta (8,933 posts)
1. how is it self defense when you CHASE someone and then kill them?
Self defense is when someone is trying to kill you so you kill them to not be killed yourself.
---
Response to ejpoeta (Reply #1)
Thu Mar 22, 2012, 07:02 AM
Are_grits_groceries (16,808 posts)
3. This why I don't think the Trayvon Martin case is a slam dunk!
The law is interpreted much too broadly.
In another case a man was shot in the side of his head while on a ladder trying to climb out of the water. He may have been a threat at some point, but why not retreat when you can. AND retreating does not mean using extraordinary means to move. It may have diffused the situation.
I would put the ultimate responsibility on the person who has a distinct advantage. I said DISTINCT. If a person is armed, that may be a distinct advantage.
A person is 6'5" and 250, they would probably have a distinct advantage in a fight.
The Israelis teach a for of self-defense called Krav Maga. Here are the principles:
The basic concepts of Krav Maga are:
1) Not to get hurt
2) To take out – or to "neutralize" your attacker by inflicting as much damage as necessary, as quickly as possible
3) To go from defending to attacking quickly
4) To be aware of your environment and situation at all times
5) To use when necessary any available objects in your defense and attack
6) To remove yourself from risk of further danger at the earliest opportunity.
Maga is an unarmed close contact fighting system. Translated into English Krav Maga means contact/close combat. It is not a martial art and it is not a sport. It has become a popular self defense system world-wide, not only for military & law enforcement, but for civilians too.
Krav Maga is an extremely practical fighting system, designed for real life hand to hand combat and self defense. The basic principle is to take out – or neutralize – the attacker as quickly and as simply as possible, while minimizing the injury or risk of injury to ones-self.
Krav Maga differs from other fighting systems sometimes used for self defense – such as Karate – in that it has no real rules, no kata, no competitions, no sporting applications. It was developed for and is used by the Israeli military.
<snip>
http://kravmagatechniques.com/
Krav Maga is an effective and brutal way to defend yourself against attacks even against an armed assailant. However, one of the basic principles is to get out as soon as possible. You are fighting and trying to be aware of ways to escape. The reason behind this that you may not ultimately be able to defeat the attacker if he overcomes being neutralized. It is better to move out of danger and take care of yourself and/or warn others.
The Israelis didn't pick this method because it was weak.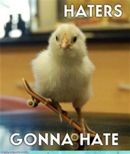 ---
---
Response to mfcorey1 (Original post)
Thu Mar 22, 2012, 07:04 AM
DrDan (19,599 posts)
4. we have DUers who not only see nothing wrong with this unfortunate law, but
applaud it's expansion to at least 20 states now.

This is one further case demonstrating the travesty of this law - a burglar, being chased, and stabbed - and having the murderer's charges dismissed.

Couple this law with the over-the-top RW hate-radio and we have a society that is nearly out-of-control.


---
Response to mfcorey1 (Original post)
Thu Mar 22, 2012, 09:05 AM
Egalitariat (1,631 posts)
5. That really begs an important question. If the guy described above wasn't convictable because of
Stand Your Ground, then how in the world would they convict Zimmerman?

And if the police, in good faith (based on judicial rulings like the one above), don't think they can get a conviction, aren't they right not to charge him?

Most of the protests here in Orlando seem to target the Sanford PD as the bad guys for not charging Zimmerman, but I'm beginning to wonder whether, given the rules, that the outrage is misplaced. It seems the Florida Legislature/Jeb Bush are the real culprits here and the Sanford PD doesn't have much of a choice.
---
Response to Egalitariat (Reply #5)
Thu Mar 22, 2012, 09:52 AM
HockeyMom (13,997 posts)
6. Could they still get him for civil rights violation?
Hate crime? Well, if nothing else let's hope that Stand Your Ground law gets changed. At the very least it definitely needs to be rewritten to prevent these kinds of things from happening. There HAS to some safeguards in it so the law won't be abused.
---
Response to mfcorey1 (Original post)
Thu Mar 22, 2012, 11:04 AM
socialist_n_TN (11,418 posts)
7. How is chasing someone down, "standing your ground"????
THAT'S the problem with this law and that's why the LAW ITSELF is the problem. It is being so broadly interpreted that it ENCOURAGES vigilantism. And when you encourage vigilantes, you wind up with a TON of "mistakes" that leave innocent people dead.

The way this law is being interpreted, someone could start a confrontation on some misbegotten supicion and when he got his ass kicked, pull a gun and kill the person he started the confrontation with AND GET AWAY WITH IT. Which means that if someone starts something with you, the only logical thing to do is take him out BEFORE he has a chance to pull a weapon.

These laws are an invitation to a shootout mentality that's going to eventually get a LOT of innocent people killed. Including bystanders.


---
Response to mfcorey1 (Original post)
Thu Mar 22, 2012, 11:09 AM
spanone (97,258 posts)
8. these 'laws' need to be eradicated...immediately if not sooner.