Fri Mar 16, 2012, 04:24 AM
Are_grits_groceries (16,731 posts)
Rob Reid:The 8 Billion Dollar IPod- TED talk(Reid skewers the numbers behind the copyright lawsuits)
This may just be the best TED Talk video I've seen: listen.com/Rhapsody founder and extremely funny person (and soon-to-be debut science fiction author) Rob Reid examines the math behind the claims made by the copyright lobby and explains the mindbending awesomeness of the sums used to justify SOPA, PIPA, ACTA and the like. Here's Ars Technica's Ken Fisher discussing Reid's philosophy:
Reid's goal was to capture and represent some of the rhetoric from that past decade and a half in a way that would fill the hall with laughter, even if some of it came at the expense of some clearly ridiculous industry arguments. "Everyone can laugh at silly infographics," Reid opined while silently crushing the serious journalism dreams of hacks everywhere. "And who doesn't want to deface a Leave-it-to-Beaver-like Christmas scene with pirate-and-Santa graffiti?"
The brilliance of Reid's talk is that he thoroughly skewers the content industry's dubious appeal to quantitative reasoning. We've all see the headlines proclaiming huge numbers of dollars, jobs, and patents lost to piracy. The appeal to quantitative measures is supposed to undermine counterarguments by doing two things: slyly stepping into a (pretend) world of objectivity, and raising the alarm with big, scary numbers. It's hard to look at those kinds of headlines in the same way after Reid's elegantly hilarious skewering.
<snip>
http://boingboing.net/2012/03/15/copyright-math-the-best-ted-t.html
TED is great! Check out some of their talks. They have fairly short presentations about hundreds of subjects.
http://www.ted.com/
Riveting talks by remarkable people, free to the world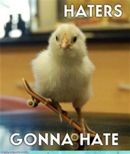 1 replies, 3592 views
Replies to this discussion thread
| | | | |
| --- | --- | --- | --- |
| 1 replies | Author | Time | Post |
| Rob Reid:The 8 Billion Dollar IPod- TED talk(Reid skewers the numbers behind the copyright lawsuits) (Original post) | Are_grits_groceries | Mar 2012 | OP |
| | JHB | Mar 2012 | #1 |
---
Response to Are_grits_groceries (Original post)
Fri Mar 16, 2012, 07:07 AM
JHB (23,632 posts)
1. Tougher than string theory, but much funnier
This is something that people need to ask more when numbers get tossed out, whether from industry groups or RW think tanks (and us too, for that matter, but those groups are infamous for wild inflation and conflation): where do those numbers come from? And what, if any, is their basis in reality?