Fri Nov 1, 2013, 06:46 PM
Cooley Hurd (26,877 posts)
Auburn (NY) native Amy Dacey named CEO of the Democratic National Committee
http://auburnpub.com/blogs/eye_on_ny/updated-auburn-native-amy-dacey-named-ceo-of-the-democratic/article_b323479e-4230-11e3-8ab7-001a4bcf887a.html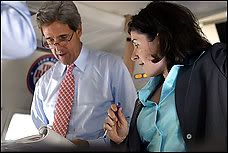 The Democratic Party's new chief executive officer has Cayuga County and central New York ties.
Amy Dacey, a 1989 graduate of Auburn High School who was inducted into the Auburn Education Foundation's Hall of Distinction this year, has been named CEO of the Democratic National Committee by DNC chairwoman Debbie Wasserman Schultz.
Dacey will begin serving as the party's CEO in January 2014.
"I'm honored to join Chair Wasserman Schultz and the great team at the Democratic National Committee as we help advance the president's agenda and support Democrats all over the country," Dacey said in a statement provided by the DNC. " It's an exciting time to be a Democrat as we work to implement the Affordable Care Act, pass common sense immigration reform, create jobs and continue our economic recovery.
"I'm thrilled to come aboard as we focus on maintaining control of the Senate, taking back the House, expanding our map and electing Democrats up and down the ballot and all across the country. We have lots of work to do and are building the team to ensure Democrats have the tools and resources they need to be successful."
Dacey currently serves as executive director of EMILY's List, a post she has held since 2010. Before EMILY's List, she was the director of government relations for the Service Employees International Union, a leading labor organization. Her work experience includes stints as traveling political director on John Kerry's 2004 presidential campaign and national political director at Kerry's Keeping America's Promise political action committee during the 2006 election cycle.
She also worked for the Democratic Congressional Campaign Committee during the 2000 election cycle and served as deputy political director of the Democratic Senatorial Campaign Committee, the Senate Democrats' campaign arm, during the 2002 cycle.
</snip>
Local person makes good in the DNC! She graduated from my High School (6 years after me)!
0 replies, 1145 views