Tue Oct 8, 2013, 08:29 PM
Scuba (53,475 posts)
The Nation: What Should Democrats Demand in the Budget Showdown?
http://www.thenation.com/blog/176535/what-should-democrats-demand-budget-showdown?rel=emailNation#
1. A public option for healthcare. Many progressives pushed hard for a system that would ensure universal access to health care, often called a public option and frequently accomplished through making Medicare available to all. That got stripped from the bill that became the Affordable Care Act. If Republicans want to make the fight about healthcare, progressives can suggest tinkering with Obamacare—by instituting a public option. This wouldn't just make sure that everyone has access to healthcare—including those currently being left out by red states that refuse to expand Medicaid—it would also help control spending on healthcare. Medicare's administrative costs are 2 percent of its spending, compared to 14 percent in the private industry. Its spending growth increased at a rate about 1 percentage point lower than private insurance from 1970 to 2002.

2. Universal preschool. President Obama has already put forward his plan to expand preschool to all. Democrats could stake out ground by not just demanding preschool for 3- and 4-year-olds but going even further to offer free, quality childcare (that pays workers a decent wage) for all. The benefits of free access to high-quality preschool are already well known. One study found that Chicago's program will generate $11 for every dollar spent in economic benefits over a child's lifetime. Another found that society stands to see a $9 return for every dollar spent in increased earnings and employment and reduced crime, need for public benefits and grade repetition. Well-educated Americans help increase the labor supply, which boosts GDP. None of these studies take into account the fact that universal preschool—particularly if it extends down to infants—is a huge benefit for working parents, particularly women, who are the default caretakers.

3. Raise the minimum wage and index it to inflation. Democrats have been calling for a raise in the federal minimum wage, which has been stuck as $7.25 an hour for four years. Worse, the tipped minimum wage is just $2.13, which hasn't been raised since 1991. If the wage had kept up with inflation since its peak in the 1960s, it would be over $10 an hour. Fast food strikers have gone further, demanding a raise to $15 an hour, so as bargaining leverage Democrats can start at least that high and make sure it keeps rising as costs rise. And the good news is a raise would give the economy a much-needed boost. The Chicago Fed found that raising the wage to $9 would increase household spending by $48 billion, and even if the possibility of job losses is taken into consideration—which is pretty unlikely—spending would still go up by $28 billion, or 0.2 percent of GDP. Raising the wage to $10.10 an hour would lift nearly 6 million people out of poverty. Not to mention that it would help close the gender wage gap and the racial wealth gap.

4. Free public college. It may sound far-fetched, but the cost isn't quite so large as you might think. The Roosevelt Institute's Mike Konczal has found that the government already spends $22.75 billion on tax breaks and incentives for the cost of higher education. The government also spends about $104 billion on student loans. But the cost of providing free public higher education has been estimated at about $127 billion, lining up close with the figure the government already spends on subsidizing college. Konczal points to evidence that a "public option" for higher education could do a lot to control tuition costs. It would also likely expand access to higher education for many that currently see it as out of reach financially, creating a highly skilled workforce and boosting economic growth.
Number five is guaranteed paid family leave, sick days and vacation. Seem a good starting point, but I'm still looking for a little tax relief for the middle class and a little more tax burden for the very wealthy.
8 replies, 2458 views
Replies to this discussion thread
| | | | |
| --- | --- | --- | --- |
| 8 replies | Author | Time | Post |
| The Nation: What Should Democrats Demand in the Budget Showdown? (Original post) | Scuba | Oct 2013 | OP |
| | dembotoz | Oct 2013 | #1 |
| | denverbill | Oct 2013 | #7 |
| | leveymg | Oct 2013 | #2 |
| | Gothmog | Oct 2013 | #3 |
| | Cali_Democrat | Oct 2013 | #4 |
| | kydo | Oct 2013 | #5 |
| | denverbill | Oct 2013 | #6 |
| | Scootaloo | Oct 2013 | #8 |
---
Response to Scuba (Original post)
Tue Oct 8, 2013, 08:33 PM
dembotoz (15,073 posts)
1. is extortion less evil if we do it
---
Response to dembotoz (Reply #1)
Tue Oct 8, 2013, 08:56 PM
denverbill (11,489 posts)
7. If a kidnapper holds a gun to your wife's head, are you evil for grabbing his wife & doing the same?
I don't think anyone would be suggesting we act like moronic Republican dipshits if they weren't holding a gun to the head of America.

You wanna sing kumbaya and play nice with them, good luck with that.
---
Response to Scuba (Original post)
Tue Oct 8, 2013, 08:41 PM
leveymg (36,418 posts)
2. The Death Penalty for every crazy in the Clown Car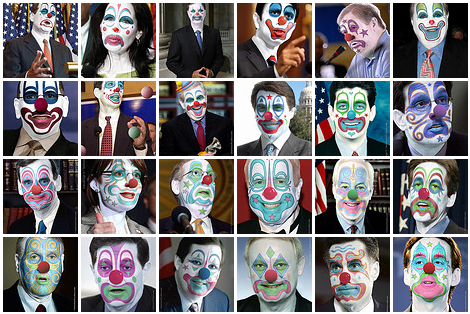 RESPONSE TO POST: "What Should Democrats Demand in the Budget Showdown?"
---
Response to Scuba (Original post)
Tue Oct 8, 2013, 08:45 PM
Gothmog (100,102 posts)
3. The Democrats have been too easy on the GOP
All of the suggestions set forth above are great but it hurts our position to be demanding benefits for doing our job.
---
Response to Scuba (Original post)
Tue Oct 8, 2013, 08:46 PM
Cali_Democrat (30,439 posts)
4. Hell YES!
We need to have demands of our own. This is how negotiations work.

Negotiating doesn't mean give the other side everything.

Fawk that!
---
Response to Scuba (Original post)
Tue Oct 8, 2013, 08:48 PM
kydo (2,679 posts)
5. Immagration and Gun reform
But it will never happen.
---
Response to Scuba (Original post)
Tue Oct 8, 2013, 08:53 PM
denverbill (11,489 posts)
6. This is what I've been saying since the shutdown started.
We've got to shove this in their faces to make it real. Then they can withdraw their demands and we can withdraw ours and do what should have been done to begin with.

If the minority party in one house (or the President alone for that matter) can blackmail the other 2 parties to the agreement and force legislation through during an emergency, Republicans should never be able to assume Democrats won't risk the destruction of the country just as much as Republickers are now.
---