Wed Sep 18, 2013, 07:55 PM
WillyT (72,631 posts)
DEA Refuses To Name Agents Who Led Botched Raid - Radley Balko/HuffPo
Nameless And Shameless: Masked DEA Agents Raid Innocent Women, Refuse To Reveal Their Identities
Radley Balko - HuffPo
Posted: 09/18/2013 2:57 pm EDT | Updated: 09/18/2013 3:32 pm EDT
HuffPost writer and investigative reporter Radley Balko is also the author of the new book, Rise of the Warrior Cop: The Militarization of America's Police Forces.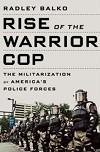 <snip>
Over a three-day period in June 2007, heavily armed SWAT teams, supported by tanks and helicopters, descended on Detroit's Eight Mile Road. The massive operation involved police and agents from 21 different local, state and federal branches of law enforcement, and was intended to rid the notoriously crime-ridden area of drug houses, prostitutes and wanted fugitives.
After conducting hundreds of raids, the authorities made 122 arrests, according to The Detroit News, and seized about 50 ounces of marijuana, 6.5 ounces of cocaine and 19 guns.
When Caroline Burley, now 51, first heard the boom around 5:30 on the evening of June 13, it sounded like it had come from outside her bedroom window. She rushed to investigate, and as she came out of the room, a man with a gun confronted her, threw her into a wall and then hurled her to the floor. A SWAT team had burst through her front door. Wearing only her nightgown, she asked for mercy. She recently had back surgery, she explained. Instead, one officer, then another kept her close to the floor by putting a boot in her back, according to court filings.
Caroline's mother, Geraldine Burley, was sitting at her computer in the basement when she heard a loud thud overhead, followed by a scream from her daughter and a man's voice ordering Caroline Burley to the floor. When she ascended the stairs, she too found a gun pointed at her head, and a man ordered her to get on the floor as well. She thought at first that she was being robbed.
Geraldine, now 70, pleaded with the man to let her move to the floor slowly, explaining to him that she'd had both of her knees replaced. Instead, another officer approached, grabbed her by the face, demanded that she "get the fuck on the floor," then threw her into a table. She tumbled to the ground. At that point, she said later in a deposition, everything turned to "a fire, white and ringing in my ear." Another officer came up from the basement with her grandson, stepping on her knees in the process. She cried out again in pain.
The officers searched the home but found no drugs, weapons or any other contraband. (They arrested Geraldine's grandson on an unrelated misdemeanor warrant.)
Since the 1980s, SWAT teams have become an increasingly common tool in the war on crime. By one estimate, more than 100 times per day in America, police teams break down doors to serve search warrants on people suspected of drug crimes. Innocent citizens like the Burleys often become the victims of violent law enforcement tactics.
In the wake of the raid on their home, the two women have tried to navigate a disorienting labyrinth of police bureaucracies and court filings to secure damages for the injuries they sustained during the raid and for violations of their Fourth Amendment rights. More than six years later, however, the government agencies involved still won't tell the women the names of the officers and agents who raided their home -- a key piece of information necessary in lawsuits like this one. It isn't enough merely to show that the government violated the plaintiffs' rights; by federal law, the victims must be able to show that a specific officer or group of officers was responsible. This burden is something of a double standard, given that individual officers are rarely required to pay damages. The government pays the award.
<snip>
Much More:
http://www.huffingtonpost.com/2013/09/18/dea-agents-raid_n_3942731.html
7 replies, 1085 views
Replies to this discussion thread
| | | | |
| --- | --- | --- | --- |
| 7 replies | Author | Time | Post |
| DEA Refuses To Name Agents Who Led Botched Raid - Radley Balko/HuffPo (Original post) | WillyT | Sep 2013 | OP |
| | warrant46 | Sep 2013 | #1 |
| | Dawson Leery | Sep 2013 | #2 |
| | 99th_Monkey | Sep 2013 | #3 |
| | Sheldon Cooper | Sep 2013 | #4 |
| | gopiscrap | Sep 2013 | #5 |
| | Th1onein | Sep 2013 | #6 |
| | frylock | Sep 2013 | #7 |
---
Response to WillyT (Original post)
Wed Sep 18, 2013, 07:57 PM
warrant46 (2,205 posts)
1. Thugs dressed up as Soldiers
---
Response to WillyT (Original post)
Wed Sep 18, 2013, 07:59 PM
Dawson Leery (16,638 posts)
2. Defund the DEA.
---
Response to WillyT (Original post)
Wed Sep 18, 2013, 08:23 PM
99th_Monkey (19,326 posts)
3. USA's Burgeoning Mercenary Class is "Just following orders"
That's what they are hired to do, just like the Nazi SS.
Hired by their 1% fascist corporate sponsors and handlers.
---
Response to WillyT (Original post)
Wed Sep 18, 2013, 08:25 PM
Sheldon Cooper (3,724 posts)
4. Well, we know it wasn't Hank and Gomey.
---
Response to WillyT (Original post)
Wed Sep 18, 2013, 10:19 PM
gopiscrap (16,756 posts)
5. Fucking law enforcement assholes
---
Response to WillyT (Original post)
Wed Sep 18, 2013, 10:56 PM
Th1onein (8,514 posts)
6. Fuck Da Cops
---
Response to WillyT (Original post)
Wed Sep 18, 2013, 11:14 PM
frylock (34,825 posts)
7. fuck tha police