Mon Sep 9, 2013, 05:41 PM
Catherina (35,568 posts)
Cryptology professor is forced to take down blog post about NSA decryption efforts.… because freedom
Crypto prof asked to remove NSA-related blog post
Predictable backtrack from Johns Hopkins comes a few hours later.
by Nate Anderson - Sept 9 2013, 2:55pm CAST
Matthew Green is a well-known cryptography professor, currently teaching in the computer science department of Johns Hopkins University in Baltimore. Last week, Green authored a
long and interesting blog post
about the recent revelations that the National Security Agency (NSA)
has, among much else, subverted crypto standards
. In his words, "The TL;DR ['too long; didn't read' version] is that the NSA has been doing some very bad things." And Green went on to speculate at some length about what those "bad things" were and what they might mean.
...
The statement raised further questions, including: from whom did the school "receive" its information? Why was the school's top administration getting involved in the use of the NSA logo on one professor's individual blog post? What was the point of the request given that Green had also published the post to a
mirror
hosted at Blogger? Wasn't the whole episode likely to bring far greater traffic to Green's post once word of the takedown request got out?
Late this afternoon, Green shared
his side of the story on Twitter
(tweets concatenated below for ease of reading):
So listen, I'm trying not to talk about this much because anything I say will make it worse. What I've been told is that someone on the APL [Johns Hopkins' Applied Physics Laboratory—motto: "Enhancing national security through science and technology"] side of JHU discovered my blog post and determined that it was hosting/linking to classified documents. This requires a human since I don't believe there's any automated scanner for this process. It's not clear to me whether this request originated at APL or if it came from elsewhere. All I know is that I received an e-mail this morning from the Interim Dean of the Engineering school asking me to take down the post and to desist from using the NSA logo. He also suggested I should seek counsel if I continued. In any case I made it clear that I would not shut down my non-JHU blog, but I did shut down a JHU-hosted mirror. I also removed the NSA logo. I did not remove any links or photos of NOW PUBLIC formerly classified material, because that would just be stupid.

I'm baffled by this entire thing. I hope to never receive an e-mail like that again and I certainly believe JHU (APL) is on the wrong side of common sense and academic freedom, regardless of their obligations under the law. That said, I have no desire to cause trouble for any of the very good people at JHU so I'll keep my posts off JHU property. I have no idea if this was serious or a tempest in a teapot.

What I have learned: Twitter is really a terrible way to give this explanation. Ow, my thumbs...
...
Update 2: Thanks to the wonder of Google's cache, here is the original post, NSA logo included.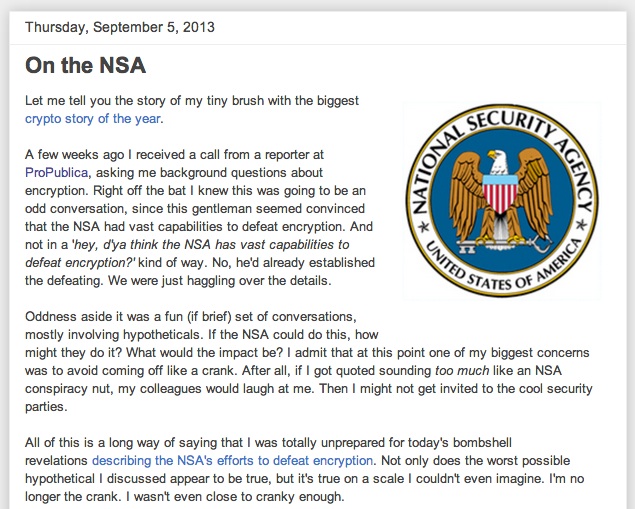 http://arstechnica.com/security/2013/09/crypto-prof-asked-to-remove-nsa-related-blog-post/
4 replies, 1009 views
Replies to this discussion thread
| | | | |
| --- | --- | --- | --- |
| 4 replies | Author | Time | Post |
| Cryptology professor is forced to take down blog post about NSA decryption efforts.… because freedom (Original post) | Catherina | Sep 2013 | OP |
| | Savannahmann | Sep 2013 | #1 |
| | Mnemosyne | Sep 2013 | #2 |
| | Scuba | Sep 2013 | #3 |
| | Trailrider1951 | Sep 2013 | #4 |
---
---
Response to Catherina (Original post)
Mon Sep 9, 2013, 06:23 PM
Mnemosyne (21,363 posts)
2. K&R nt
---
Response to Catherina (Original post)
Mon Sep 9, 2013, 06:58 PM
Scuba (53,475 posts)
3. "... cool security parties." Snort.
Thanks for the post Catherina.
---
Response to Catherina (Original post)
Mon Sep 9, 2013, 08:12 PM
Trailrider1951 (1,819 posts)
4. How very interesting
Thanks for the post, Catherina.