Sun Sep 8, 2013, 12:01 PM
kpete (63,225 posts)
Sheldon Adelson and Cheney's oil company will see us as weak if we don't blow up Assad's shit
Cheney-Linked Company to Drill in Occupied Golan Heights
By Daniel J. Graeber | Sun, 24 February 2013 00:00 | 2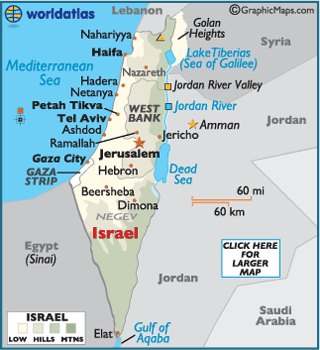 The Israeli government awarded a local subsidiary of U.S.-based Genie Energy the rights to explore for oil and natural gas in about 150 square miles of the southern section of the Golan Heights. The United Nations last year extended the mandate for the region's U.N. Disengagement Observer Force mission, one of the oldest peacekeeping missions, for another six months. U.N. Secretary-General Ban Ki-moon said keeping Blue Helmets stationed in the area was essential to peace given the potential for conflict spilling out of the Syrian civil war. Genie Energy said there may be a significant amount of oil and natural gas in the license area. When Israel set its sights on offshore natural gas, Hezbollah warned that Israel shouldn't encroach on Lebanese territory. If recent concerns about Hezbollah's influence are any indication, the Shiite resistance movement may focus its guns onshore amid expanding Israeli energy interests. With former U.S. Vice President Dick Cheney serving as an adviser to Genie, however, the implications may go beyond immediate worries over Hezbollah.
Genie Energy said there may be "significant quantities" of natural resources in the region. The license area encompasses about 150 square miles of the southern portion of the Golan Heights, considered territory occupied by the Israeli military.
"Genie Energy intends to conduct an exploration program to further investigate the size and quality of the resource in the new license area," the company explained in a statement.
.......................
Last year, Israeli Energy Minister Uzi Landau said the government was looking to open the territory up for oil and natural gas exploration. Israel claims the territory as its own after capturing the region in a 1967 war with Syria. In November, UNDOF peacekeepers monitoring the 1973 cease-fire between Israel and Syria came under fire near Damascus during a troop rotation. U.N Secretary-General Ban Ki-moon said he was concerned the Syrian civil war could spillover the borders given the latest escalation of violence. Last month, the United Nations expressed further concern amid reports that Israeli planes flew over the region to conduct an air strike on Hezbollah territory in southern Lebanon.
http://oilprice.com/Energy/Crude-Oil/Cheney-Linked-Company-to-Drill-in-Occupied-Golan-Heights.html
5 replies, 2216 views
Replies to this discussion thread
| | | | |
| --- | --- | --- | --- |
| 5 replies | Author | Time | Post |
| Sheldon Adelson and Cheney's oil company will see us as weak if we don't blow up Assad's shit (Original post) | kpete | Sep 2013 | OP |
| | blkmusclmachine | Sep 2013 | #1 |
| | Frustratedlady | Sep 2013 | #2 |
| | kpete | Sep 2013 | #3 |
| | tularetom | Sep 2013 | #4 |
| | Coyotl | Sep 2013 | #5 |
---
---
Response to kpete (Original post)
Sun Sep 8, 2013, 12:26 PM
Frustratedlady (13,102 posts)
2. Why is it when these nasty issues pop up...
we see some of the same names?

Toward the end of the article:

"Crude Oil Pipelines Planned for the Future

Israel has faced increasing isolation for its settlement activity in the West Bank and for violating the border of its northern neighbors. A 1993 foreign policy doctrine from Israel's ally Washington, meanwhile, linked U.S. national security interests as they relate to oil and natural gas tacitly to Israel's security.

"The United States is committed to the security of Israel and to maintaining the qualitative edge that is critical to Israel's security," it read.


This statement scares me:

"That document was drafted with the help of then Defense Secretary Dick Cheney. He's serving as an adviser to Genie as it plans work in an area encompassing about 30 percent of the Golan Heights. U.S. President Barack Obama, meanwhile, has plans to visit Israel next month. Cheney expressed recent concern that the Middle East was "as dangerous now as it has ever been" under Obama's leadership. With Cheney working the back channels, that "qualitative edge" may manifest itself in drilling operations in the occupied Golan Heights, a powder keg for potentially broad-based war in the Middle East."


On edit, don't go, Obama.
---
Response to Frustratedlady (Reply #2)
Sun Sep 8, 2013, 12:30 PM
kpete (63,225 posts)
3. thanks for adding to my post
I always appreciate that
especially when the light shines on the devil's head



peace, kp
---
Response to kpete (Original post)
Sun Sep 8, 2013, 12:36 PM
tularetom (23,664 posts)
4. The picture is slowly becoming clearer
It would be cool if Obama had the cojones to not bomb Syria, but sadly I don't see him reacting that way.

He's painted himself into a corner by talking shit and trying to be like Cheney and he won't stand up to the media outburst if he fails to give them the war they are jonesing for.
---
Response to kpete (Original post)
Sun Sep 8, 2013, 12:37 PM
Coyotl (15,262 posts)
5. And their oil profits won't sour through the ceiling either.