Wed Aug 28, 2013, 01:07 AM
Emit (11,213 posts)
The Middle East's Big Knot of Enemies and Allies, Visualized
In one chart:
A
letter to the editor
published in Thursday's Financial Times went viral this weekend for its concise yet overwhelming description of loyalties and animosities in the Middle East. Above, we've visualized the letter by plotting the factions it mentions and using blue arrows to indicate support and red arrows to indicate opposition. Even as a simplification—Qatar, a Gulf state, does not support Egypt's Gen. Sisi, for example—the letter shows how knotted the conflicts in Syria and Egypt really are.
A similar
chart
made by Egyptian blogger Big Pharaoh is even more detailed and bewildering. (Below)
The Complete Idiot's Chart To Understanding The Middle East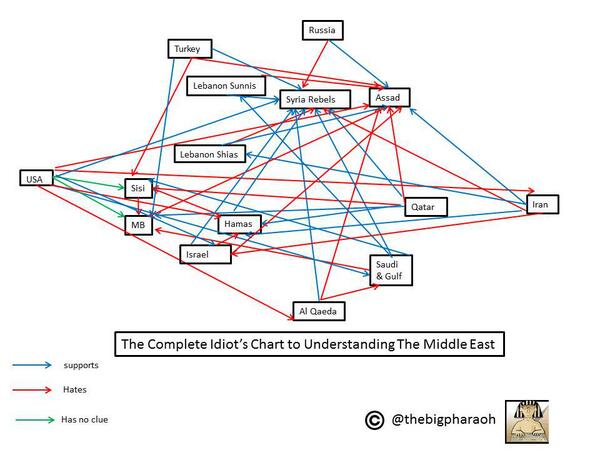 :large
Unfortunately, infographics seem incapable of illustrating anything more than the frustrating complexity of the Middle East, but
we already knew that.
(Below)
...a mind-boggling attempt to explain the situation in Afghanistan.
http://www.slate.com/articles/news_and_politics/map_of_the_week/2013/08/financial_times_middle_east_conflicts_letter_to_the_editor_charted.html
9 replies, 6685 views
Replies to this discussion thread
| | | | |
| --- | --- | --- | --- |
| 9 replies | Author | Time | Post |
| The Middle East's Big Knot of Enemies and Allies, Visualized (Original post) | Emit | Aug 2013 | OP |
| | Cali_Democrat | Aug 2013 | #1 |
| | Cha | Aug 2013 | #2 |
| | leveymg | Aug 2013 | #3 |
| | Emit | Aug 2013 | #6 |
| | KittyWampus | Aug 2013 | #4 |
| | Catherina | Aug 2013 | #5 |
| | freshwest | Aug 2013 | #7 |
| | Emit | Aug 2013 | #8 |
| | The Magistrate | Aug 2013 | #9 |
---
Response to Emit (Original post)
Wed Aug 28, 2013, 01:13 AM
Cali_Democrat (30,439 posts)
1. George Washington said it was best for the US to avoid foreign entanglements
---
Response to Emit (Original post)
Wed Aug 28, 2013, 01:19 AM
Cha (214,497 posts)
2. thanks Emit
---
Response to Emit (Original post)
Wed Aug 28, 2013, 01:25 AM
leveymg (36,418 posts)
3. You may also enjoy the late Mark Lombardi's elegant free-hand works.
Mark Lombardi: Global (Conspiracy) Networks (from an epic '05 DU thread featuring Octafish, SeemsLikeADream, Bob the Drummer, and some others)
Mapping criminal corporate-government connections is a dangerous occupation. Exposing the players and their front companies is even more hazardous. These are the subjects of Mark Lombardi's art -- the hidden global realities of money and power. His artwork, literally as well as figuratively, connects the dots of international high-level white-collar crime networks.
Lombardi's drawings are mandalas of conspiracy, flow charts of shady deals and shaky agents, and org charts of world-class con men, revealing the genealogy of wickedness in the highest places of corporate and government power.
"Mark Lombardi: Global Networks" is a traveling exhibition of 25 drawings, some as large as 4' x 12,' organized by New York-based Independent Curators International (ICI) and curated by Robert Hobbs of Virginia Commonwealth University. In graphic terms, the drawings document the major financial and political frauds of the late 20th century. They are flow charts of illicit money and power, solid and dotted lines and curves as well as broken arrows denoting the flows of illicit financial operations and covert revenues.
DECONSTRUCTING CRIMINAL CONNECTIONS
One of the drawings called "George W. Bush, Harken Energy and Jackson Stephens, ca 1979-90" (1999) shows the connections of James Bath, a former CIA spook and business broker, front man for Saudi money who connected the Bush Family and Bin Laden Family (of the Osama bin Laden/ 9-11 legend) in shady deals in Texas and around the world.
CONTINUED...
http://www.steamshovelpress.com/altmedia18.html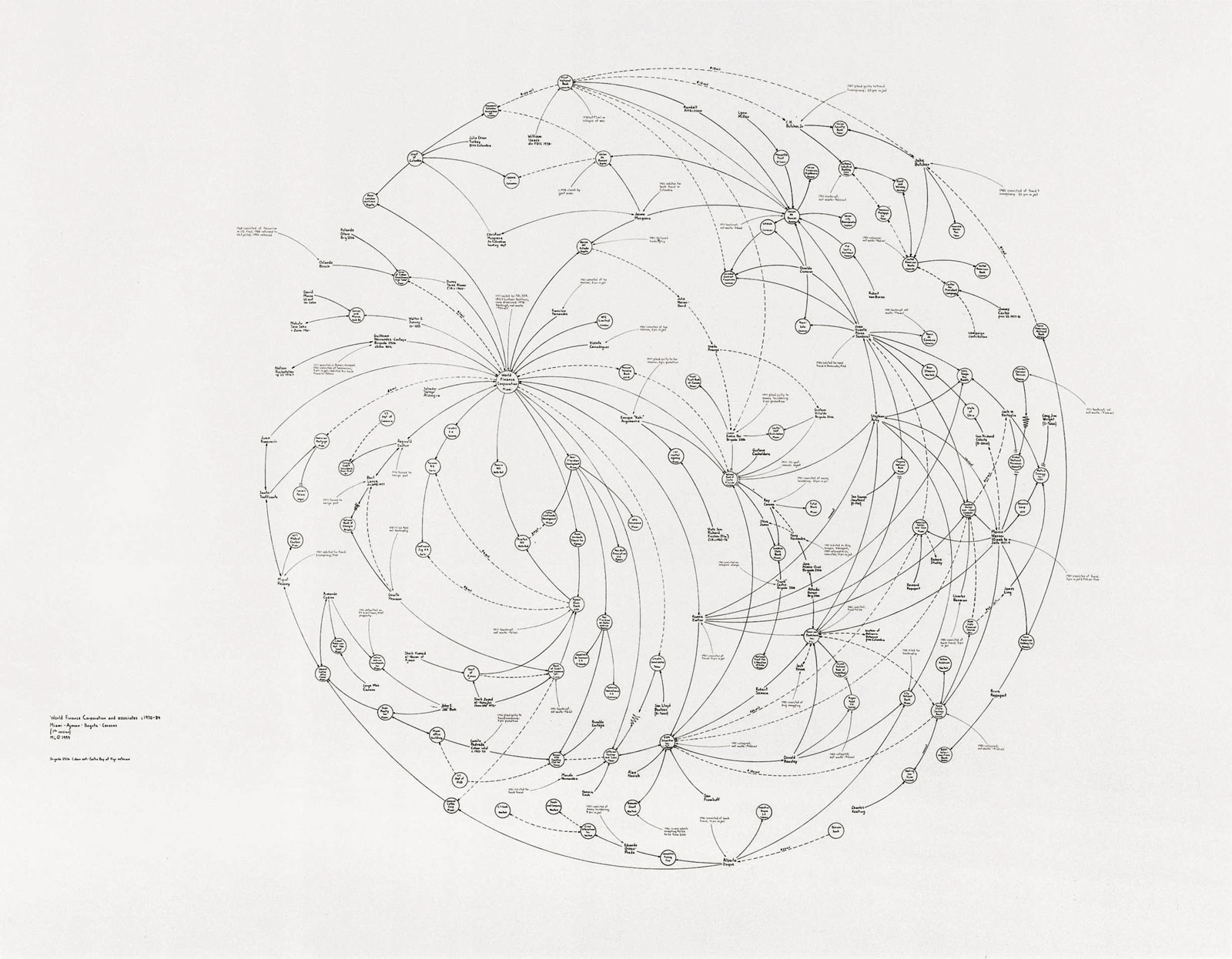 ---
Response to leveymg (Reply #3)
Wed Aug 28, 2013, 02:28 AM
Emit (11,213 posts)
6. Wow. Excellent!
Tx, leveymg. Sorry I missed that thread!!
---
Response to Emit (Original post)
Wed Aug 28, 2013, 01:29 AM
KittyWampus (55,894 posts)
4. the last pix looks like my gut every time I really think about our lobbing missiles into Syria.
---
Response to Emit (Original post)
Wed Aug 28, 2013, 01:36 AM
Catherina (35,568 posts)
5. K&R n/t
---
Response to Emit (Original post)
Wed Aug 28, 2013, 03:58 AM
freshwest (53,661 posts)
7. Thanks for trying to make sense of it all. I think the problem for us understanding it is that it's
not really a matter of nation states unified as a people within their own boundaries.

At one time, AFAIK, the peoples of Middle East were under the Ottoman or other empires and their loyalties are not really to any entity that westerners can point at and say, 'Lebanes policy, Syrian policy, etc.'

It's the same groups that are bound by relgious sects and other groups that don't see themselves as citizens of one place.

So each government is doing a dance trying to please more than nation at once, as they are confined to maintaining a geographic area that the people don't respect.

So the factions in each nation pressure their leaders based on what happens in others. That's just my take, it's really complex over there.

They did not have in any unity that transcended their sects or groups, I guess. In the USA with secular government, those things aren't that important, not worth fighting or killing for.

I expect that population growth and the inability of their nations to create jobs and the pressure on the land is part of this.


---
Response to freshwest (Reply #7)
Wed Aug 28, 2013, 10:56 AM
Emit (11,213 posts)
8. Ha! You're welcome, freshwest, but credit goes to those who made these charts
and who have far more knowledge than I!
---
Response to Emit (Original post)
Wed Aug 28, 2013, 11:02 AM
The Magistrate (85,194 posts)
9. It's Funny Because It's True, Sir
One hardly knows whether to laugh or to cry....